Yemeni police block protesters' march on palace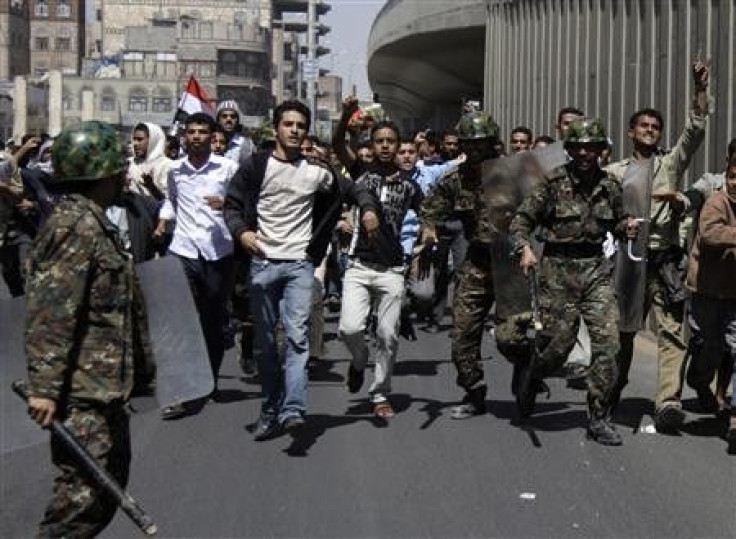 Hundreds of anti-government protesters, inspired by the mass uprising in Egypt, clashed with police blocking them from marching to Yemen's presidential palace in Sanaa on Sunday, witnesses said.
The clashes occurred while President Ali Abdullah Saleh and the main opposition group were preparing for talks that the government hoped would help avert an Egypt-style revolt in the Arabian Peninsula state, a vital U.S. ally against al Qaeda.
Saleh postponed a visit to the United States planned for later this month due to the current circumstances in the region, the state news agency Saba said, without elaborating.
About 1,000 people attended the demonstration shouting the Yemeni people want the fall of the regime and a Yemeni revolution after the Egyptian revolution, before dozens broke off to march to the palace.
Egypt's President Hosni Mubarak was forced to resign on Friday after 30 years in power under pressure from mass popular protests, just one month after Tunisia's longtime President Zine al-Abidine Ben Ali was similarly ousted.
In the harshest response yet to a wave of protests in the capital, police prevented the smaller group from reaching the palace, hitting them with batons, while protesters threw rocks at the police, witnesses said. Four people were injured.
Anti-government protests have gained momentum in Yemen in recent weeks and prompted Saleh to offer significant concessions to calm tensions, including a pledge to step down in 2013.
Many of the Sanaa protests, including a Day of Rage on February 3 attended by tens of thousands of opposition and pro-government demonstrators, ended peacefully.
Although pro- and anti-government protesters have clashed in recent days, police have generally stayed out of the fray in Sanaa. They have clamped down more firmly outside the capital.
Opposition officials said 10 protesters were briefly detained in Sanaa on Sunday and 120 more were taken into custody overnight in the the city of Taiz after protests on Saturday.
Instability in Yemen would present serious political and security risks for Gulf states. The United States relies heavily on Saleh to help combat al Qaeda's Yemen-based arm, which also carries out attacks in neighbouring Saudi Arabia.
In the south, where the government faces al Qaeda militants and rising secessionist sentiment, some 1,500 anti-government protesters marched in Aden and hundreds demonstrated in two of the port city's suburbs. Police used batons to disperse the marchers, arresting about eight people, residents said.
A court in the south sentenced six men to death for kidnappings and armed attacks on police, Saba said.
RIGHTS CRITICISM
U.S.-based Human Rights Watch criticised Yemen for allowing government supporters to assault, intimidate and sometimes clash with protesters calling on Saleh to quit.
The Yemeni authorities have a duty to permit and protect peaceful demonstrations, said Sarah Leah Whitson, Middle East and North Africa director at Human Rights Watch. Instead, the security forces and armed thugs appear to be working together.
There was no immediate response from Yemeni officials.
Saleh, in power for more than three decades and concerned about unrest in some parts of the Arab world, said more than a week ago he would step down when his term ends in 2013 and pledged his son would not take over the reins of government.
U.S. President Barack Obama has urged Saleh to follow up his pledges of reform with concrete action.
The offer, which included an invitation to dialogue, was Saleh's boldest gambit yet to avoid a showdown with protesters in the poverty-stricken country, where some 40 percent live on less than $2 a day, while a third suffer from chronic hunger.
The opposition does not reject what came in the invitation by the president and is ready to sign an agreement in no more than a week, said former Foreign Minister Mohammed Basindwa, now an opposition politician.
Another opposition official said the talks should start within days. Yemen's opposition, which wants the talks to take place under Western or Gulf auspices, has said it is seeking assurances reforms would be implemented.
Saleh, a shrewd political survivor, has backed out of previous promises to step aside. Analysts say his concessions could be a genuine way to exit gracefully but he may hope to wait out regional unrest and reassert his dominance another day.
© Copyright Thomson Reuters 2023. All rights reserved.