'Yo-Kai Watch' Fever Finally Reaches North America With Nintendo 3DS Release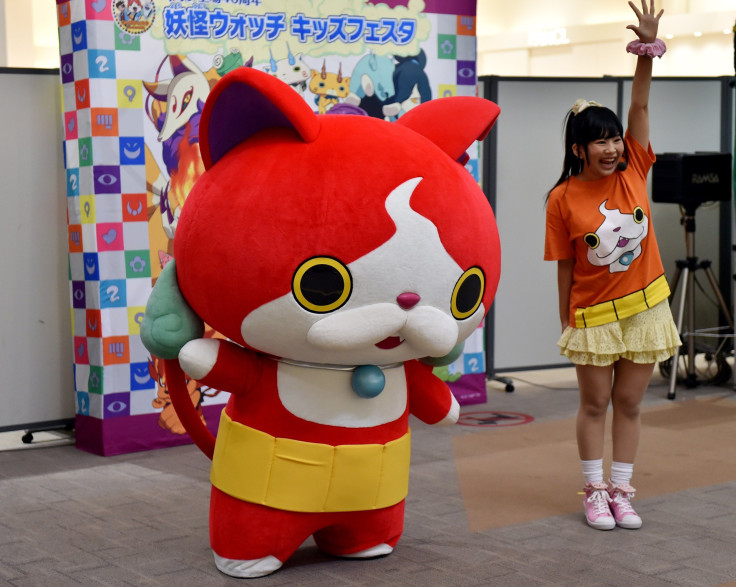 Two years after making its debut in Japan, "Yo-Kai Watch," also rendered as either "Yokai Watch" or "Youkai Watch," is finally coming to North America. The role-playing game series developed by Level-5 was released for the Nintendo 3DS portable game console Friday. The game series is a massive sensation in Japan, where the company has booked sales of more than 6 million copies of the original "Yo-Kai Watch" and spinoffs "Yo-Kai Watch Busters" and "Yo-Kai Watch 2 Ganso/Honke." With plenty of comparisons made to "Pokemon," Nintendo hopes "Yo-Kai Watch" will capture the hearts, minds and wallets of children and parents in the U.S.
While Nintendo Co. Ltd. lags Sony Corp. and Microsoft Corp. in the video-game console race, the company leads in the handheld segment. Nintendo had operating income of $74.5 million in the first half of its 2016 fiscal, in part because of the strong sales of "Splatoon" and "Super Mario Maker" on the Wii U console. The creation of a new, dominant franchise in North America would aid in boosting the company's sales and profits.
The first game in the "Yo-Kai Watch" series being released in North America follows the adventures of Nate or Katie (players can choose either character), who happens to discover a mysterious vending machine while walking in the woods one day. This find leads to the mystery of the Yo-Kai, invisible beings that love causing trouble. The main character meets Whisper, who bestows on him or her a Yo-Kai Watch along with the important task of ridding the town of bad Yo-Kai. Nate or Katie can befriend good Yo-Kai to form teams to battle bad Yo-Kai.
"Yo-Kai Watch" is a phenomenon that rivals the peak of the "Pokemon" craze in the 1990s. In Japan, it's almost impossible to avoid any mention of the game, according to Kotaku. Licensed merchandise ranges from plush toys to shampoo to cereal to curry. "Yo-Kai Watch" anime began airing in Japan in 2014 before premiering on Disney XD in October 2015.
A lot of its success is tied to traditional Japanese folklore mixed with humor. For example, there's a Yo-Kai named Snotsolong. The cranelike being has a perpetually running nose that prevents him from flying, and Snotsolong loves passing his problem on to unsuspecting people. Meanwhile, yokai are components of Japanese folk history, helping the game's relation to Japanese culture. Translating the lore of the yokai to a different culture could be challenging, said Kotaku's Brian Ashcroft.
Based on reviews, Level-5 has mostly succeeded in porting over its hit game to North America from Japan, although several critics noted problems with the battle system and the repetitive nature of "Yo-Kai Watch." Mechanics aside, the reviews reached a consensus about the charm and depth of the game. All that's left is to see whether children respond to "Yo-Kai Watch" now the way they did to "Pokemon" all those years ago.
© Copyright IBTimes 2023. All rights reserved.