10 Highest-Paid WNBA Players' Salaries Just 5% Of Steph Curry's Contract
KEY POINTS
There are only 15 WNBA players earning $200,000 or more per season
By comparison, 17 NBA players make at least $35 million per season
Diana Taurasi, Jewell Loyd and Breanna Stewart were the highest-paid players in 2022
There has been a huge disparity between the National Basketball Association (NBA) and the Women's National Basketball Association (WNBA) salaries over the years, prompting professional basketball players, women, in particular, to urge the associations to address the massive pay gap.
To date, there are only 15 WNBA players making $200,000 or more per season, according to Spotrac. By comparison, 17 NBA players earn at least $35 million per season, according to ESPN.
To highlight the disparity, it is worth noting that the combined salaries of 10 WNBA players will not even cover the salary of NBA star Stephen Curry – the highest-paid player in the NBA, making over $45.781 million, not including endorsements.
The highest-paid WNBA players in 2022 include Diana Taurasi, Jewell Loyd and Breanna Stewart. The three players will each earn a base salary of $228,094 for the 2022 WNBA season.
Skylar Diggins-Smith, Brittney Griner, Elena Delle Donne and DeWanna Bonner will each earn a base salary of $227,900 for the 2022 WNBA season.
Completing the top 10 list are Natasha Howard, who will make $221,450; Tiffany Hayes, who will earn $215,000; and Chelsea Gray, who will receive a salary of $206,267 for the 2022 WNBA season.
The total earnings of the ten highest-paid players are only 5% of Curry's salary.
Because of the low pay, several WNBA players spend their offseason playing overseas to supplement their salaries. One of them is Griner.
In February, the Phoenix Mercury center, who was in Russia to play for UMMC Yekaterinburg, got arrested for allegedly smuggling cannabis.
She was earning at least $1 million from the team — more than her WNBA salary of $221,450 for the 2021-22 season.
The trial for the Phoenix Mercury center will begin on Friday, and she will remain under Russian custody until it ends. While she remains in prison, Griner will receive her full salary of $227,900 for the 2022-2023 season.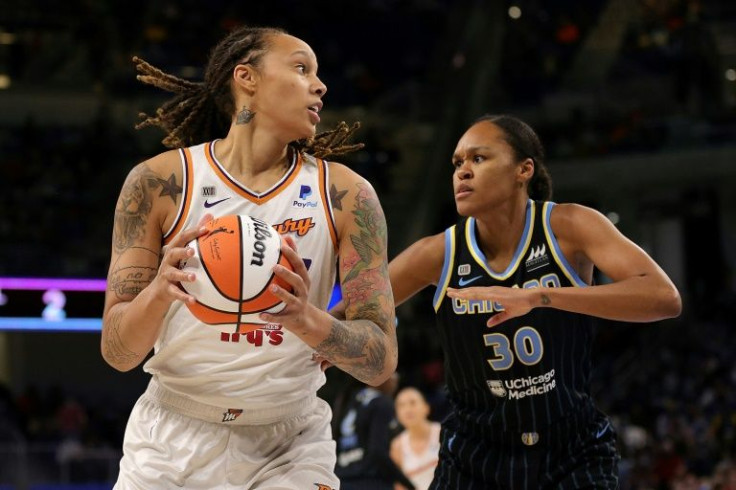 © Copyright IBTimes 2023. All rights reserved.