10 Things You Need To Know About Ukraine's Economy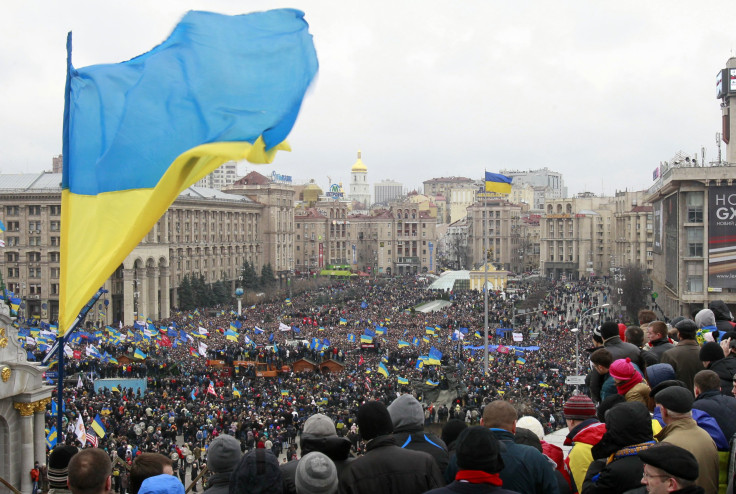 When protesters in Kiev, Ukraine, set fire to their mattresses, tents and other belongings early Wednesday to fend off police, dozens of people died and hundreds are suffering injuries.
The political movement began in November with peaceful opposition when President Viktor Yanukovych changed his mind on a decision to sign a trade deal with the European Union and instead looked to Russia.
The burst of violence prompted European and U.S. leaders to threaten quick sanctions against Ukraine. In a statement, the Russian government blamed the "radical opposition forces" for the bloodshed, and Russia's Foreign Ministry promised to use "all our influence to restore peace and calm" to what it described as an attempted coup.
Meanwhile, the fate of Ukraine's economy, which the World Bank says is the world's 51st largest, hangs in the balance.
Here are 10 things you need to know about the Ukrainian economy:
1. Gross domestic product has been flat for two years.
Economic growth in Ukraine has remained weak for two years. Ukraine's GDP slowed in five consecutive quarters before growing 3.7 percent year over year in the last quarter of 2013. That growth offset declines in previous quarters to bring the country's fiscal year GDP to zero percent growth in 2013, after GDP growth in 2012 averaged 0.2 percent. In 2011, GDP grew 5.2 percent, and in 2010, 4.1 percent.
World Bank economists expect economic growth in Ukraine to "recover slightly" this year, but "the risks for this forecast are still substantial."
2. The unemployment rate is 7.5 percent.
The unemployment rate is currently 7.5 percent, down from 9.5 percent in 2009. Firms in the country say there is a shortage of skilled workers, and yet, many college graduates either don't find employment or work jobs that do not require their learned skills.
3. The Ukrainian central bank has yet to offer a sustainable plan.
The value of the hryvnia, Ukraine's currency, has dropped more than 9 percent since Christmas Eve 2013 and 6 percent since Feb. 10, and the government has responded with capital controls.
On Jan. 6, the National Bank of Ukraine limited individuals' purchases of foreign currency and imposed a waiting period of six days on companies purchasing foreign currency. The bank also prohibited the purchase of foreign currency for early loan repayments and investments abroad.
"I think the key here is those measures clearly didn't do much," Liza Ermolenko, emerging markets economist at Capital Economics, said Wednesday. "The controls aren't likely to be a sustainable solution. Even if they do produce more control, it doesn't give them a long term solution in the economy."
4. Consumer confidence is low.
Consumer confidence in Ukraine dropped to 72.5 in mid-January this year from 80.3 in mid-December and 85.5 in mid-November, according to Trading Economics. Consumer confidence averaged 82.9 from 2000 to 2013, reaching a high of 107.3 in March 2005 and a low of 41.8 in January 2009.
5. Reforms could release more agriculture potential.
Ukraine's economy used to ride on the strength of the country's agriculture exports, mostly grain. But the country's status as the breadbasket of Europe is crumbling. Today, agriculture makes up less than 10 percent of GDP. According to the World Bank, "Ukraine has tremendous agricultural potential" but "this potential has not been fully exploited due to depressed farm incomes and a lack of modernization within the sector." Insecure land ownership and an inefficient registration system have also held back Ukraine's farming sector, but it has improved in recent years.
In 2012, Ukrainian agricultural exports increased by nearly 40 percent to $17 billion, according to Mykola Prysyazhnyuk, the Ukrainian Minister of Agrarian Policy and Food. In 2013, corn exports grew by one-third from the previous year. On Wednesday, Ukraine's prime minister, Serhiy Arbuzov, said the country plans to increase its foreign exchange reserves this year with $20 billion of agricultural products.
6. Ukraine is energy inefficient.
Ukraine imports three-fourths of its oil and natural gas usage and all of its nuclear fuel, mainly from Russia. The Ukrainian energy sector has many troubles, including lack of investment, deferred maintenance in aging infrastructure, poor reliability and quality of energy supply, and problems maintaining security. In the past decade, Ukraine has negotiated deals with Russia to keep its domestic gas prices at world levels, but recently, Russia has gotten fed up with Ukraine's political instability. In late January, Russian President Vladimir Putin said his country will wait until Ukraine forms a new government before fulfilling promises to lower natural gas prices and loan $15 billion to Ukraine. Ukraine had requested to defer payments on the 30 percent-discounted gas it is importing.
7. The services sector is the largest.
While a part of the Soviet Union, the Ukrainian economy evolved from an agricultural foundation to an industrial one, and after the USSR's breakup, Ukraine began evolving into a services economy. Today, the services sector is Ukraine's fastest-growing sector, growing an average 8.7 percent from 2004 to 2012, according to the Kiev-based CFC Consulting Company. In 2012, about 68 percent of the Ukrainian labor force worked in the services sector, mainly transport, post and telecommunication, and accounted for 59 percent of GDP, according to the CIA's World Factbook. The country's IT services are particularly strong, ranking fourth in the world for the number of IT specialists (behind the U.S., India and Russia), despite a population of one-third of Russia, according to a summer 2013 report by Ukrainian Hi-Tech Initiative.
8. Industrial production fell in 2013.
Ukraine's industrial production fell by 5 percent year over year from January to August 2013, according to the World Bank. Demand for steel and engineering exports from Ukraine declined, and while domestic consumption grew, its growth rate is much lower than previous years. Energy inefficiency has also hindered industrial productivity.
9. The labor market is shrinking.
Many Ukrainian workers are considered highly qualified and skilled, but their incomes are much lower than in developed countries. Gross national income per capita is about $3,500. Ongoing political and economic instability have encouraged mass labor migration of both skilled and unskilled workers, mainly to Russia, Western Europe, Canada and the U.S. where incomes are higher.
Along with high emigration rates, Ukraine has one of the fastest aging populations in Europe. If age and gender-specific labor force participation rates remain as they are today, the labor force will shrink by more than 15 percent by 2035, the World Bank estimates.
10. Ukraine ranks low for foreign investment.
Though Ukraine's President Yanukovych has said he wants to make Ukraine attractive to foreign investors, complex tax codes, laws and regulations, poor corporate governance and weak enforcement of contract law make doing business within the country difficult. The World Bank ranked Ukraine 137 out of 183 economies in its Doing Business Report in 2013. Many foreign financial institutions have left the Ukrainian market, according to a February U.S. State Department report.
According to Ukraine's State Statistics Committee, as of October 2012, stock of foreign direct investment in Ukraine was $52.67 billion. Cyprus, Germany, the Netherlands and Russia were the major investors, and most of the investment went to industry (32 percent), steel in particular (11.7 percent), and the financial sector (29.8 percent).
© Copyright IBTimes 2023. All rights reserved.