10,000 Flee Gaza Homes As Israel Pounds 'Terror Targets,' Death Toll Up To 166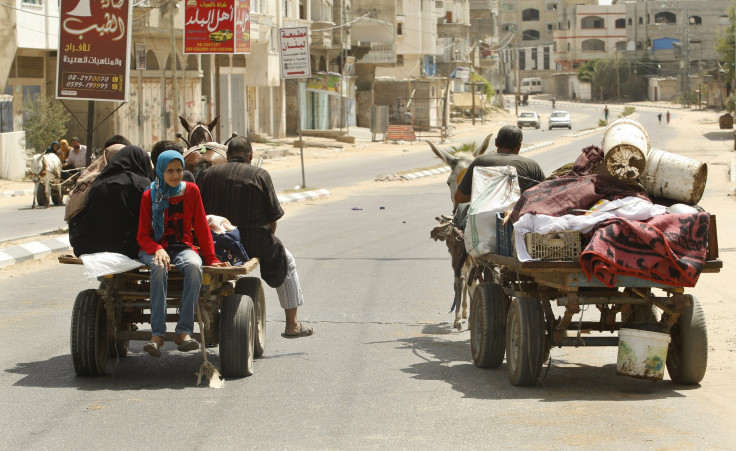 Update 7:00 EDT: There is a notable disparity between Israeli, Yediot News and United Nations estimates for the percentage of civilian casualties in Palestine.
Palestinian Authority President Mahmoud Abbas will reportedly ask the UN for protection, according the UN Special Coordinator for the Middle East Peace Process Robert Serry. He will ask for the UN to impose sanctions on Israel for violating the Geneva Convention, which both Palestine and Israel are signees.
Update 5:41 EDT: Israel will continue and expand upon its air strike campaign in Gaza. 130 rockets were fired at Israel today, nearing the 160, bringing the total to over 800 for the last five days.
United Nations Secretary-General Ban Ki-moon released a statement in which he "demands" both sides cease hostilities.
"The Secretary-General does not believe that what is inherently a longstanding, serious political dispute between Israelis and Palestinians can be resolved via military means," the statement reads. "...It is time for Israeli and Palestinian families alike to feel a sense of peace and security, with trust in the other side, rather than fear, despair and hatred that characterize too much of the relationship in the current environment."
Update 3:52 EDT:
Original Story
Residents of Gaza fled Sunday as the Israeli military executed Operation Protective Edge, pounding rocket-launch sites from the air and undertaking limited ground raids in the Palestinian territory.
More than 10,000 Gazans have taken refuge at United Nations Relief and Works Agency (UNRWA) facilities in Gaza, spokesman Chris Gunness said. The Israeli military warned Gazans via leaflets, text messages and phone calls to evacuate ahead of the air campaign. The military said Hamas told people not to leave.
Israeli Prime Minister Benjamin Netanyahu said on CBS' "Face the Nation" Sunday there is a difference in the way Israel and Hamas view the use of missiles.
"We use our missiles to protect our civilians," Netanyahu said. "Hamas uses their civilians to protect their missiles."
As of early Sunday morning, 70 percent of people killed in Gaza during Protective Edge were said to be civilians, 30 percent of them children. The UNRWA has declared an emergency across the Gaza Strip. Since early Sunday, 144 Americans had left Gaza.
UNRWA said the Israeli air raids have knocked out a large percentage of Gaza's utilities. UNRWA said 75 percent of Gaza City is without power and water and sewage services across the region have been affected. Two workers from the Coastal Municipalities Water Utility (CMWU), the main water and sanitation body in Gaza, have been killed, prompting CMWU officials to call off all operations.
UNRWA said it fears a rocket or airstrike could hit its facilities as happened in 2008-09. In three weeks of hostilities, 926 Gazans and 192 Israeli civilians were killed and UNRWA headquarters was heavily damaged.
Meanwhile, the Israeli military said 60 rockets fired from Gaza hit Israeli territory, while 12 were intercepted by the Iron Dome missile defense system. Rockets have hit Tel Aviv, Ashdod, Ramla and other cities. Two rockets fired from Lebanese territory were intercepted Saturday, and Israel responded with artillery fire into Lebanon.
Israeli commandos have undertaken limited, targeted campaigns on suspected missile-launching sites. Israeli officials told ABC a full-scale ground invasion would only be considered if Iron Dome fails.
Hamas doesn't appear ready to let up, however, and even hacked the Dominos Pizza Israel page to threaten more rocket attacks for Sunday night. An Israeli military spokesman told ABC the air raids have destroyed 20 percent of Hamas' estimated 10,000 rockets.
© Copyright IBTimes 2023. All rights reserved.