11 Best Heavy Duty Snow Shovels With Wheels To Clear Out The Yard & Driveway
This article uses affiliate links, which means if you purchase products through these links, we may earn a commission. Click here to see our
T&C
. For licensing please click
here
.
The coldest part of the year is here once again where snow seems to cover nearly everything from gardens, driveways and roads. If you're struggling to keep the snow away from home, your usual shovel may not be enough to finish the task.
We rounded up some of the best available heavy-duty snow shovels with wheels to help you get rid of all the snow and ice fast.
1. Ohuhu Heavy Duty Metal Snow Shovel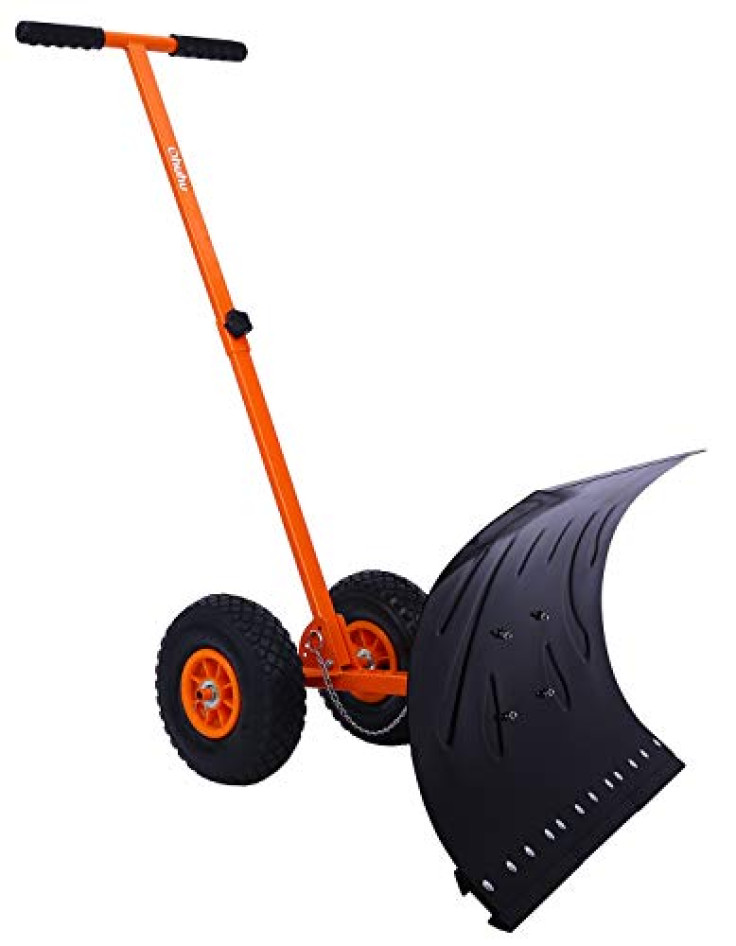 (photo from amazon.com)
This ultra-flexible snow shovel can easily be adjusted up to 45 degrees to get the perfect angle for faster and efficient snow removal. Its ergonomic and lightweight design also helps in reducing the stress on your arms and back, making it safer for use. This package also comes with a bonus accessory kit for easy assembly and dismantling.
2. Adaaden Driveway Snow Shovel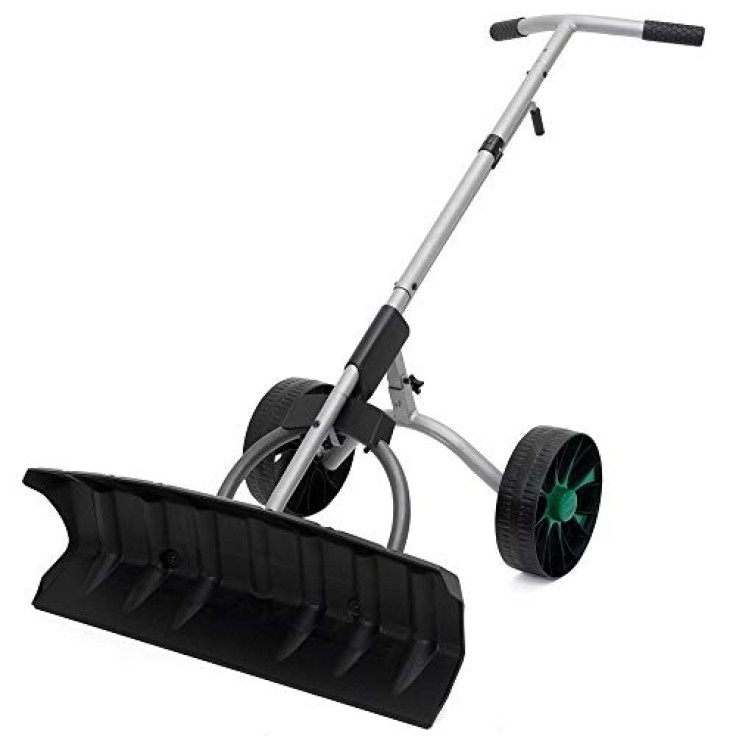 (photo from amazon.com)
The Adaaden Driveway snow shovel can easily push up to 3 inches of snow at any given time. It has a wide 30" poly blade that can be adjusted together with its nifty 10" wheels. This heavy-duty shovel is surprisingly foldable which is a nice feature for seasonal use and storage.
3. VidaXL Heavy Duty Hand Shovel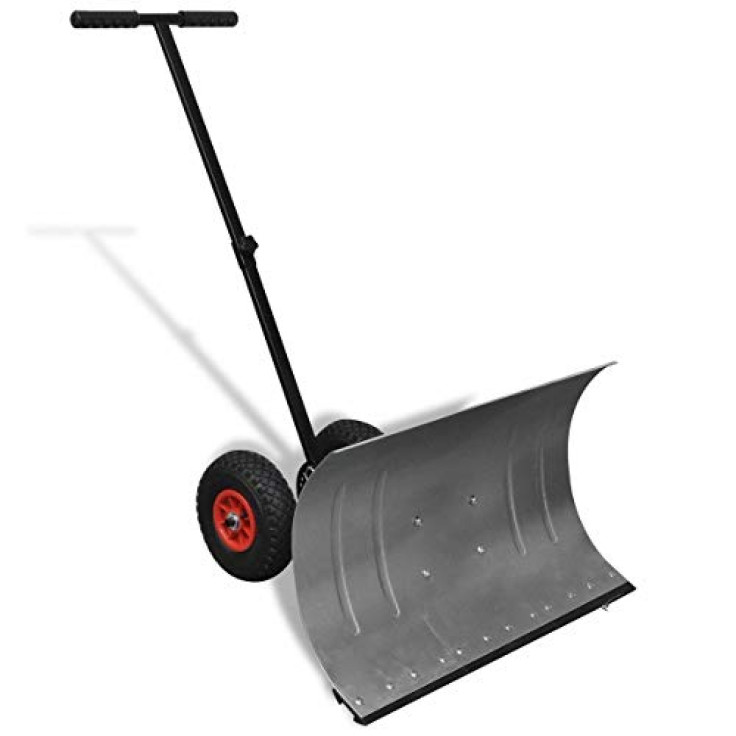 (photo from amazon.com)
What's nice about this shovel is that it is made out of iron which helps reduce weight to 26.5 lbs, making it significantly lighter than your ordinary shovel. This pneumatic tire design and long T-handle are also adjustable for your convenience. The handle is also made with specializing rubber for a stronger grip as you go plow through the snow.
4. LXLXCS Snow Shovel for Driveway with Anti-Skid Wheels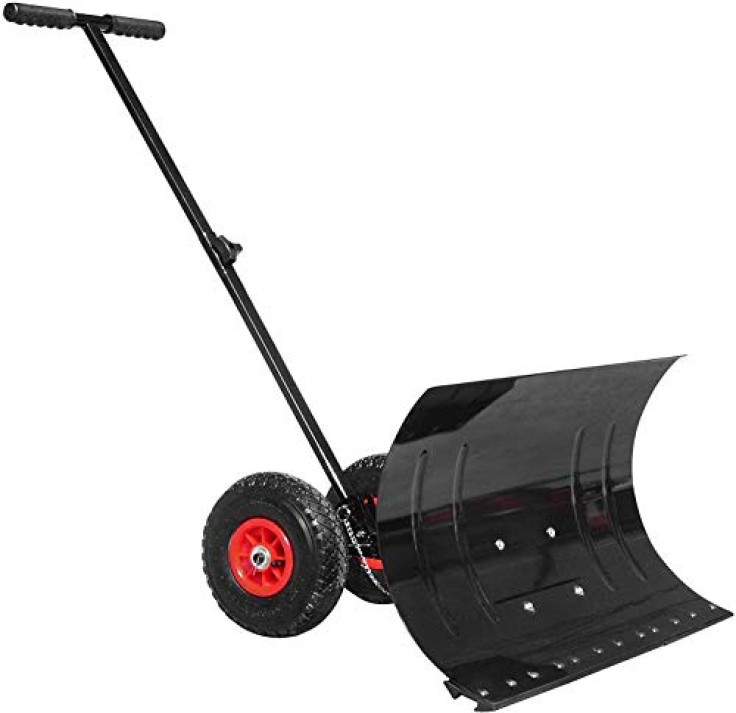 (photo from amazon.com)
The LXLXCS snow shovel is specifically designed to maintain an upright posture to prevent muscle tension and back pain. It also has a pair of large rubber pneumatic-wheels that helps increase traction, making it easier to slide and conducive for driving in icy or wet weather. They also have a nifty after-sales service making them easier to reach should you have any inquiries or concerns.
5. Heavy Duty Snow Shovel for Driveway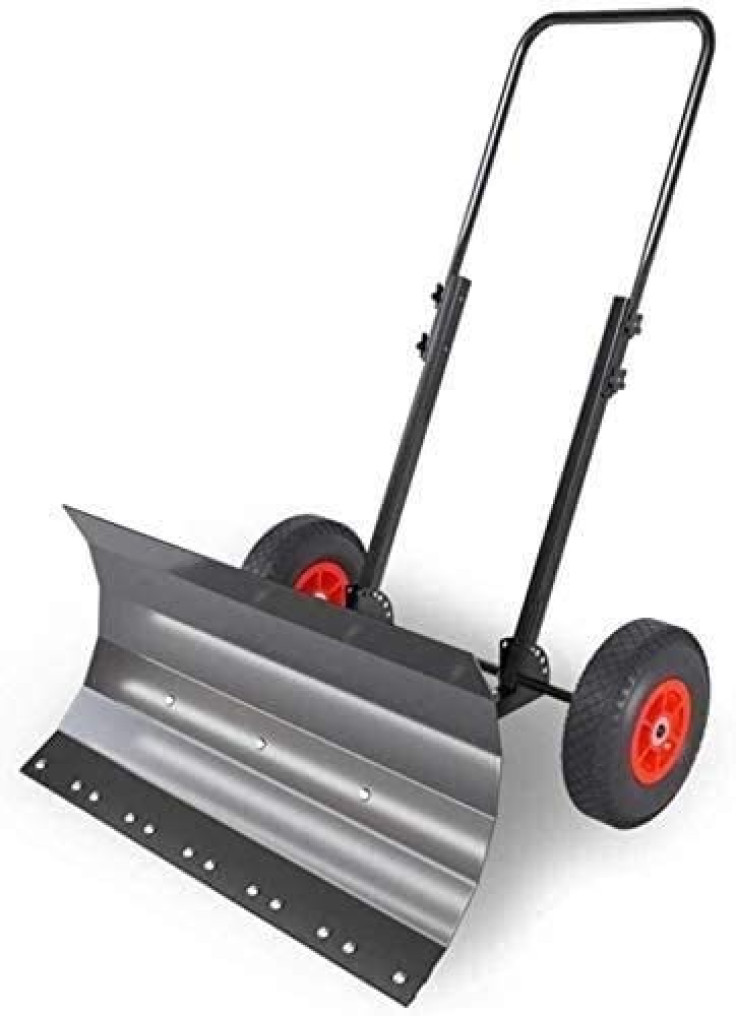 (photo from amazon.com)
This snow shovel features an adjustable push plate direction and adjustable handles height for flexible and efficient usage. It also has commercial-grade wheels that allow easy snow removal even from uneven or slippery roads. Its foldable design also makes it quick to assemble and store which is nice when the spring season arrives.
6. LXLXCS 2-Wheeled Heavy Duty Snow Shovel for Driveway and Barn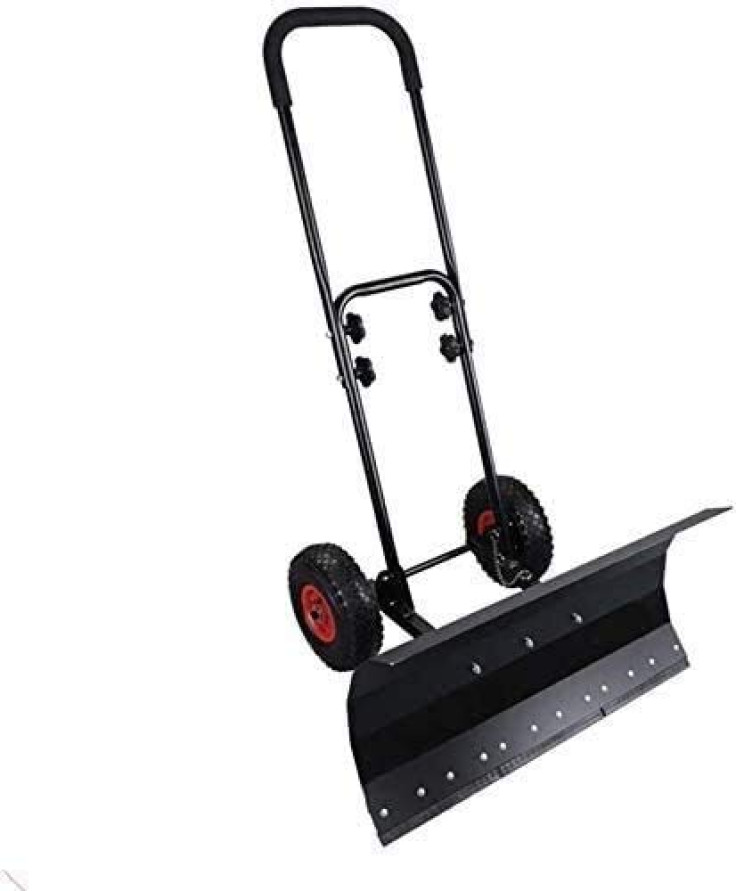 (photo from amazon.com)
The upgraded version of the LXLXCS snow shovel is suitable even for barn clearing and other farming projects. It is equipped with a 29 inches long multi-angle blade that can be adjusted up to 45 degrees in both directions. The shovel is also equipped with two 9.5 inch inflatable tires that can help prevent accidental skidding. Nice feature if you need a shovel to do all the heavy work.
7. Heavy Duty Hand Shovel with Adjustable Handle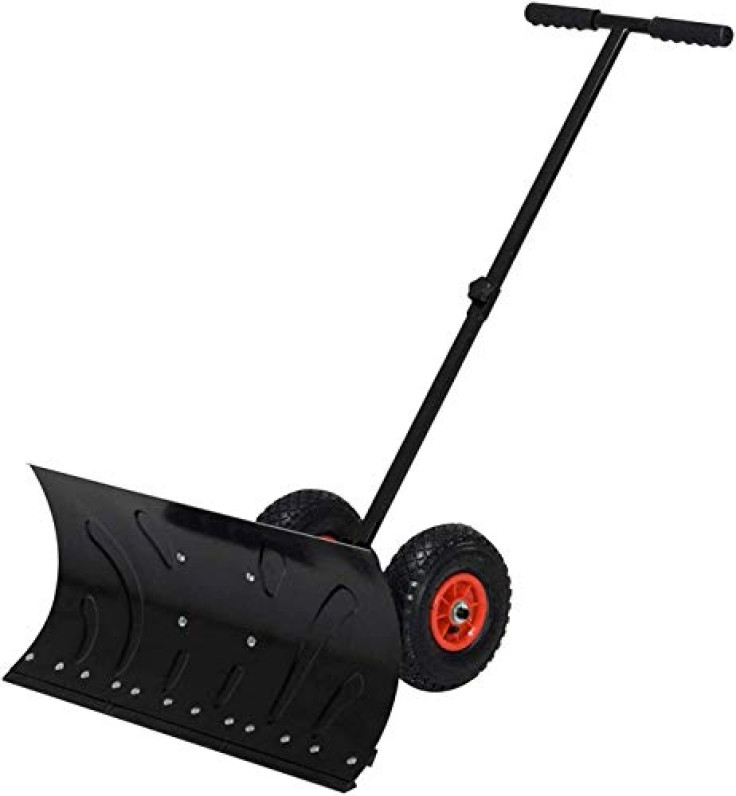 (photo from amazon.com)
This snow remover is very suitable for clearing large areas of snow whether in the gardens, roads or sidewalks during the winter. The solid rubber tires are also upgraded to be non-slip and impact resistant. The material is also made from galvanized iron or stainless steel which makes this shovel fairly lightweight.
8. Metal Rolling Snow Shovel with Rubber Wheels and Adjustable Height Handle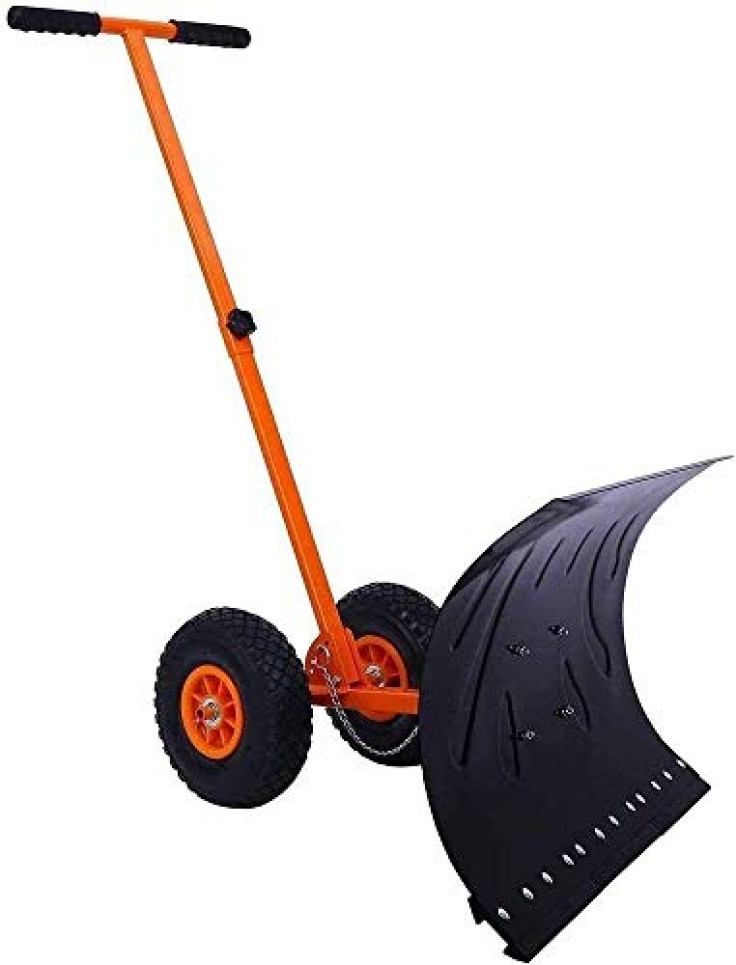 (photo from amazon.com)
The first thing that you will notice with this snow shovel is its large concave blade that can be adjusted 45 degrees that help remove snow 4 times faster than your traditional snow shovel, making flexibility a non-issue. This one has been upgraded to have full welding and a pentagonal fastening for reliable and durable long-term use.
9. Heavy Duty Metal Outdoor Snow Shovel with Adjustable Height Hand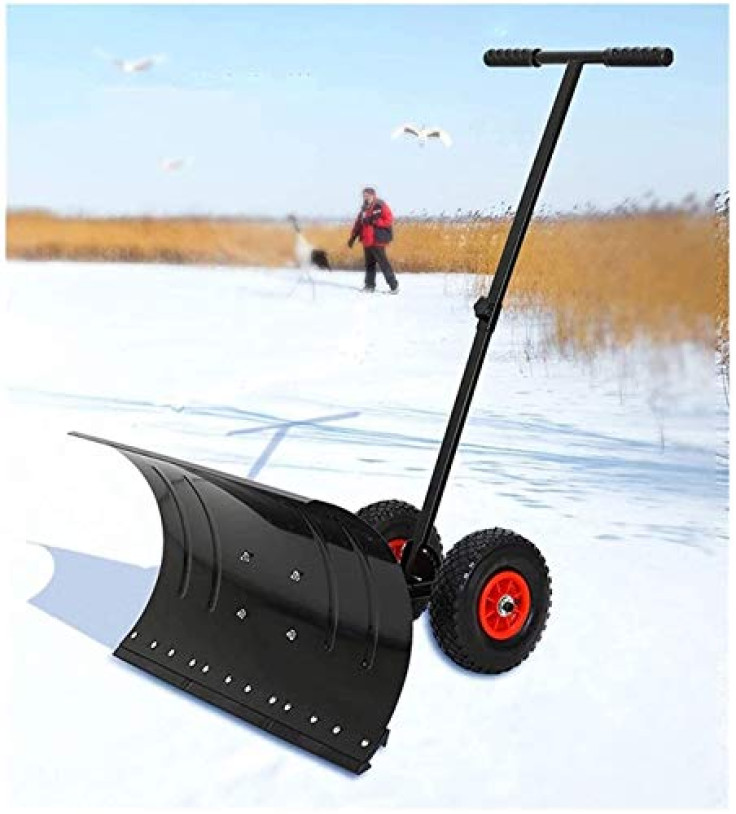 (photo from amazon.com)
If you're looking for a snow shovel that provides qualities such as flexibility, durability, and easy storage, then this one is for you. This one can be installed and collapsed in less than 10 minutes making storage easy. The galvanized iron sheet partnered with 2 extra-large size wheels makes it a durable and flexible option.
10. WORX Aerocart Multifunction Snow Shovel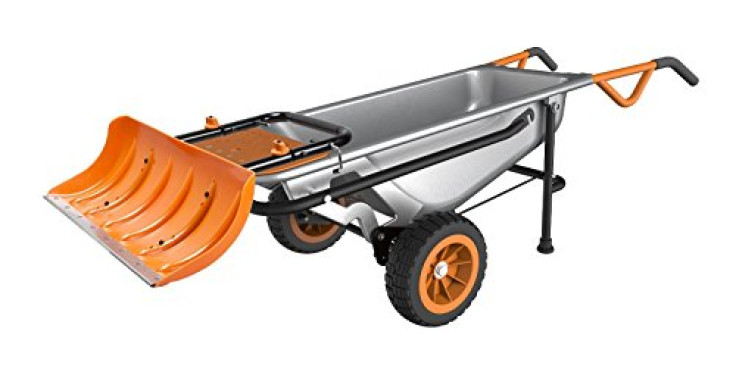 (photo from amazon.com)
The WORX is a highly versatile snowplow that can easily convert into a wheelbarrow or dolly for flexible usage. It also has a patented design that adjusts the center of gravity for a balanced and easy-to-manage load as you work through the snow. The best part is its flat-free tire which means zero maintenance.
11. MD Sales Force Premium Snow Shovel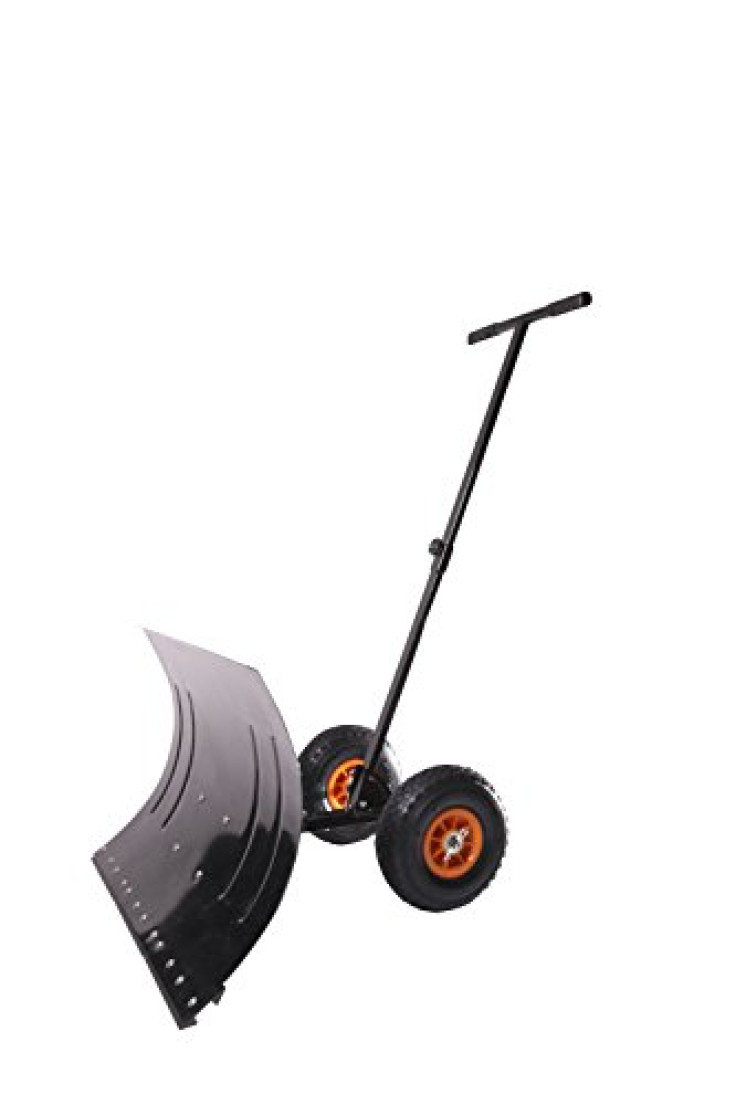 (photo from amazon.com)
The MD Premium Snow Shovel comes with a heavy-duty structure made from full metal with a durable black coating that helps removes snow faster than plastic shovels. It also has an adjustable height to allow users to stand upright while shoveling to avoid any straining that usually comes with the usual snow clearing.
FOLLOW MORE IBT NEWS ON THE BELOW CHANNELS