16-Year-Old Ukrainian Girl's Heartbreaking Diary Entries: 'Hurts To See Your Mother Die'
KEY POINTS
The girl and her family were sheltering in the ravaged city of Mariupol
She witnessed several deaths including that of her mother, who died in a basement
Ukrainian gymnast Lilia Podkopayeva shared the girl's diary entries on Instagram
A 16-year-old Ukrainian girl, witnessing the atrocities of war, wrote heartbreaking accounts of watching her loved ones die whilst being trapped in the besieged city of Mariupol.
The teenager, Katya, who lost her mother after Russian soldiers invaded her city wrote about the grief in her diary. Ukrainian gymnast Lilia Podkopayeva shared Katya's accounts on Instagram.
"You know that feeling when it hurts? I once fell in love with a boy, but he didn't fall in love with me, and I thought it hurt. But it turned out that it hurts to see your mother die in front of you," said the translated extracts from Katya's diary, according to news.com.au.
Katya's entries captured the plight of Mariupol residents as they struggled to survive amidst the ongoing war.
"We went to the toilet, slept, ate leftovers in one basement," the girl wrote, according to НВ. "And once Uncle Kohl caught a pigeon, it was probably the fifth or sixth day, and we roasted it and ate it. And then we all vomited. My mother held on to the last, she died 3 days before our evacuation. I told my brother that she was fast asleep and should not be woken up. But it seems that he understood everything."
Podkopayeva said Katya's words were reminiscent of diary entries written by children from concentration camps and cities occupied by the Nazis during WWII.
"Such diaries were once written by residents of besieged Leningrad. Who would have thought that this would happen again," Podkopayeva said, according to the outlet.
In her diary entries, Katya wrote about people losing their lives in the repeatedly-shelled city.
"Our neighbor died, and we could not carry her outside, and she began to smell," the teenager wrote, according to news.com.au. "When it got quiet uncle Kolya carried her out, and himself got killed on a trip wire. Mum cried a lot. After dad died uncle Kolya was the closest person."
Katya also said she tried to shield her brother from the jarring sights of dead bodies.
"Corpses stink so much. They were everywhere," she wrote. "I covered my brother's eyes with my mother's scarf so that he would not see this. While we were running, I nearly vomited several times."
"I no longer believe in your God. Had he existed, we wouldn't have suffered so much," Katya added.
The teenager had gotten in touch with an uncle in Russia but said she was disappointed by his response.
"I hate Russia. My own uncle is there. Do you know what he told me on phone today?" she narrated. "'Katya? What Katya? Girl, I don't know you. What war, what Katya?' And then he wrote from a burner phone: 'Katya, do not write to me. It is dangerous for me and my family. Your mum is gone.'"
Unsure of her survival, the teen was feeling helpless and wrote in her diary: "I want to die, but I can't … hug your kids! Otherwise, you may be gone, and they will not remember your smell. If I endure and later have children, I will be hugging them all the time."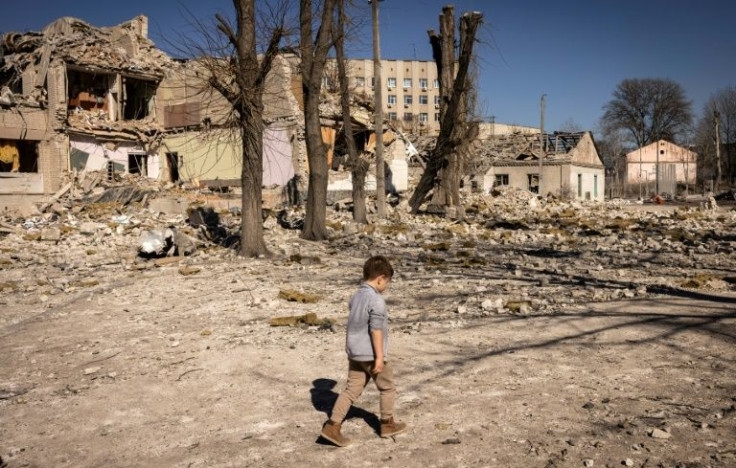 © Copyright IBTimes 2023. All rights reserved.