2014 Farnborough International Airshow: Airbus E-Fan 2.0 Electric Plane Demonstrated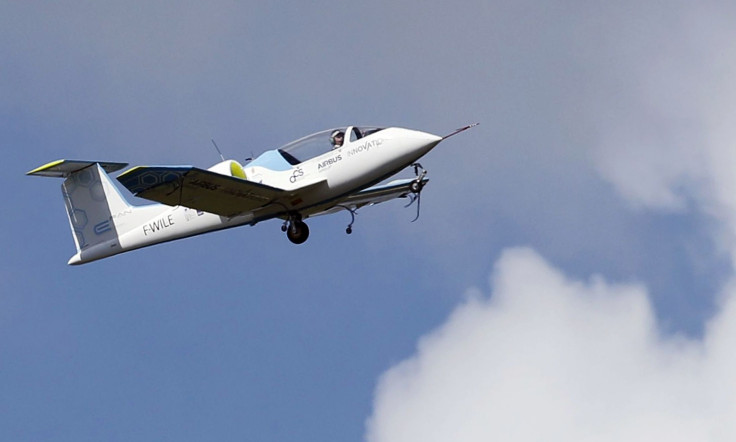 While electric cars have been stirring things up on the ground, electric planes such as the Airbus E-Fan 2.0 may soon be stirring things up in the sky. Actually, they already are, at least in England.
The Blagnac, France, aircraft manufacturer showed off its E-Fan 2.0 electric plane at the Farnborough International Airshow on Friday.
While battery weights currently prevent electric planes from coming into widespread use, Airbus hopes that the E-Fan 2.0 could grab a foothold in the pilot training market.
According to Transport Evolved, Airbus is aiming to sell the plane as a training aircraft by 2017. A four-seater E-fan 4.0 is planned to be released in the future for the general aviation market.
The European aerospace giant unveiled a prototype of the E-Fan earlier this year in France to demonstrate the 1,100-pound aircraft's capabilities. Sporting two 30kW electric motors that drive two fans and a 120-cell 10kW lithium battery, the E-Fan 2.0 is capable of flying for up to one hour, with a reserve battery that can extend flight for approximately 15 minutes.
Pilots will be able to fly in the air long enough to get some training experience, but at this time the technology isn't mature enough for longer duration flights.
Electric aircraft such as the E-fan 2.0 continue to be impractical at a larger scale due to battery weights, but Airbus hopes to use the technology developed through the electric aircraft to reduce emissions of current aircraft and cut noise, according to Cnet. Airbus also hopes that noise mitigation benefits of electric-powered planes will eventually create a secondary benefit of allowing airliners to schedule more flights during times normally prohibited by town ordinances.
The Farnborough International Airshow continues into the weekend and will be open to public spectators and aviation enthusiasts Saturday and Sunday.
© Copyright IBTimes 2022. All rights reserved.
FOLLOW MORE IBT NEWS ON THE BELOW CHANNELS