2022 Porsche 911 GT3: Price, Release Date, Specs, And Optional Configurations
KEY POINTS
Testing shows that it can complete a zero to 60 mph sprint in only 3.2 seconds
Its engine is rated at 502 horsepower with 346 lb-ft of torque
Porsche is borrowing the double-wishbone front axle from its race cars
After starting the year with a new trim for its all-electric Taycan, Porsche is all set to introduce the 2022 911 GT3 with a promise to send "a driver's heart racing."
The Stuttgart, Germany-based company said it would start shipping the new version of its most popular sports car platform around the fall of 2021.
"With a soul that's born in the Motorsport, the new 911 GT3 sends a driver's heart racing," Porsche Cars North America CEO Kjell Gruner said. "Whether it's a customer enjoying their favorite twisty backroad or taking to the track, the new 911 GT3 promises to be among the most exciting and rewarding cars we make."
Each new iteration of the two-door vehicle regularly brings something new to the table. Though Porsche avoids drastic changes to the overall aesthetic, each upgrades enhance its performance on the road or track.
The 2022 911 GT3, as CNET points out, comes with a new rear wing, improving the aerodynamics of the four-seater.
The model carries the 4.0-liter naturally aspirated flat-six boxer engine that maxes out at 9,000 rpm. Its powerplant is rated at 502 horsepower with 346 lb-ft of torque Porsche claims this is virtually identical to what its 911 GT3 Cup race car uses. By default, the 2022 911 GT3 ships with seven-speed Porsche Doppelkupplung (PDK) transmission.
Automotive purists, on the other hand, can opt for six-speed manual configuration for greater control over their ride. Testing shows that it can complete a zero to 60 mph sprint in only 3.2 seconds with a top speed listed at 197 mph on the tracks.
Porsche is borrowing the double-wishbone front axle from its race cars and adapting it for road use. This gives the 2022 911 GT3 exceptional cornering stability, while the braking system ensures optimal stopping power. As for the pricing and availability, it will be revealed sometime closer to the launch.
Earlier this year, Porsche introduced an entry-level model of its flagship EV with an attractive $79,900 starting price. This made it a great option for those looking for emission-free transport from a renowned brand.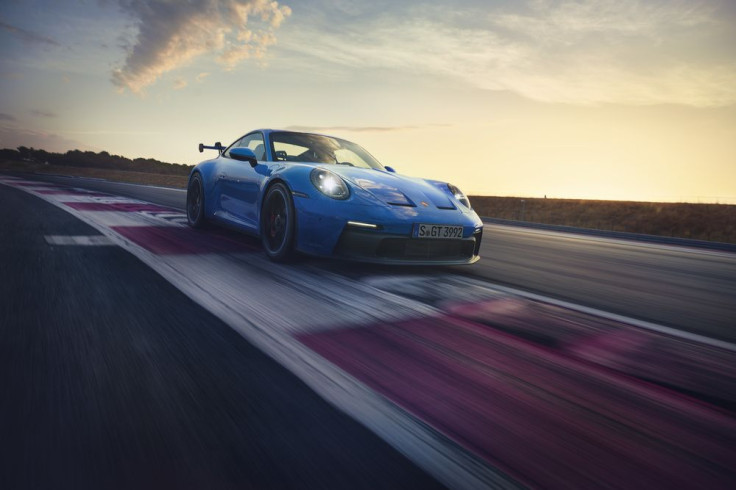 © Copyright IBTimes 2023. All rights reserved.