30 Things You Must Know About BTS
This article uses affiliate links, which means if you purchase products through these links, we may earn a commission. Click here to see our
T&C
. For licensing please click
here
.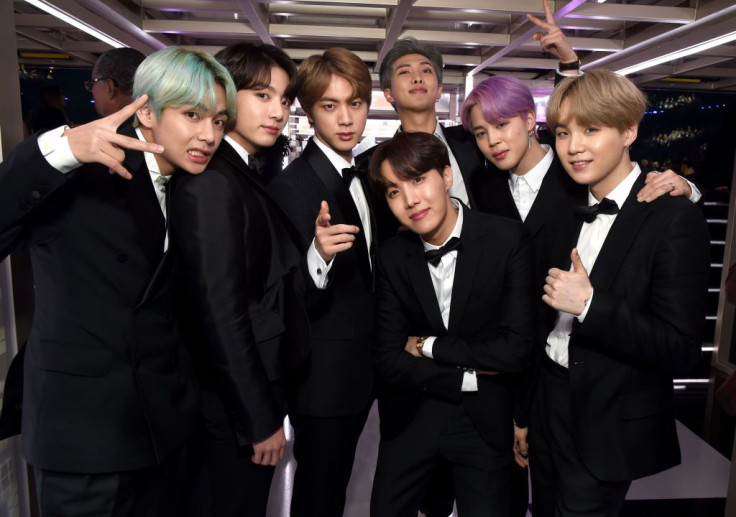 Unless you've been living under a rock, then you're most likely familiar or at least have heard of BTS, if not already an ARMY. Steadily taking the world by storm, the South Korean boyband has already achieved global success since their debut and has been breaking numerous records ever since.
Riding the "Hallyu" wave, the group started in 2012, when the newly formed group of teenage boys released a few Soundcloud clips of them rapping in Korean and English. Hardly the kind of material that K-pop is known for, it was still a great introduction for what would eventually be one of the most successful acts in K-pop history. All the members were carefully selected and have gone through extensive idol training to prepare.
Since then, the group (composed of members Jungkook, Jimin, V, RM, Suga, Jin and J-Hope) have celebrated milestone after milestone, breaking into the U.S. music industry and even collaborating with Western artists. The group has also expanded into other ventures from television, fashion, modeling and even skincare.
What's really impressive about the group is their ever-growing fanbase called the BTS ARMY. Composed of millions of members, the fanbase is known for being extremely supportive of the group, which BTS is extremely grateful for. They are always interacting with the members and making them feel heard and accepted through words of inspiration and encouragement.

In a way, BTS seems to already have it all but things will only get better from here.
Eager to learn more about this South Korean sensation? Here are 30 things you must know about BTS.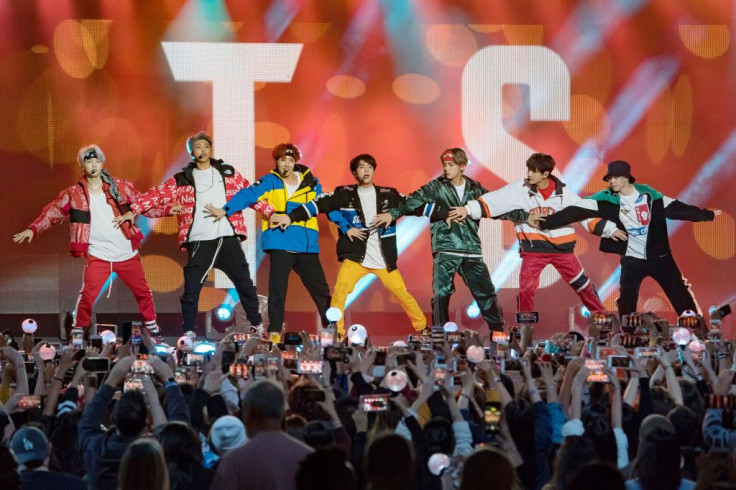 BTS group facts
1. BTS is the result of the industry wanting to make a new kind of idol
The story of BTS started when Bang Si-hyuk wanted to start a band that wouldn't follow the usual exploitation and abusive elements that the industry is associated with. In early 2010, he started to assemble a group of teens that would eventually become BTS.

Originally called Bulletproof Boy Scouts, Bang intended "bulletproof" to mean that the group is a celebration of the kids' toughness, as he wanted the group to be sincere and genuine, instead of being untouchable and immaculate idols.

At the time, this approach to idols was largely unheard of and would later lay the foundation for BTS' relationship with its loyal fanbase. It would also start an age when idols are more gentle and sympathetic, more like role models for their fans.
2. The name "BTS" has different meanings
BTS originally meant Bangtan Sonyeondan, which is a Korean phrase that literally translates to "Bulletproof Boy Scouts." At the time, the song was meant to represent the group's mission to fight injustices, stereotypes, criticisms and high expectations. This way, the group can help preserve the values and ideals of today's adolescents.
As time went on, the group expanded their brand identity and BTS also became known for "Beyond the Scene." According to the group, the extended meaning symbolizes the youth who decided to go against the grain to move forward and not settle.

The name is meant to send a message of resilience to its fanbase, no matter what kind of judgment they receive.
3. BTS frequently writes their own songs
In the mainstream music industry, pop artists usually don't do any songwriting, as that work is assigned to songwriters who are trained to write pop songs that are sure to sell.
BTS goes against the grain by writing their own songs and even handling the recording and production of their music. This hands-on approach helps ensure that what they end up singing and performing reflects their real thoughts and feelings, making it more genuine and authentic. It also helps the band focus on making full albums rather than just singles.

Of course, they still love collaborating with other producers in the studio. Some of BTS' members also have solo songwriting credits.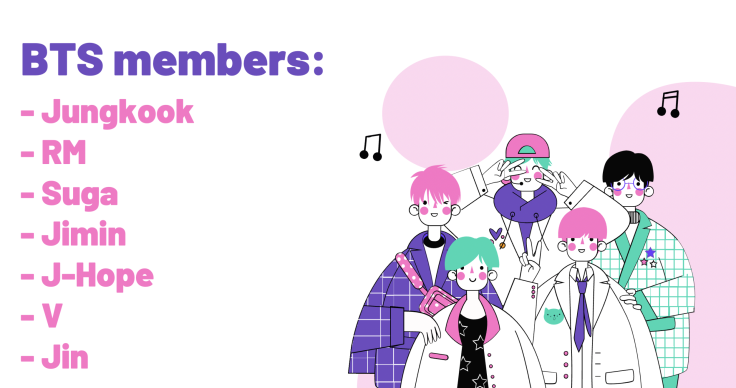 4. BTS is socially conscious
BTS is a group that wasn't formed to just sell and become idols but to inspire and help bring about social change. This is why BTS' lyrics are always socially conscious, often describing the pressures of modern teen life in their homeland.

Their topics also cover issues like racism, bullying, abuse, mental health and other social injustices. BTS' debut single, "No More Dream" is a mockery of people who only have materialistic goals and have no real passion in life. Another example is "Silver Spoon," which talks about the older generation who are trying to put down the youth for trying to make a mark in the world.

Plenty of BTS songs take social stances, often luring in listeners with a catchy beat before dropping meaningful lyrics. The band is always open to talking about their struggles and social anxieties as one of the biggest boybands in the world.
5. Unlike other idol groups, BTS members aren't "slave contracts"
Unlike most idol groups, BTS is also one of the few big names in the K-pop industry that are not considered as "slave contracts." As far as their artistry goes, BTS has full creative control of the material they want to put out and doesn't have any contractual obligations that are purely designed to make money.

This also means that whenever a fan decides to support BTS, they are directly supporting the artist and not just the label. This way, BTS can continue making music and art the way they envisioned it, without pressure from the label that other artists experience.
6. BTS wasn't supposed to be a boy band
Did you know that when the idea of BTS was still being formed, it wasn't originally meant to be a boyband? Originally, the idea of the other members acting as a support group for RM was tossed around.

Furthermore, the CEO of Big Hit Entertainment was so impressed by RM's rapping that he was meant to be part of a hip-hop act. Both ideas didn't pan out as Big Hit decided to go in a different direction by making BTS a boyband and ultimately found the formula to immense success.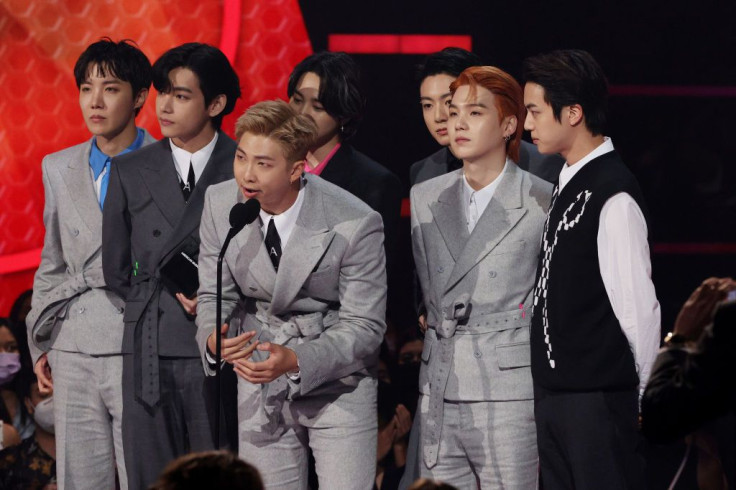 7. BTS has its own variety show
BTS' music is not the only way fans can support and connect with their favorite boyband. That's because the group also runs a variety web series called "Run BTS." The show is broadcast weekly and offered for free, featuring members of the band talking, hanging out and getting into all sorts of adventures with each other. The show also provides a great inside look at the busy and ever-changing lives of the BTS members.

The variety show has been around for years and is well-loved by ARMY members all over the world.
8. Their fanbase is called the ARMY
Just a month after the group made their debut in 2013, the ARMY fanbase was born. It stands for "Adorable Representative M.C. for Youth," the ARMY is one of the biggest fanbases in the world and is also one of the most connected.

They are incredibly supportive of the group and BTS is extremely grateful for their fans who have always stood by them.
9. The boyband is a boon to South Korea's economy
It's no secret that the band is wildly successful not just in South Korea but all over the world. This success is a boon to their home country's economy, as the band is reportedly responsible for approximately $5 billion in revenue for South Korea.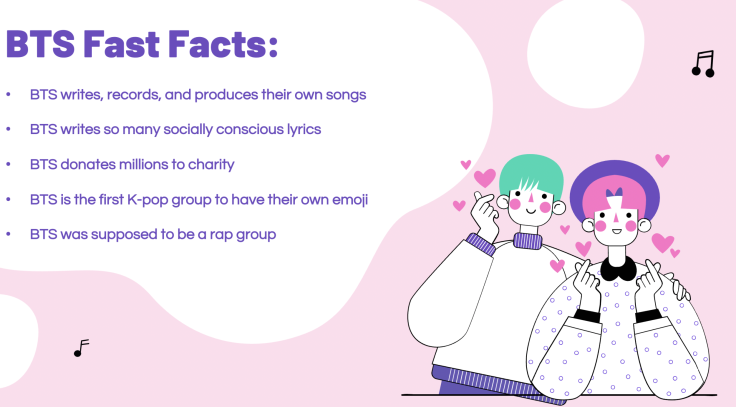 10. The group is considered a national treasure
Alongside the billions of revenue that they bring into South Korea, the Hyundai Research Institute also found that about 800,000 tourists visited South Korea in 2018 because of the boyband! That's a lot of money!
11. BTS has mastered social media
The group is also ruling social media, as BTS boasts the title of being the first South Korea-based Twitter account that has over 10 million followers and counting. Aside from that, the group is also the first boyband to get their own emoji, which they previously used to gauge where their fans are from.
12. BTS almost had a different name
It's hard to imagine BTS going by any other name. However, the band was almost named "Big Kidz" or "Young Nation," both of which do not have the same appeal as BTS.
13. Their label offered an initial public offering of the boyband
Back in October, the group's label, Big Hit Entertainment, offered an initial public offering (IPO) where fans can buy shares. Big Hit gave the seven members of BTS, 478,695 common shares, making them millionaires.
14. The band's music is set in an alternate universe
The universe (called the Bangtan Universe) was created by BTS and Big Hit Entertainment and revolves around a series of music videos, books, short films and even webtoons that follow characters based on the members of the boyband. The universe was originally introduced in their song "I Need U."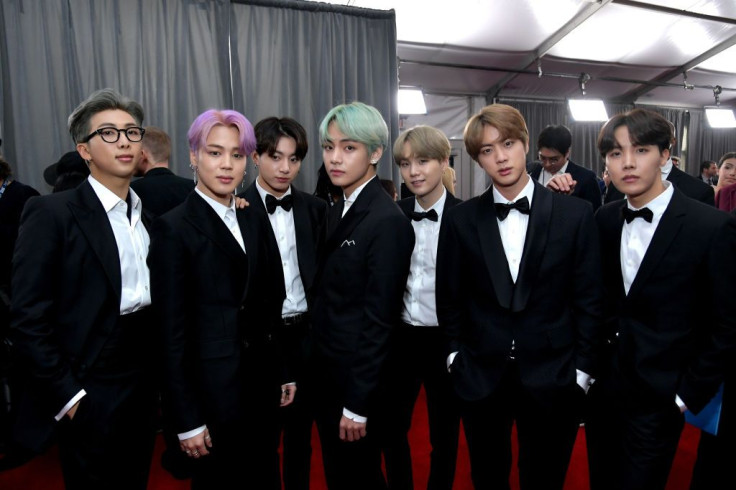 BTS members facts
15. RM, the group's leader, learned English from watching F.R.I.E.N.D.S
Admittedly, RM (Kim Nam-joon) is the best English speaker in the group, further solidifying his position as the band's leader. In an Ellen interview, RM revealed that he learned how to speak proper English by watching "F.R.I.E.N.D.S.," a show he loved to watch while growing up.
"Back in the days, when I was like 15, 14, it was quite like a syndrome for all the Korean parents to make their kids watch F.R.I.E.N.D.S. I thought I was kind of like a victim at that time, but right now, I'm the lucky one, thanks to my mother," he said in the Ellen interview.

Before BTS, RM was so good at English that he originally intended to start a career in literature and even loved writing poetry.
16. The band once lived in a one-bedroom apartment
Prior to being world-famous, BTS struggled to make ends meet and wasn't always successful. During this time, all seven members shared a one-bedroom apartment and had to pay 1,000 won whenever one of them breaks a house rule.
As the band became successful, they were able to afford better living conditions.
17. J-Hope used to be a famous underground street dancer
Before BTS, J-Hope used to be a street dancer and was part of a group called Neuron. During his time with the group, J-Hope won trophies from dance battles in his hometown. Now, he uses his dance skills to help with the band's choreography for their performances and live shows.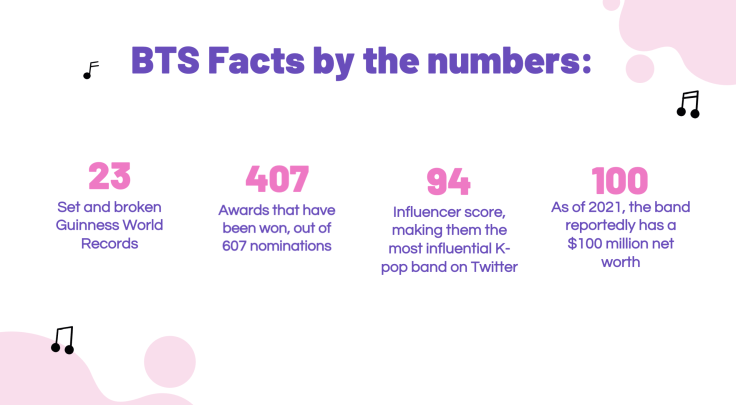 18. Jungkook dreams of becoming a tattoo artist
Jungkook is perhaps best known as the prodigy and golden child of the group, but did you know that if K-pop didn't work out, he would have pursued a career as a tattoo artist? The youngest BTS member is a big fan of self-expression through art.

Today, he's one of the two BTS members that have tattoos, the other one being Jimin. He also has more tattoos than Jimin and loves getting more and more ink on his skin.
19. Suga was an underground rapper
Before lending his rapping talents to BTS, Suga has already been making a name for himself in South Korea's underground scene as the rapper "Gloss." The name came from his birth name Min Yoon-gi, as Yoon-Gi translates to "gloss."

After joining BTS, he became one of the group's main rappers and constantly writes his own lines and lyrics. He also cites popular rappers in K-pop (both old and new) as his influences.
20. Jin was scouted by SM Entertainment
Before his work in BTS, Jin got an offer from SM Entertainment while he was still a junior high student. However, he thought that the offer was a scam, so he rejected the label's offer. The rejection became a blessing in disguise, as it gave him a chance to audition for Big Hit Entertainment that led to BTS.

He's also the oldest member of BTS and often acts as a mentor to his younger band members, especially when it comes to singing.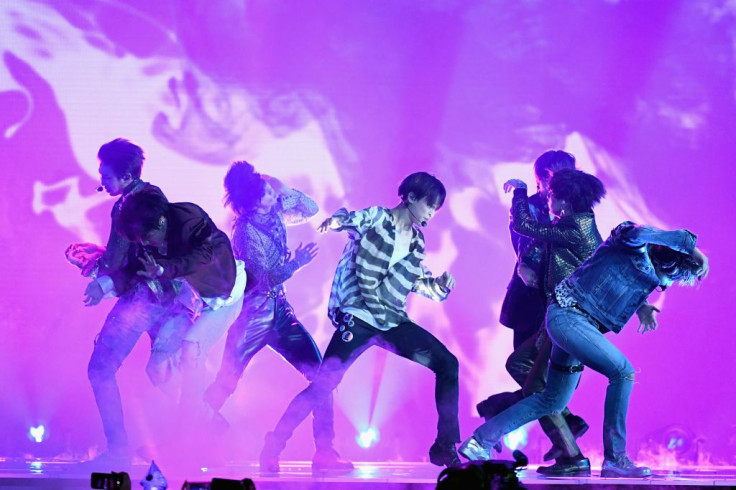 21. V plays the saxophone
When he was much younger, V spent three years of his life taking up saxophone lessons. He still showcases this talent every now and then.
22. Jimin was at the top of his class
Unsurprisingly, Jimin was at the top of his class during his time at the Busan High School of Arts. He was even encouraged by his teacher to audition for Big Hit Entertainment, which he eventually did!

Now, as part of BTS, Jimin says that he can never imagine leaving the band or ending BTS, as it's now the biggest and most important part of his life.
BTS awards and achievements
23. BTS is a multi-award-winning group
Currently, the group has been nominated 607 times and has won 407 awards.
24. BTS has broken several Guinness World Records
According to Guinness, BTS held a total of seven world records in 2019 alone, which includes most-viewed YouTube music video, most comments on a single YouTube music video and most Twitter engagements. Their album "Love Yourself: Tear" also became the first K-pop album to debut at number one on the Billboard 200.

This year, it has been announced that BTS and its 23 records will be entering the Guinness World Records 2022 Hall of Fame.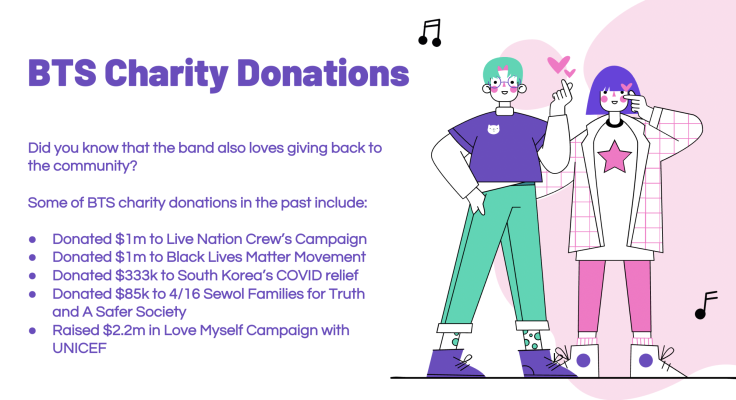 25. BTS launched a 2-year campaign against violence back in 2017
The campaign was called "Love Myself" and was launched alongside UNICEF. In total, the band was able to raise over $1 million for the campaign, which is a significant achievement.

According to the band, the campaign is in line with the group's advocacy and mission to spread love and hope to everyone that they can reach. The amount they raised was also donated to anti-violence campaigns and charities. In the future, the group wishes to do more campaigns like this and reach bigger heights to help more people.
26. BTS has a net worth of $100 million
Thanks to music, touring, album and merch sales and brand endorsements, BTS has amassed a net worth of $100 million, making the band one of the richest artists in the music industry.
27. BTS has as many Hot 100 hits as all other K-pop groups combined
Another incredible achievement that the band reached is that they now have as many 100 hits as all other K-pop groups combined.

This was confirmed by Forbes, which stated that back in 2020, BTS' album "Map of the Soul: 7" became the biggest debut album released that year. Three songs from the album, namely "On," "Filter" and "My Time" landed on the Billboard Top 100 and stayed there for weeks, making the group the most charted Korean group on the Billboard charts. Additionally, those three songs also made BTS the first K-pop group to have three songs to chart all at the same time.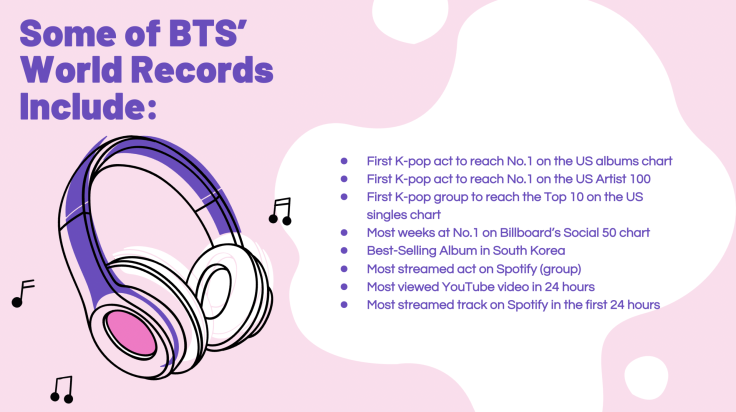 28. The group has the most commented music video in all of YouTube history
Another unique achievement that BTS made is having the most commented music video in YouTube history. This was also confirmed by Forbes, which stated the band's music video for their 2017 hit "DNA" has now gathered more than 5.07 million comments. This makes it the most commented music video on the video platform.

Previously, that record was held by another K-pop star, Psy, for his mega-hit "Gangnam Style." The music video has 5.04 million comments and billions of views.
29. Their song "Dynamite" made them the artist with the biggest Spotify debut of 2020
Their song "Dynamite" is perhaps best known for being incredibly catchy and fun but it also broke multiple records. One of these is the biggest Spotify debut of 2020, as the song was streamed 7,778,950 streams within a day, which broke Taylor Swift's previous record of 7.742 million streams with her song "Cardigan."

Aside from that, "Dynamite" also became the biggest music video debut on the platform, as it garnered over 101.1 million views in the first 24 hours.
30. BTS donated millions to charity in 2020
To give back to the people that never stopped supporting them, BTS and Big Hit Entertainment donated $1M to Live Nation Crew's campaign, which aims to help displaced workers that lost their jobs during the pandemic. Aside from that, the band also donated another $1M to the Black Lives Matter movement in the U.S. as well as an additional $333k for coronavirus relief efforts being made in South Korea.

Meanwhile, J-Hope donated $84.4k to the South Korean charity Childfund for kids in need. In the future, the group hopes to help more people in need by way of donations and other charitable efforts.
FOLLOW MORE IBT NEWS ON THE BELOW CHANNELS