In Acceptance Speech, Romney Keeps Focus On Obama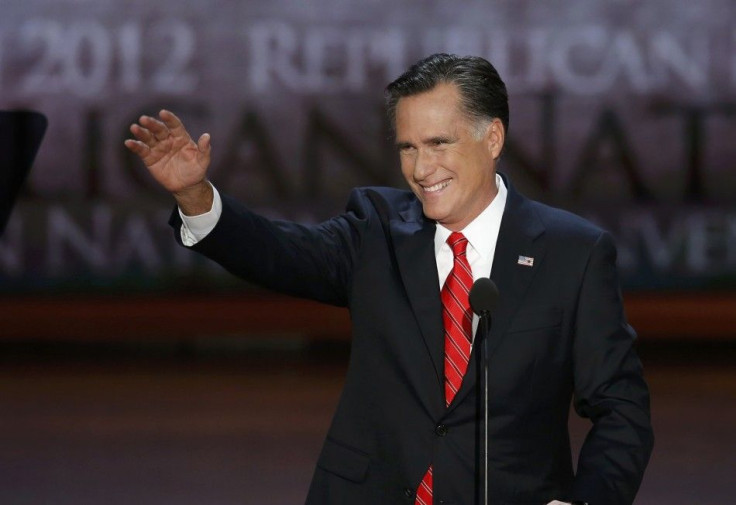 Mitt Romney accepted the Republican nomination for president Thursday night with a speech pledging to reverse President Barack Obama's legacy of "disappointment and division."
"For the first time, the majority of Americans now doubt that our children will have a better future," Romney said, adding that "now is the moment when we can stand up and say I'm an American. I make my destiny. We deserve better."
The address marked a close to a tumultuous primary season in which the former Massachusetts governor fended off numerous challengers while weathering doubts about his ability to galvanize the Republican base and fit in to an increasingly conservative party.
Since effectively securing the nomination, Romney has faced a concerted attempt by the Obama campaign to depict him as disconnected from the average American, a wealthy former corporate pillager who favors policies that would slash taxes for the rich and shift the burden to middle-class Americans.
The newly minted nominee sought to counteract that by emphasizing his personal background, touching on raising five sons and on his admiration and love for his late father George Romney, a self-made auto tycoon, former governor of Michigan and presidential candidate.
He spent much of his time assailing Obama's record, contrasting his success leading the investment firm Bain Capital with Obama's relative lack of private-sector employment, let alone business experience.
"These are American success stories," Romney said after listing companies, such as Staples and Sports Authority, that Bain had helped grow. "And yet the centerpiece of the president's entire re-election campaign is attacking success. Is it any wonder that someone attacking success has led the weakest economic recovery since the Great Recession?"
The Republican nominee vowed to repeal and replace the Affordable Care Act, move toward balancing the budget, expand domestic energy production and "respect the sanctity of life and the institution of marriage." He also accused Obama of abandoning allies like Israel and Poland while offering leniency to Iran and Russia, where he said he would take a harder line.
"We'll preserve a military that's so strong no nation would ever dare to test it," Romney said, a reference to his pledge to reverse threatened Pentagon cuts.
Romney spoke only fleetingly about his Mormonism, a topic on which his campaign has been largely silent, despite becoming the first major presidential nominee to emerge from a religion that was once targeted by armed federal troops.
But a procession of Mormons whom Romney had helped during his church leadership days in Boston made their way across the stage to share their stories. Grant Bennett, a fellow leader in the Church of Jesus Christ of Latter-day Saints, described Romney as a tireless devotee to the welfare of church members, a man ready with "compassion in all its beautiful varieties."
"Mitt Romney became my alarm clock," Bennett said, recounting early morning calls from Romney instructing him to administer to people in need.
Sen. Marco Rubio, the popular young Cuban-American Florida senator who was widely considered to be a top contender for the vice presidential slot, introduced Romney by recalling how his Cuban grandfather had instilled in him a sense of America's promise. Obama, Rubio said, has pushed the sort of ideas -- from the $800 billion stimulus package to the health care overhaul -- that "people come to America to get away from."
Obama's policies "threaten to make America become more like the rest of the world instead of helping the rest of the world become more like America," Rubio said. "We're special because we've never made the mistake of thinking we're so smart than we can rely on our leaders and our government," Rubio added later, invoking divine guidance.
Romney's struggles to win over Latino voters are well documented, and the night featured several direct appeals to Hispanics. In a video montage, Latino elected officials that included Rubio and Gov. Susana Martinez of New Mexico said the Republican Party's emphasis on economic opportunity and entrepreneurship held a powerful appeal to Hispanic values. Earlier, Mitt Romney's son Craig delivered a speech mostly in Spanish.
Former Florida Gov. Jeb Bush used his speaking slot to call for education reform, calling the state of American schools "the great moral and economic issue of our time" and praising Romney's push to give parents greater leeway in choosing which schools their children attend (Romney has called for school vouchers in place of per-student federal education funding).
Romney "believes parents regardless of ZIP code or income should be able to send their children to the school that suits them best," Bush said, praising Romney's efforts to raise school standards in Massachusetts.
Several of Romney's erstwhile presidential rivals have spoken during the Republican National Convention in Tampa, Fla., this week. Former Speaker of the House Newt Gingrich, who waged a combative campaign that some Republicans criticized for its forceful attacks on Romney's record, on Thursday evening delivered a subdued speech casting Romney as a disciple of President Ronald Reagan.
"The Romney plan for a stronger middle class has deep roots in Reagan's approach," Gingrich said, saying Obama's agenda has been a "direct repudiation" of Reagan.
© Copyright IBTimes 2022. All rights reserved.
FOLLOW MORE IBT NEWS ON THE BELOW CHANNELS