After First ISIS 'Terrorist Attack' On America, US Officials Consider Military Action In Syria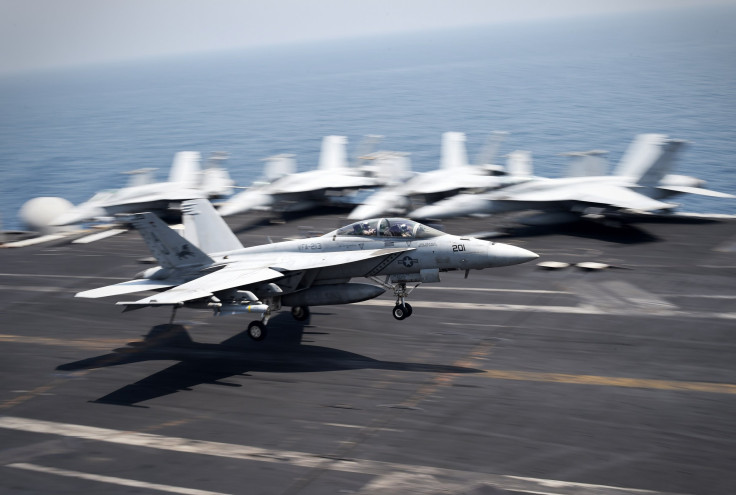 U.S. intelligence and military officials have begun collecting geographic information about current Islamic State strongholds and leadership positions inside Syria, CNN reported. The Obama administration has been hinting about Syrian intervention since the Islamic State carried out what American officials called its first "terrorist attack" against the U.S., meaning the killing of American journalist James Foley.
"There's a pretty good possibility that we and/or some kind of multinational effort will engage in hitting ISIS targets inside Syria," Frederic Hof, the White House's former point man on Syria, told CNN.
The Obama administration has avoided a military entanglement in the Syrian Civil War for more than three years, despite the death toll there rising to almost 200,000 and even when President Bashar Assad's regime crossed the chemical weapon "red line," killing nearly a thousand people in a single attack. The Islamic State, formerly known as the Islamic State of Iraq and Syria, or ISIS, now poses a threat the White House cannot ignore, especially because the group has dominated international headlines since beheading Foley on camera.
"We're actively considering what's going to be necessary to deal with that threat, and we're not going to be restricted by borders," Ben Rhodes, Obama's deputy national security adviser, said at a press briefing Friday. "We've shown time and again that if there's a counterterrorism threat, we'll take direct action against that threat, if necessary."
The U.S. has already begun airstrikes on ISIS strongholds in Iraq, but intervening in Syria would be a completely different situation. As previously reported, the U.S. does have some allies in Syria. However, they "cannot be compared to the kinds of established relationships that we have with the Peshmerga and the KRG [Kurdistan Regional Government] on the one hand and the Iraqi central government and the Iraqi security forces on the other," said Michael Hanna, a senior fellow at the Century Foundation who focuses on U.S. foreign policy and the Middle East.
The legality of striking Syria is still debatable. Iraqi and Kurdish forces asked for U.S. intervention to deal with ISIS, but the Syrian government has not done so. What's more, the country technically has a disputed sovereignty, requiring any foreign entity looking to drop bombs there to get approval from the United Nations Security Council.
However, U.S. officials appear to be primarily concerned with rescuing the remaining American hostages in ISIS hands.
"You don't need to be invited in if you're trying to rescue your people from imminent danger," the Hill quoted Rhodes as saying.
© Copyright IBTimes 2023. All rights reserved.