Ukraine Army Retreats From Destroyed Donetsk Airport, Soldiers Captured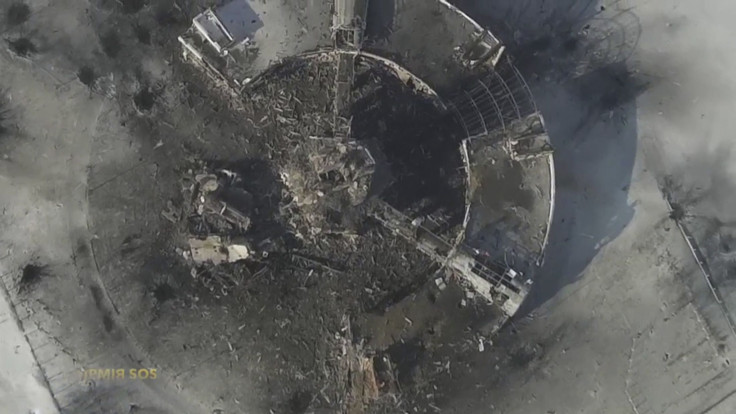 After months of defending Donetsk International Airport from pro-Russian separatist attacks, the Ukrainian government confirmed Thursday that the army has retreated from the now-destroyed main terminal. Acting speaker of the General Staff of Ukraine Vladislav Seleznyov said that some of the buildings inside the airport, however, remain "under the control of the Ukrainian military."
"As of this moment, the battle for Donetsk airport is still continuing. Our soldiers continue to protect some of the buildings," Seleznyov said, while also mentioning that the main terminal building, also known as the new terminal, had been destroyed because of the constant bombardment on Ukrainian positions from pro-Russian rebels. "Due to the fact that the terminal had been shot through by direct fire, last night it was decided to withdraw from the territory of the terminal," added Selezniov.
The Ukrainian military is now negotiating for the release of 16 soldiers captured by the "militants of the so-called Donetsk People's Republic" on Wednesday. According to the press center of the anti-terrorist operation (ATO), which is what the Kiev government calls its campaign against the separatists, there are also many wounded Ukrainian soldiers who require medical assistance trapped amongst the rubble in the collapsed airport terminal.
While fighting for the airport continues in pockets, the press center also said Thursday that pro-Russian forces launched an attack on the nearby city of Debaltseve, which is currently under Ukrainian military control and around 70 kilometers (40 miles) from Donetsk International Airport.
"The most difficult situation has been seen in the area of Debaltseve. Since morning the enemy has been launching powerful shelling on the positions of the ATO forces," the press center wrote on Facebook. "Our military is conducting counter-battery fire. Illegal armed groups are also trying to conduct offensive operations, but they are being repulsed by the Ukrainian army."
A deal reached in Berlin on Wednesday may see an end to some of the violence. Russian and Ukrainian diplomats have agreed to withdraw heavy weapons from the front lines, reported the Wall Street Journal. The agreement came after talks between Russia, Ukraine, France and Germany, but there has been no breakthrough to help end the wider conflict in eastern Ukraine.
© Copyright IBTimes 2023. All rights reserved.