AKB48 Members Attacked By Saw-Wielding Fan; Japanese Pop Group Releases Statement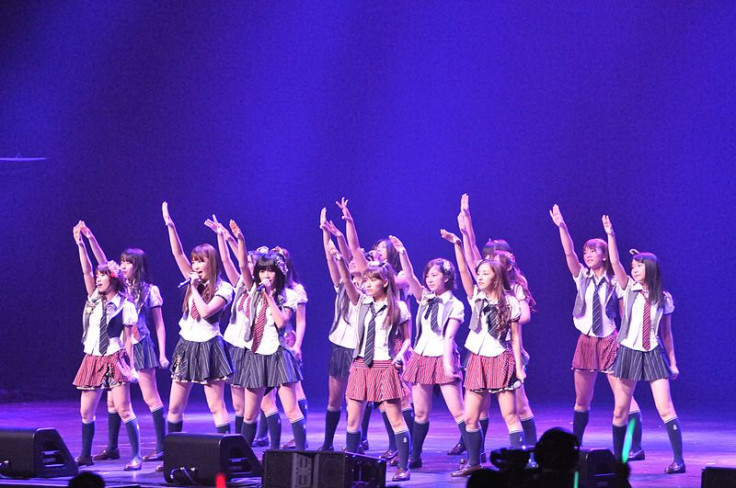 Two members of AKB48, a Japanese pop group, were hospitalized over the weekend after being attacked by a "fan" wielding a saw. The group was holding a meet-and-greet appearance in Iwate, Japan, on Sunday afternoon when a man on line pulled out the weapon.
According to AFP, the two members attacked were 19-year-old Rina Kawaei and 18-year-old Anna Iriyama. Kawaei reportedly fractured her right thumb, which was also cut by the blade; while Iriyama injured her right little finger. Both girls also suffered from head injuries from the saw.
A male staff worker at the event sustained injuries as well when he tried to stop the attack.
According to reports, AKB48 had been at a handshaking event following a concert when a man removed a foldable saw from his jacket. He headed for Kawaei and Iriyama, who were standing at the entrance of a tent. The Japanese Times identified the attacker as 24-year-old Satoru Umeta, an unemployed man from Towada, Amori Prefecture.
AKB48's management team, AKS, released a statement following the attack:
"Today, Takizawa, Iwate: At a handshake meeting in Iwate Sangyo Bunka Centre Apio for the 33rd Single Electric Heart and 35th Single Mae Shika Mukanee, AKB48 members Anna Iriyama and Rina Kawaei along with one member of the organizers' staff were attacked by a blade-wielding fan. They suffered injuries to their hands. Currently Iriyama Kawaei and the staff member are being treated in hospital. None are in life-threatening condition.
"We deeply apologize for any concern this may have caused to fans. As soon as Iriyama, Kawaei, and the staff member's conditions are known in more detail we will report again."
Kawaei and Iriyama were released on Monday, and spoke with reporters outside of the hospital.
"We've caused you worry, but we are returning to Tokyo now," Kawaei reportedly said, addressing fans. "Thank you very much."
AKB48 is a Japanese pop idol group consisting of 140 females in their early teens to mid-20s. The group was created by producer Yasushi Akimoto, who had the idea to put pop stars directly in fan's hands – instead of on TV. AKB48 has its own theater where different "teams" perform daily. Because of the large number, the "teams" are also able to perform simultaneously at different locations.
© Copyright IBTimes 2023. All rights reserved.