Aleppo Evacuation Live Updates: Assad Government, Syria Rebels Claim Violence Despite Ceasefire
UPDATE 3:18 p.m. - President Barack Obama stated Friday that only Syrian President Bashar Assad and Russia were responsible for reports of violence against civilians in Aleppo, while claiming rebels were not ready to govern the country as they attempted to flee their former stronghold amidst a breakdown of talks with the Syrian government.
In his last press conference of the year, Obama, who supported the rebels politically and militarily, told audiences that "the opposition on the ground was not cohesive enough" to replace Assad. He then accused the Syrian government and its Russian ally of committing "atrocities" during the five-year-long civil war that has ravaged Syria and involved a wide range of foreign actors.
Both the Syrian government and rebels accuse each other of targeting civilians and sabatoging efforts to evacuate trapped residents and militants in Aleppo. Assad has called Obama's successor, Donald Trump, a "natural ally" in the fight against terrorism and the president-elect has suggested he may cut funding to the Syrian opposition altogether.
UPDATE 2:20 p.m. - As the operation to evacuate around 50,000 citizens from the remaining rebel-held pockets of Aleppo stalled among a breakdown of talks and reports of violence, other residents rejoiced as they returned to their homes in the embattled eastern section of the city.
The Syrian government and opposition forces blamed one other for sabotaging efforts to move civilians and militants out of rebel enclaves. Syrian state media claimed fighters were attempting to smuggle heavy weapons with them, while rebel sources accused pro-government forces and Iranian-backed militias of harassment and violence.
Supporters of Assad's government celebrated their return to the besieged city, a focal point of the five-year civil war that has claimed the lives of 400,000 Syrians and displaced millions more.
UPDATE 1:56 p.m. - Reports of violence and chaos plagued an already stunted operation Friday to evacuate about 50,000 residents of Aleppo as an unsteady ceasefire remained between the Syrian government and opposition forces as pro-government forces demanded rebels also evacuate 15,000 civilians in two rebel-held northwestern towns, mostly supportive of President Bashar Assad.
Syrian state media reported that the evacuation was suspended after some fleeing Aleppo attempted to smuggle weapons out of the city and that Al Qaeda-linked rebels must allow government convoys to extract those trapped in the Shiite-majority towns of Foua and Kefraya in order for the operation to continue.
Accounts also surfaced from rebel sources and residents in eastern Aleppo claiming militias close to the Syrian government and its Iranian ally blocked convoys from leaving through a previously established corridor. Abdulkafi Al Hamdo, a resident who International Business Times has spoken to before, and a fellow witness said that armed men demanded personal belongings from fleeing residents and instigated violence.
UPDATE 12:45 p.m. EST — Plans to evacuate about 50,000 residents of Aleppo were halted Friday as violence struck Damascus and conflicting reports came as to whether Al Qaeda-linked rebels in the country's northwestern Idlib province would permit government convoys to also relieve two opposition-sieged villages whose Shiite-majority residents were mostly supportive of Syrian President Bashar Assad.
Syrian state media reported that a 7-year-old girl entered a police station in the Midan neighborhood of the Syrian capital before a suicide vest she was wearing detonated, killing her and injuring a member of the security forces.
"Moments after she entered the station, they blew up the device remotely, causing the death of the girl and the slight injury of one of the station's members," the newspaper quoted a source as saying.
Syria's Al Watan newspaper reported three were injured in the station. The Syrian Observatory for Human Rights, a pro-opposition human rights group based in the U.K., confirmed that one woman had died in an explosion but noted the circumstances remained unclear.
UPDATE 11:52 a.m. EST — The evacuation of about 50,000 of Aleppo's entrapped civilians was halted Friday, with the Syrian rebels disagreeing over whether to accept a Syrian government condition to also allow the extraction of about 15,000 in the rebel-held, Shiite-majority towns of Foua and Kefraya.
Sources within Jabhat Fatah Al Sham, formerly Al Qaeda's Nusra Front, offered conflicting reports as to whether rebels would allow a government-sponsored convoy to extract wounded and those wishing to leave the besieged towns located in Syria's northwestern Idlib province. Reports initially surfaced suggesting the jihadist group had agreed to relieve the villages, while another denied that an agreement had been reached.
UPDATE: 10:35 a.m. EST — The evacuation of an estimated 50,000 civilians in the Syrian city of Aleppo was stopped Friday, as the Syrian government called on rebels to first end their siege on two mostly pro-government towns in the country's northwestern Idlib province.
A convoy of buses and ambulances headed to the rebel-sieged, Shiite-majority towns of Foua and Kefraya had intended to take part in an operation to evacuate civilians and wounded, but was turned back, according to pro-Syrian government Lebanese news outlet Al Mayadeen.
"The buses designated for the evacuation of civilians from Kefraya and al-Foua left the area after fighters obstructed the operation," the station reported.
Original story:
The planned evacuation of an estimated 50,000 civilians in the Syrian city of Aleppo was halted Friday, as the Syrian government called on rebels to first end their siege on two mostly pro-government towns in the country's northwest Idlib province.
The Syrian government said Wednesday it would allow civilians to withdraw from the last rebel-held eastern parts of Syria's former largest city and commercial capital if opposition forces ensured the safe evacuation of around 15,000 people two Shiite-majority villages, Foua and Kefraya, including those reportedly wounded by recent rebel shelling. Rebels blamed the Syrian government and its allies, specifically the Iranian-backed Lebanese Shiite movement Hezbollah, for trying to sabotage the deal.
A year after anti-government protests swelled into armed opposition against Syrian President Bashar Assad in 2011, Aleppo became a stronghold for the rebel movement. Internal ideological fractures, a subsequent decline in international support and a pro-Assad Russian intervention last year, however, turned the tides of war against the Syrian rebels and their forces lost territory to a rapid advance by the Syrian army and its allies as they laid siege to the city, pounding it with frequent airstrikes.
Pro-opposition sources blame the Syrian military and its allies, especially Russian air power, for about 30,000 civilian deaths, while pro-government forces claim rebels held 100,000 of the city's residents hostage.
The Syrian government and Russia declared victory Tuesday and attempted to broker a ceasefire with remaining opposition fighters and Turkey to evacuate tens of thousands of civilians trapped in the last rebel-held pockets of the city's eastern side. A deal was reached, and it's believed about 6,000 people left before the agreement broke down, with both sides blaming one another for pursuing violence against civilians.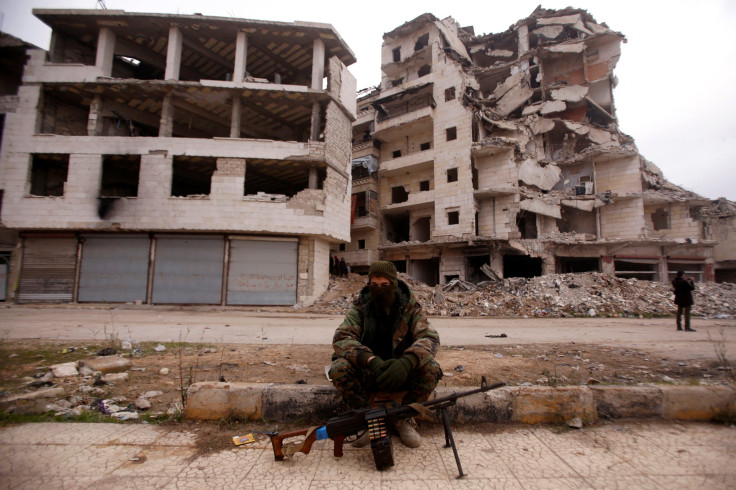 This is a developing story. Check back for updates.
© Copyright IBTimes 2023. All rights reserved.