Alexei Navalny Has Lost 7kg From Virus Infection, Denied Visits From Families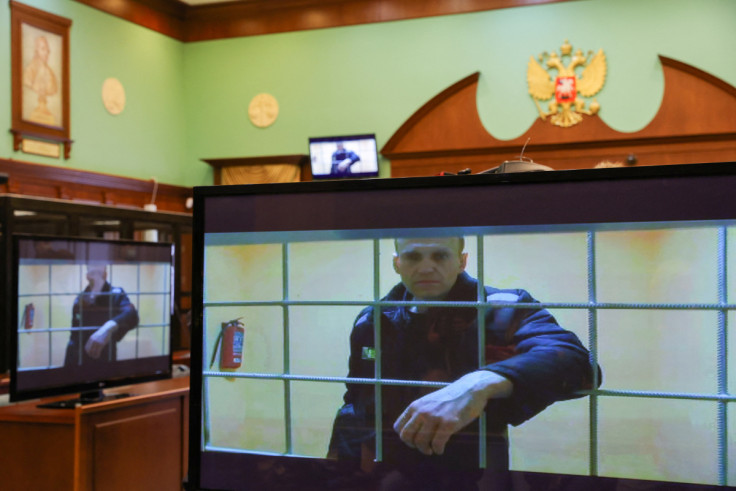 KEY POINTS
Navalny is suffering from stomach pains after receiving antibiotics contraindicated for him
Navalny has also been denied any visit from his family for at least eight months
Navalny will be transferred to a punishment cell where he will stay for half a year
Russia's most prominent opposition politician and Kremlin critic Alexei Navalny have reportedly lost seven kilograms from a virus infection while in jail, according to his lawyer.
In a statement published on Telegram, Navalny's lawyer Vadim Kobzev said his client is suffering from stomach pains after he was prescribed "huge doses" of antibiotics to treat a respiratory virus infection, which he contracted after an infected inmate was placed in his cell. The medication, however, was contraindicated for him.
"The Federal Penitentiary Service continues its lawlessness and directly works to undermine Navalny's health. After they actually deliberately infected him with some kind of SARS, they did not give him medicines, but 'treated' him with huge doses of antibiotics contraindicated in this case," Kobzev said in the statement, as per translations via Google Translate. "As a result, Navalny got some kind of complication, he has sharp pains in his stomach, he lost 7 kg of weight."
In addition to suffering from an infection and stomach pain, Navalny has also been denied visits from family for at least eight months and would unlikely be able to see his loved ones for another half year after he was ordered to spend six months in a punishment cell.
"I haven't had any visits for 8 months and yesterday I was told that I'd be transferred to a cell-type facility for the maximum possible term of 6 months," Navalny wrote in a tweet. "No visits are allowed there. This means more than a year without a visit. Even maniacs and serial killers serving life sentences have the right to receive a visit, but I don't."
Navalny is currently serving a nine-year sentence in a maximum security prison outside Moscow on fraud charges that he called politically motivated. He was first imprisoned in January 2021 after recovering from a near-fatal poisoning with what German scientists identified as Novichok, a Soviet-era military-grade nerve agent.
Weeks after his initial arrest, he was sentenced to two and a half years in prison for allegedly violating the terms of earlier parole by going to Germany. In March of last year, in the wake of Russia's invasion of Ukraine, Navalny was handed a nine-year prison sentence on accusations of embezzling donations from supporters.
© Copyright IBTimes 2023. All rights reserved.