All Eyes On April FOMC, US 1Q GDP: Next Week's Economic Events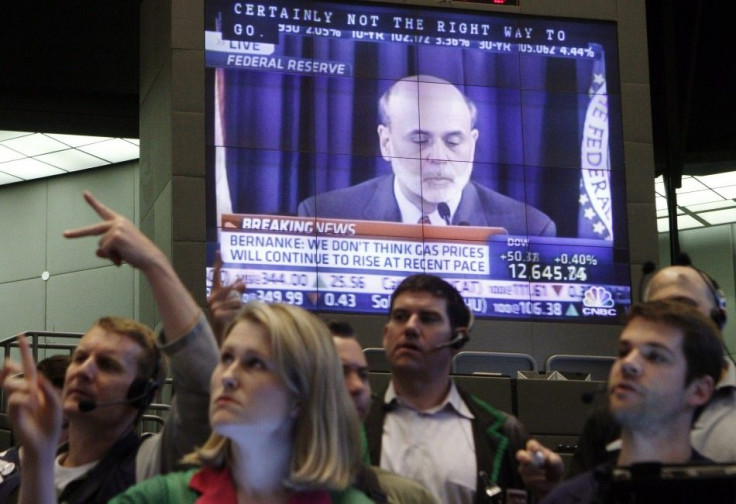 The Federal Open Market Committee meeting on April 24-25, Fed Chairman Ben S. Bernanke's comments during the post-meeting press conference, and an advance reading on U.S. gross domestic product in the first quarter will dominate the economic calendar next week.
Fed officials will likely be in watch-and-wait mode at the FOMC meeting. A third round of quantitative easing, or QE3, is not entirely off the table, but is unlikely at the next few meetings, according to many economists. Markets will also watch to see whether the Fed will push for additional transparency moves.
Below are entries on the economic calendar for April 23-27 -- all listed times are Eastern Daylight Time:
Monday
No important U.S. events scheduled at this time.
Non-U.S.:
China -- HSBC Flash manufacturing PMI index for April.
France -- Flash manufacturing/services PMI index for April.
Germany -- Flash manufacturing/services PMI index for April.
Euro zone -- Flash manufacturing/services/composite PMI index for April
Euro zone -- Eurostat publishes latest euro-zone fiscal figures for 2011.

Tuesday
TBA -- First day of the two-day FOMC meeting.
9 a.m. -- The S&P/Case-Shiller 20-city home price index for February is expected to rise 0.2 percent month-on-month, while falling 3.6 percent year-on-year.
10 a.m. -- Federal Housing Finance Agency housing price index for February.
10 a.m. -- New-home sales should rise 1.9 percent, to 319,000 in March from 313,000 in February. Mortgage applications jumped last month, indicating an improvement in contract signings. However, builder sentiment was flat in March.
10 a.m. -- Federal Reserve Bank of Richmond manufacturing survey for April.
10 a.m. -- Consumer confidence is expected to fall to a three-month low of 69.0 in April from 70.2 in March. Since the last confidence report, initial jobless claims climbed back up, the equity market sold off, and retail gasoline prices remained elevated.
Non-U.S.:
Germany -- Economy Ministry releases new macroeconomic forecasts.
France -- Consumer-confidence indicator for April.

Wednesday
TBA -- Building permits, March revision.
7 a.m. -- Mortgage Bankers Association mortgage index.
8:30 a.m. -- Durable-goods orders are expected to drop 1 percent month-on-month in March after a 2.4 percent jump in February. The decline stems primarily in nondefense aircraft, as Boeing orders softened over the month. Excluding transportation, economists anticipate durable-goods orders to rise 0.9 percent, after advancing 1.8 percent in February.
10:30 a.m. -- Crude inventories for the week ending April 21.
12:30 p.m. -- FOMC interest-rates decision. Economists say Fed officials are unlikely to make significant changes to their outlook or to monetary policy at the meeting. The FOMC will likely maintain its view that the economy is expected to grow at a moderate pace in coming quarters. On the inflation front, the committee should continue to view energy price movements as having a transitory effect on headline inflation and characterize inflation as subdued and long-term inflation expectations as stable. Overall, economists see the FOMC staying in a wait-and-see mode while evaluating incoming data to better judge the strength of the recovery and the state of the labor market.
2 p.m. -- Federal Reserve officials release their projections for GDP growth, unemployment, and inflation, as well as their projections of the appropriate path of the federal funds rate over the next several years and in the longer run.
2:15 p.m. -- Bernanke answers questions from the media. Look for comments to clarify the conditions that might warrant a change in Fed policy later this year.
Non-U.S.:
U.K. -- GDP preliminary release for the first quarter.
Thursday
8:30 a.m. -- Initial jobless claims are expected to drop modestly to 375,000 for the week ending April 21 from 386,000 the previous week.
8:30 a.m. -- The Chicago Fed National Activity Index (CFNAI) for March.
10 a.m. -- The pending home-sales index, tracking signed contracts on single-family homes, condominiums, and cooperatives, should increase 1.2 percent in March after a modest decline in February.
Non-U.S.:
Ireland -- The so-called troika -- European Central Bank, European Union, and International Monetary Fund -- concludes latest review of Ireland's performance under its bailout package.
Germany -- Preliminary consumer price index and retail sales in April.
Euro zone -- Final reading on April consumer confidence.
Euro zone -- April industrial confidence index.
Japan -- March nationwide CPI and industrial production.

Friday
8:30 a.m. -- Economists expect U.S. real GDP to advance 2.5 percent at an annual rate in the first quarter, after a 3.0 percent increase in the fourth quarter of last year. Personal consumption should rise 2.1 percent, while business spending on equipment and software will moderate.
8:30 a.m. -- The employment cost index should increase by 0.5 percent in the first quarter, a little stronger than the 0.4 percent increase recorded in the last three months of last year and consistent with the increase in wages and salaries during the period.
9:55 a.m. -- The Reuters/Michigan consumer sentiment index is likely to remain unchanged at 75.7 in the final April reading.
Non-U.S.:
Spain -- First-quarter unemployment rate.
Dates and times are subject to change.
Sources: Central banks, European Commission, Reuters, Market News, Barclays Capital, Bank of America Merrill Lynch.
© Copyright IBTimes 2023. All rights reserved.