Amar'e Stoudemire Vs. Fire Extinguisher: Fake Twitter Account, GIF, T-Shirt Signal Open Season On Memes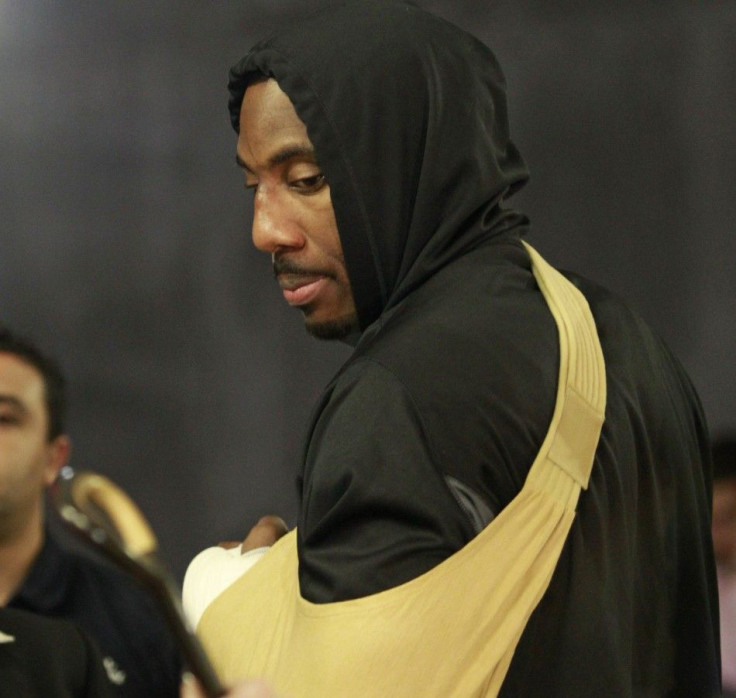 What's a lowly fire extinguisher supposed to do to get a bit of attention? How about ending up on the receiving end of an NBA star's fury, putting a franchise's 2012 playoff hopes in jeopardy and then taking to Twitter to tell the tale.
New York Knicks forward Amar'e Stoudemire capped a night spent losing to the Miami Heat, 104-94, by driving his fist through a glass door that stood between him and a fire extinguisher. The move put his team's playoff run in jeopardy. But the aggrieved fire extinguisher fought back, with a Twitter handle yucking up Stoudemire's bad luck, a T-Shirt meant to get under the skin of Knicks fans and the first of likely many gif animations.
The fire extinguisher, using the handle @AAAExtinguisher, started tweeting around the same time Stoudemire sauntered out of American Airlines Arena in Miami sporting a sling.
Come at me, bro @amareisreal, the faux fire-safety device tweeted, calling out Stoudemire directly.
In the time since, it has taken to pseudo-juvenile puns and rapid-fire bursts of humor. The Knicks star tweeted an apology to fans and teammates, to which the fire extinguisher asked Where's my apology?
Stoudemire's predicament has tickled the fancy of Knicks haters and fans of dumb athletes. The incident has already spawned a mocking T-shirt made by a Queens, N.Y.-based company. The internet has naturally created a gif animation swiping a scene from Office Space to reenact the incident.
Let the flood of Stoudemire v. fire extinguisher memes begin.
© Copyright IBTimes 2023. All rights reserved.