Amazon Cyber Monday 2017 Deals On Electronics, Toys, Vacuums, Kindle, Games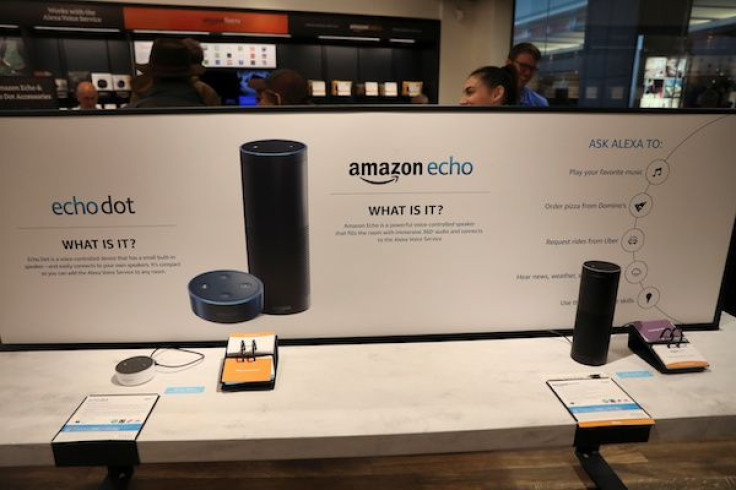 If today's Black Friday deals aren't enough for you and you've still got some gifts to cross off your list, you'll get another shot at the sales after the weekend. Amazon's Cyber Monday deals will offer shoppers a second chance at snagging some massive discounts. Not only will the day include day-long sales, there will also be more than 30 "Deals of the Day" and thousands of "Lightning Deals," according to Amazon. The Deals of the Day will begin Saturday and Amazon voice shoppers will have access to the Cyber Monday deals starting Sunday at 8 p.m. EST.
Chances are if you're looking for a certain item, Amazon will have a deal on it. The site is offering discounts on tens of thousands of items on Monday, from home furnishings, to electronics, toys and entertainment.
For starters, Amazon will continue offering large discounts on its own devices. The company's line of Echo devices will all be on sale, and the Echo Dot will see it's highest discount ever selling for just $29.99.
Amazon Echo Show - $179.99
Amazon Echo Plus - $119.99
Amazon Echo - $79.99
The full line of Kindle devices will be on sale too. The least expensive of which will be the Kindle Fire 7, on sale for $29.99. The Kindle Fire HD as well as the Fire Kids editions will all be on sale.
Kindle Fire HD 10 - $99.99
Kindle Fire HD 8 - $49.99
Kindle Paperwhite - $89.99
Kindle - $49.99
Aside from the many Amazon products, including Amazon essential essential items that are on sale there are thousands of others that you might not know you even needed until you saw them on sale.
Electronics on sale on Amazon for Cyber Monday:
Televisions from several different makers will be on sale Monday, at heavily discounted prices. Sony will be offering its 4K UHD Smart TV in three different sizes all on sale for as little as $478, according to Amazon. Other sellers will have similar products at lower prices but the brands of some of these offers has not been revealed yet. LG will also be selling its 4K UHD Smart TV for less than usual as well. Aside from TVs items like headphones and electric keyboard will be on sale too.
Toys on sale for Cyber Monday:
Certain LEGO sets will be up to 30 percent off on Monday and Hasbro products and games like Play-doh and Nerf toys will be up to 50 percent off.
Home furnishings and goods on sale for Cyber Monday:
If you've been waiting to buy a good vacuum, Monday might be the time to take the plunge. Several brands are offering deals on vacuums including Dyson and Hoover, as well as certain robots vacuum brands. You'll also be able to get a deal on Black & Decker and Hamilton Beach kitchen electronics, these will be 30 to 40 percent off on Monday.
Gifts for your pet from Amazon on Cyber Monday:
Dog beds, jackets and collars from certain retailers will be on sale Monday as well as an aquarium tank for animal lovers.
Video games, books, entertainment on sale for Cyber Monday:
Call of Duty: WWII, Middle-Earth: Shadow of War, Injustice 2, and Overwatch will all be up to 60 percent off for Cyber Monday, quite a deal for the games that are usually a bit pricey. The Kindle Unlimited membership will also be on sale, for up to 40 percent off while some Kindle books will be up to 85 percent off
For a full list of the deals, click here, or wait until Monday.
© Copyright IBTimes 2023. All rights reserved.
FOLLOW MORE IBT NEWS ON THE BELOW CHANNELS