Amazon Echo 2 Will Reportedly Copy Design Elements From Apple's HomePod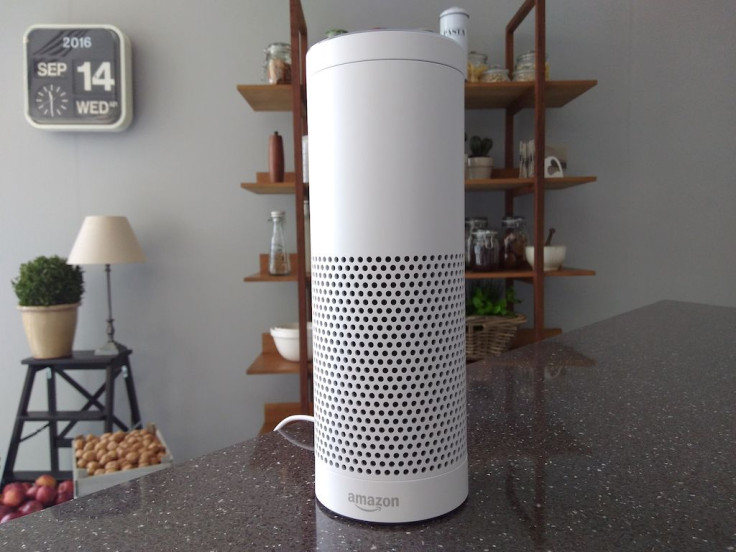 It's been more than two years since the Amazon Echo smart speaker was released in the United States, and Amazon is believed to be debuting a successor later this year. A new report claims that the Amazon Echo 2 will look similar to Apple's HomePod.
The Amazon Echo 2 is said to be shorter and slimmer than the original unit, while its edges will be be more rounded, an anonymous source told Engadget. The Echo successor is also said to come with a "softer" design with the addition of a cloth-like covering, instead of the original device's all-plastic shell.
The new Amazon Echo speaker has also been described as if it were three or four Echo Dots stacked on top of each other. The original Echo's design hasn't aged well, and introducing a successor with an updated look along with a form factor that takes up less space should help it better compete with the sleeker Apple HomePod.
READ: Can Amazon Echo Dial 911? Alexa Cannot Make Emergency Calls But There Are Ways To Make It Do That
Although Amazon seems to be targeting a smaller and slimmer design, the company is also planning on some improvements on how the speakers will sound. The Amazon Echo 2 will apparently be packing several tweeters, but the source didn't specify how many. The original Echo is only equipped with one large tweeter and a woofer.
The new Echo smart speaker will also have better microphone technology. However, the source didn't give out specific information on how Amazon will improve the microphones that are on the original Echo.
The original Amazon Echo features an array of seven far-filed microphones that are able to hear voice commands from some distances from different directions. For comparison, the Apple HomePod has six, while the Google Home only has two.
It's possible that Amazon intends to improve the microphone technology on the new Echo smart speaker by improving the software and acoustic modeling. This same method was used by Google for its Home smart speaker, which is why it only needed two microphones in order to pick up voice commands. It's also possible that Amazon has some new kind of hardware innovation that it will introduce with the new Echo speaker. The company did pioneer the use of far-field microphones, after all.
READ: Amazon Echo Vs. Apple HomePod: Which Device Do Consumers Want?​
The source claims that they have already seen a working unit of the new Amazon Echo speaker. It's possible that Amazon is planning for a fall release date. It might possibly arrive sometime in October, as speculated by Phone Arena. The timing of its release is crucial, considering that Apple is planning to release the HomePod in December.
Unfortunately, there were no details given on the Amazon Echo 2's pricing. It's possible that Amazon might simply slap on the original Echo's initial price tag of $180, but there's still a chance that it might be priced closer to the $130 Google Home (currently on sale for $99).
Whichever the case, the new Amazon Echo would still be more affordable than Apple's HomePod, which costs $349. That being said, Apple's pricing reflects its desire to directly compete with the premium speaker maker Sonos, which sells wireless compact speakers between $199 and $499.
© Copyright IBTimes 2023. All rights reserved.
FOLLOW MORE IBT NEWS ON THE BELOW CHANNELS