Amazon HQ2 In Virginia: Headquarters To Create 25,000 Jobs As Board Approves Funding
A small but vocal group of Virginians brandishing anti-Amazon slogans failed to convince the Arlington County Board from voting unanimously in favor of Amazon receiving a financial package that will ensure the company establishes its second headquarters, or HQ2, within the city.
Protesters repeatedly shouted "shame" as the county board voted 5-0 to approve a $23 million incentives package for Amazon to build HQ2 in northern Virginia. Amazon chose National Landing, a site jointly owned by Arlington County and the city of Alexandria, just outside Washington D.C.
The approved financial package is worth some $51 million in total. The amount includes a controversial direct financial incentive (or cash grant) of $23 million to Amazon over 15 years. This amount will be collected from taxes on Arlington hotel rooms. It also depends on Amazon occupying six million square feet of office space over the first 16 years.
Arlington also offered to invest more than $28 million of future property tax revenue in onsite infrastructure and open space at the headquarters site over the next 10 years.
This $51 million, however, is only a fraction of the $481 million promised by the county to Amazon. Only 5 percent of the incentives are direct. In addition, Amazon has also been offered a $750 million package by the state of Virginia. The Virginia General Assembly approved this far larger package with little opposition.
The $23 million grant and the $28 million in strategic public infrastructure investments were "instrumental in Amazon choosing Arlington for its headquarters," said a filing on the county board's website.
In November 2018, Amazon picked National Landing and New York City for its HQ2 or second headquarters. New York two weeks ago rejected Amazon's offer despite being the frontrunner. Opposition from local leaders angered by the massive incentives promised by state and city politicians to Amazon scuttled the deal.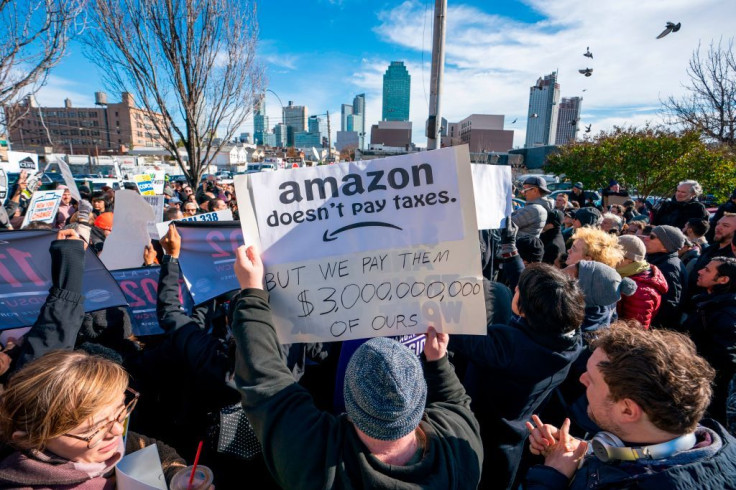 Holly Sullivan, Amazon's worldwide head of economic development, said the company will invest some $2.5 billion and create more than 25,000 jobs in Virginia. These jobs will have an average annual wage of over $150,000. Sullivan said Amazon will generate more than $3.2 billion in tax revenue for the state
"Regarding incentives, Amazon is only eligible for the financial incentive after we make our investments and occupy office space in the community," she said.
Many speakers at the Virginia country board meeting who oppose the Amazon headquarters slammed the direct incentives. They also said news of Amazon's arrival is already boosting housing costs, and is displacing low-income families, among other disadvantages. They also cited the lack of investment guarantees in affordable housing funds.
"Speculators are already driving up home prices, landlords are raising rents and general contractors are raising their quotes for home improvement projects," said one resident.
The AFL-CIO and other unions object to Amazon not signing a labor agreement with wage and benefit safeguards for workers hired to construct the new buildings. Amazon is infamous for being anti-union.
© Copyright IBTimes 2023. All rights reserved.