Amazon Launches 'Amazon Cash', A Credit-Free Way To Make Purchases: Here's How To Use It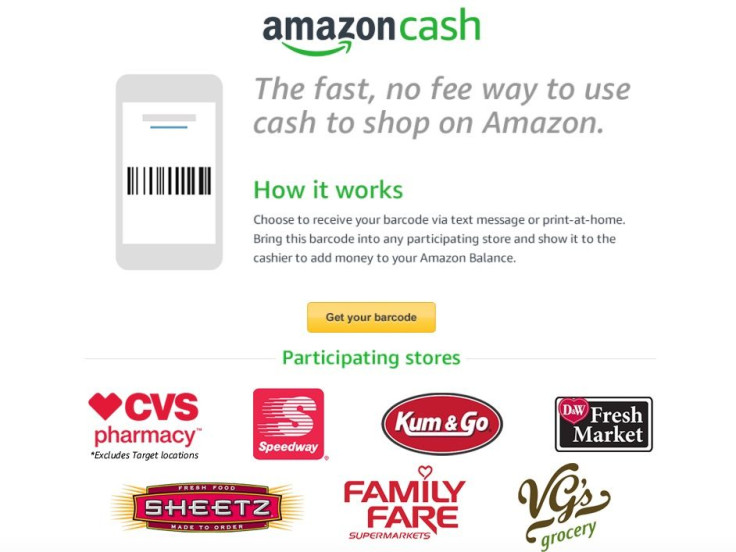 Amazon announced its latest Amazon Cash service that lets users make purchases without using a credit card. Find out how to use the all cash payment system, here.
Love Amazon but hate using credit to make purchases? On Monday the company announced its latest solution to the conundrum, Amazon Cash. With Amazon Cash, customers now have the ability to add cash to their Amazon accounts right from the comfort of a neighborhood retailer. The service launches today and includes seven major retailers with more to come. Among these are: CVS Pharmacy, Speedway, Sheetz, Kum & Go, D&W Fresh Market, Family Fare Supermarkets and VG's Grocery. The new service doesn't require a credit card or bank account in order to add money. Users can add credit to their Amazon accounts using real cash from their pockets in increments of $15 – 500 and there are no fees or charges for using the service.
Amazon Cash is aimed at getting more shoppers using Amazon's service – particularly those who may have the cash to make purchases but don't have a credit card or prefer not to use one. According to a 2015 FDIC report, the "cash customer" base is pretty sizable, with a reported 27 percent of consumers making all purchases in cash, free from the use of bank accounts or credit cards. Up to this point, cash customers were resigned to purchasing Amazon gift cards in amounts like $25 and $50 to make purchases at the online retailer. Now customers have more options as to how much money they add to their account and the finds are available for instant use once added. The elimination of fees such as those associated with prepaid cards also makes Amazon Cash an attractive user model.
How Does Amazon Cash Work? How To Use Amazon's New Credit Card Free Purchases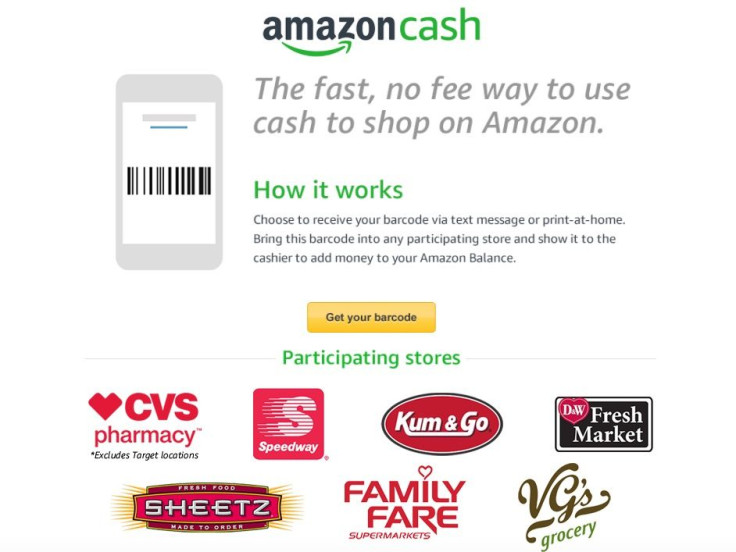 Using Amazon Cash is pretty simple for anyone who has an Amazon account set up.
Sign into your Amazon Account.
Go to the Amazon Cash webpage and click "Get your barcode."
You will have the option to have a barcode texted to your phone or have a printable version show up on the computer screen.

Take the barcode to your local Amazon Cash retailer and tell them how much money you want added to your account.
The retailer will scan the barcode and add the amount of money you indicate.
The funds are now available for use on your Amazon.com account!
That same barcode can be used over and over again so there's no need to get a new one each time you go to add money to your account. If you are an iOS user the barcode can be added to your Wallet app or for Android users, you can place a shortcut to the barcode on your homescreen.
What do you think of the new Amazon Cash service? Is it something you will use? Share your thoughts in the comments below.
© Copyright IBTimes 2023. All rights reserved.