Amazon Prime Now Lawsuit: 4 Drivers Sue For Unpaid Overtime In Proposed Class Action Suit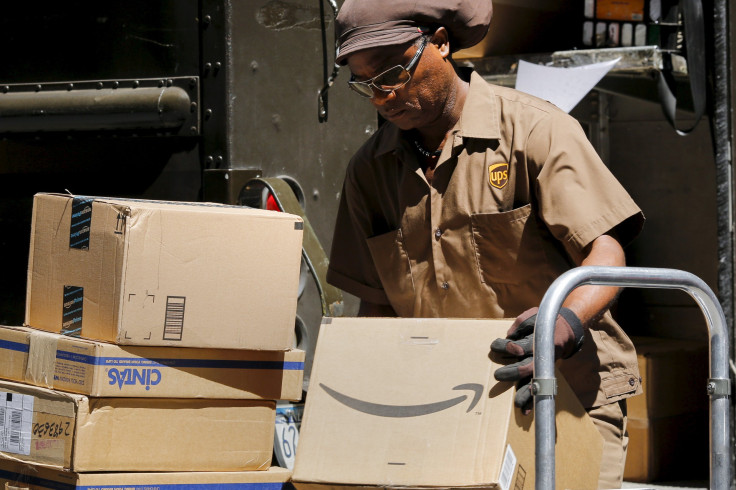 Four drivers for Prime Now, Amazon's one and two-hour delivery service, filed a lawsuit in California Tuesday alleging that Amazon wrongly classified them as independent contractors when they were effectively employees. Their case adds to a slew of recent similar lawsuits filed by drivers at ride-hailing or on-demand delivery services including Uber, FedEx and Postmates.
"These are human beings. They are not drones," Beth Ross, an attorney who is representing the four drivers in the case, Taree Truong et al. vs. Amazon.com Inc et al., told SFGate. Ross represented FedEx Ground drivers in California in a lawsuit alleging that FedEx had wrongly classified more than 2,000 FedEx drivers as independent contractors instead of employees. FedEx ultimately agreed in 2014 to a $228 million settlement.
The Amazon Prime Now drivers were hired by Scoobeez, a contractor that hires hundreds of drivers for the on-demand delivery service, but they work exclusively for Amazon, donning Amazon Prime Now uniforms and taking regular shifts and assignments from the company -- signs that they are being treated as employees, according to the lawsuit. Yet by being classified as contractors, workers had been deprived of overtime pay, breaks for meals and other rights given to full-time employees. Employers are required by law to withhold income taxes for their employees and pay a portion of their taxes for Social Security and Medicare, for instance.
Drivers at other companies have filed recent lawsuits along the same lines. In September, a federal judge in California allowed drivers for Uber, the ride-hailing app, to proceed with a class-action lawsuit claiming they were being wrongly classified as contractors. As a result, they had had to cover the costs of expenses like gas and maintenance that they should otherwise be reimbursed for, they said. Uber has argued that it does not employ drivers but instead simply connects prospective drivers with prospective passengers.
In June, workers from Postmates, a delivery service, and Shyp, a shipping company, also filed lawsuits saying they had been treated like employees but classified as independent contractors.
"When companies have control over their workers, when they get to dictate how they should act, when they get to decide whether they can work or not work...those are employees," Shannon Liss-Riordan, who filed several of these lawsuits, including the one against Uber, told TIME in March. "These are the workers carrying out the services that these companies provide. So these workers are entitled to the protections of the law, to get their expenses reimbursed, to be guaranteed overtime, to make [at least] minimum wage," she said.
Amazon Prime Now is a service that offers Amazon Prime members one- and two-hour delivery "from early morning to late night, seven days a week," according to the company. It's currently available in roughly a dozen cities and areas of the U.S. The company announced Thursday that Prime Now had launched in the San Francisco Bay area, in addition to existing services in Los Angeles and Orange County. "Prime members can get superfast delivery on tens of thousands of items from daily staples like paper towels, milk or ice cream to laptops and Kindle devices," the company said in a press release.
© Copyright IBTimes 2022. All rights reserved.
FOLLOW MORE IBT NEWS ON THE BELOW CHANNELS