Ammonia Leak Is Ukraine's 'Planned Provocation' To Falsely Accuse Russia Of Chemical Attack: Moscow
KEY POINTS
A Ukrainian official told the residents of the town of Novoselytsya to seek shelter
The site of the Sumykhimprom plant was reportedly shelled Monday morning
Kharkiv, Chernihiv, Sumy and Mariupol have been under intense firing
Hours after Ukraine's prosecutor general, Iryna Venediktova, said shelling at a chemical factory caused a leak in a 50-tonne tank of ammonia, Russian military spokesman Igor Konashenkov hit back, claiming the leak was a "planned provocation" by Ukrainian forces to falsely accuse Moscow of a chemical attack.
The leak reportedly took hours to contain, said Venediktova, according to the Associated Press.
A Ukrainian official had reportedly asked the residents of the northern town of Novoselytsya to seek shelter following the ammonia leak at the nearby chemical factory. This came as intense fighting with Russian forces continued in the area.
The site of the Sumykhimprom plant, which produced fertilizers, was reportedly shelled Monday morning, an update from the Sumy regional military administration revealed.
"As a result of the shelling 1 tank with ammonia was damaged," Ukraine's state emergency services said in an update on its Telegram account [Google Translate showed].
This led to a leak of ammonia, which was a highly corrosive, toxic and hazardous gas. The gas can be fatal to humans if ingested, inhaled or absorbed through the skin. Inhalation of ammonia gas can lead to a fatal buildup of fluid in the lungs, and symptoms can develop hours after exposure.
Residents were told to seek refuge in basements or on lower levels of buildings to avoid exposure, Al Jazeera reported.
"Ammonia is lighter than air, therefore shelters, basements and lower floors should be used for protection," Sumy regional governor, Dmytro Zhyvytskyiy, said in a Telegram message, adding emergency crews were at the scene.
He added prevailing winds meant the nearby city of Sumy – about 220 miles east of Ukraine's capital, Kyiv – was not under immediate threat.
The Russian Ministry of Defense claimed late Sunday "nationalists" had "mined" ammonia and chlorine storage facilities at Sumykhimprom "with the aim of mass poisoning of residents of the Sumy region, in case of entry into the city of units of the Russian Armed Forces."
Konashenkov also said an overnight cruise missile strike hit a Ukrainian military training center in the Rivne region. He added 80 foreign and Ukrainian troops were killed in the strike.
Kharkiv, Chernihiv, Sumy and Mariupol have been under intense firing, according to the Russian Coordination Headquarters for Humanitarian Response in Ukraine. Several casualties have been reported in the areas.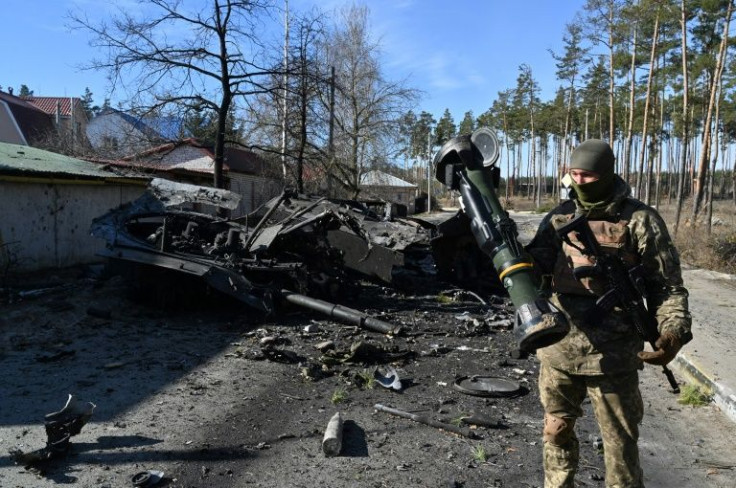 © Copyright IBTimes 2022. All rights reserved.
FOLLOW MORE IBT NEWS ON THE BELOW CHANNELS