Analysts Say China Has 'Ability And Resolve' To Make Its Chips Despite US Curbs
KEY POINTS
Futurum Group's Daniel Newman said China Can build "really important products" using old technology
Semiconductor analyst Charles Shi cited China's progress in creating chips based on mature technology
Nvidia's Jensen Huang previously warned the U.S. not to underestimate China's abilities in chip-making
Chip industry analysts are confident that China can produce its own semiconductors even if the United States has been moving to cut the Asian powerhouse's access to the technology needed to build chips.
"I don't underestimate China's ability and resolve to find a way to build next-generation technologies and to also utilize some lagging technologies to still build really important products," Daniel Newman, CEO and principal analyst at research firm Futurum Group, told CNBC Monday.
"I certainly think in the long run, we should expect the Chinese to be able to make these technological advancements. It's quite possible that they're able to do so faster than maybe others might expect," Paul Scharre, vice president and director of studies at think tank Center for a New American Security, said.
Charles Shi, principal and senior semiconductor analyst at asset management firm Needham & Company, noted that China has shown "good progress in making chips based on mature technology," which is a string of tech processes that build larger chips or legacy chips.
Shi added that the said chips were "increasingly important" in the auto sector. The 28-nanometer legacy chips are also used in consumer electronics, which Statista said is a market that generates the most revenue from China.
Scharre agreed that there was an opportunity for China to capitalize on the "very healthy market for legacy, older model chips" while it worked on getting the resources necessary to build the latest, most advanced chips.
The latest comments from analysts came days after Nvidia founder Jensen Huang said China's ability to come up with resources to utilize the country's GPU market shouldn't be underestimated.
"If you weren't in the chip industry and you wanted to start a chip company, what company would you start? You would start a GPU [company]. And there's a whole bunch of GPU start-ups in China," Huang was quoted as saying during the annual Computex Taipei expo last week.
Huang said the resources dedicated by China to the GPU industry were "quite massive, so you can't underestimate them."
The tech chief also said in an interview with the Financial Times last month that the White House should "be careful," as China was "a very important market for the technology industry."
Huang said if Chinese companies were banned from purchasing semiconductor tech from American supplies, these firms would "just build it themselves."
The U.S.-China cold war over tech has affected the semiconductor industry from both sides.
The latest company to have been hit in the chip war was Boise-based Micron, one of the world's major chip manufacturers.
China's cybersecurity administration said last month that Micron's products posed "serious potential network security issues" that endangered the country's national security. The agency has urged Chinese companies to stop purchasing Micron products.
The U.S. government under President Joe Biden has been working to block China's access to most of the advanced semiconductors and equipment from American suppliers, citing national security risks.
The Biden administration imposed export controls last year that it said would prevent China from acquiring "sensitive technologies with military applications." The Netherlands and Japan followed suit with similar controls on chip exports.
Dutch and Japanese controls against China are expected to affect the Netherlands' ASML — the world's lone producer of ultraviolet lithograpy (EUV) and deep ultraviolet lithography (DUV) chip-making machines — and also Japan's Nikon and Tokyo Electron, Forbes reported.
The export control measures have directly affected some of China's biggest chip makers, including state-backed Yangtze Memory Technology Corp (YMTC).
China isn't the only country affected by U.S. export controls on semiconductors.
Some South Korean chipmakers with production plants in China are implementing other measures to survive the chip market beating.
Samsung Electronics and SK Hynix are reportedly expected to step up cooperation with Japan to help them weather the headwinds brought about by American export restrictions, The Japan Times reported.
Meanwhile, Republican lawmakers are pressuring the Biden government to act on China's ban on Micron products.
Rep. Michael McCaul of Texas and Rep. Mike Gallagher of Wisconsin said "the time has come" for the U.S. and its allies to "firmly push back" on China's "economic coercion" that targeted American businesses and the U.S. economic security.
In particular, McCaul and Gallagher are urging the Commerce Department to restrict China's ChangXin Memory Technologies Inc., which is considered a Micron rival.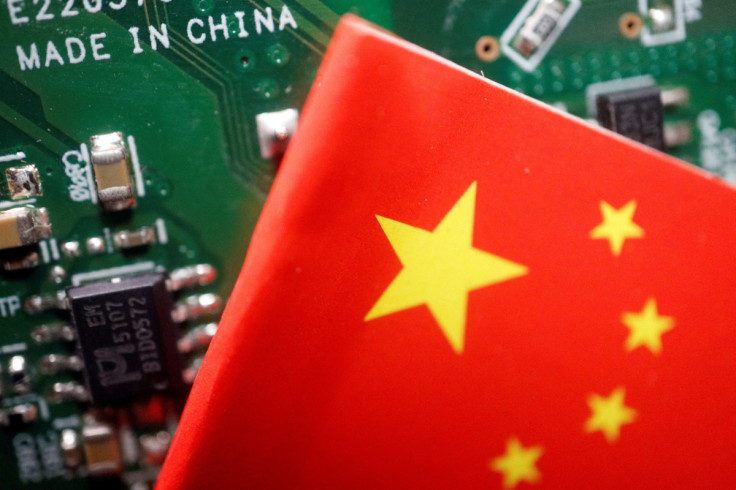 © Copyright IBTimes 2023. All rights reserved.