Android 4.4 KitKat Update: Samsung Galaxy Note 3 (SM-N900) Rollout Continues As Kernel Source And Second Firmware Leak Surfaces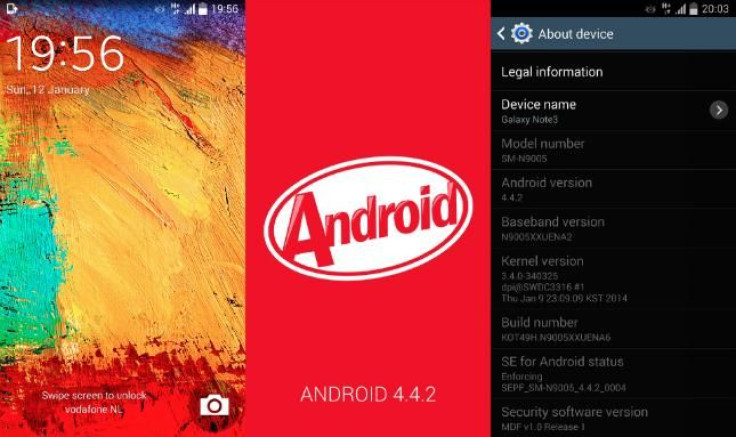 The Android 4.4 KitKat update for the Samsung Galaxy Note 3 began last week with the SM-N9005 model in Poland – now the update continues in Russia for the SM-900 model.
Notably, the SM-N9005 Galaxy Note 3 features the Qualcomm Snapdragon 800 chipset and the SM-900 Galaxy Note 3 features the Samsung Exynos 5420 chipset. These models in Poland and Russia are currently the only two proper Galaxy Note 3 models, which are updated to Android 4.4 KitKat; however, the Samsung Galaxy S4 Google Play Editon also runs Android 4.4.
The Android 4.4.2 build version N900XXUDNA6 now rolling out for the Russian Galaxy Note 3 is available over-the-air, which can be checked for manually by accessing Settings > More > About Device > Software update > Update.
With the Android 4.4 update comes such features as "immersive mode," an updated lock screen design, "always on" hands-free navigation, decreased fragmentation with Project Svelte, an updated dialer and caller ID, text message and Hangouts integration, a complete emoji keyboard, updated NFC powered features, cloud printing and storage, TV and Bluetooth compatibility as well as screen recording.
There doesn't appear to be a change log available for this Android 4.4 update; however, it is listed among Samsung's live updates. Users can also find the update available for download.
Now with both international models for the Galaxy Note 3 now receiving the Android 4.4 KitKat update, it is expected to begin rolling out on to international models in other countries. It may be some time before most carrier-branded Galaxy Note 3 models will update to Android 4.4, especially U.S. carriers such as AT&T, T-Mobile, Sprint and Verizon. But the SM-N900W8 model for the Telcel carrier in Mexico could be one of the next to update as test firmware for this particular model recently leaked. Notably, Android 4.4 test firmware for the Galaxy Note 3 specific to Europe leaked not long before the official update began rolling out in Poland.
Meanwhile, Samsung recently released its Android 4.4 kernel source for the Galaxy Note 3, which could indicate that updates in other regions are gearing up to update. With the Galaxy Note 3 specific Android 4.4 kernel, developers will also be able to expand their work with device.
Are you a Galaxy Note 3 owner in Russia receiving the Android 4.4 KitKat update? Let us know in the comments below.
Follow me on Twitter, FionnaatIBT.
© Copyright IBTimes 2023. All rights reserved.