Android 4.4 KitKat Update Arrives: Samsung Galaxy Note 3 (SM-N9005) Receives OS Shortly After Leaked Test Firmware Surfaces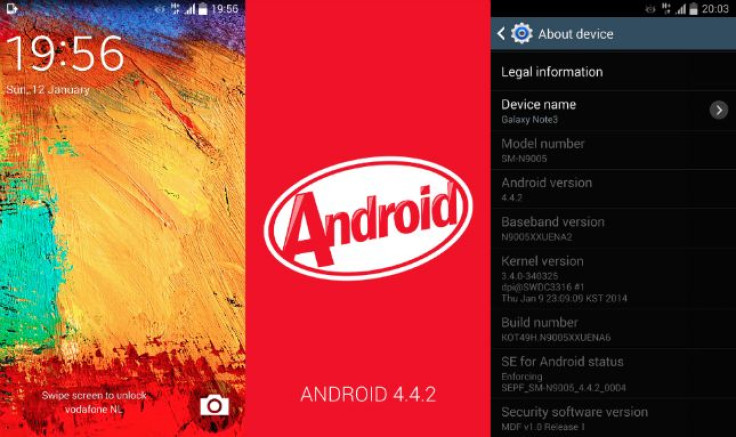 Samsung may not have been talking about its Android 4.4 KitKat update plans because it has been too busy preparing the firmware for rollout. As of Monday, the Android 4.4 update for the Samsung Galaxy Note 3 has officially begun.
The first Galaxy Note 3 model to receive Android 4.4 is the international SM-N9005. which is specific to Poland. The first official Android 4.4 update for a Samsung device comes just a day after SamMobile shared leaked firmware for the Galaxy Note 3 SM-N9005 model. According to the tech website, the firmware was a final test build, which would not be modified outside of bug fixes once Samsung began to roll out the official update. This appears to be true as the Android 4.4.2 build version N9005XXUENA6 now rolling out onto the Polish Galaxy Note 3 is the same build, which was leaked on Sunday.
With the Android 4.4 update comes such features as "immersive mode," an updated lock screen design, "always on" hands-free navigation, decreased fragmentation with Project Svelte, an updated dialer and caller ID, text message and Hangouts integration, a complete emoji keyboard, updated NFC powered features, cloud printing and storage, TV and Bluetooth compatibility as well as screen recording.
About the leaked Android 4.4 firmware, SamMobile reported a substantial performance increase in addition to white status bar icons, camera shortcut implemented on the Galaxy S4 lock screen and other minor UI changes. The Android 4.4 changelog identifies a number of these updated features will now be available on the Galaxy Note 3 SM-N9005 model in Poland. Below are other details about for the Android 4.4 update.
Tech Details - Model: SM-N9005; Country: Poland; Version: Android 4.4.2; Changelist: 340325; Build date: Thu, 09 Jan 2014 14:20:24 +0000; Product Code: XEO; PDA: N9005XXUENA6; CSC: N9005OXXENA5; MODEM: N9005XXUENA2.
Android 4.4 KitKat Release Schedule And Firmware
With the Android 4.4 KitKat update now introduced to the Samsung Galaxy line, the OS will likely soon begin to roll out onto other international Galaxy Note 3 models. Most carrier branded models will likely not receive Android 4.4 for many weeks or months, especially U.S. carriers such as AT&T, T-Mobile, Sprint and Verizon.
Meanwhile owners for the Galaxy Note 3 SM-N9005 model can try out the test firmware, which is now confirmed as the same build officially rolling out onto Samsung devices. Users should do so with caution and back up their handsets beforehand. We are not responsible for any damage that may come to your Galaxy Note 3 handset.
Android 4.4 KitKat test firmware for Samsung Galaxy Note 3 information and download.
Notably, many sources indicated that Samsung's most recent flagships, the Galaxy Note 3 and Galaxy S4, would begin updating to Android 4.4 in January, which has turned out to be accurate for the Note 3 at least. Test firmware for the Galaxy S4 has also leaked recently, which could be an indication that Android 4.4 will soon begin to roll out for the devices as well. SamMobile predicts that the Samsung Galaxy S4 will begin to update to Android 4.4 in February or March. But the SM-N9005 Poland update was so unexpected there is no telling when Android 4.4 will begin rolling out for the Galaxy S4.
It would make sense for the Galaxy Note 3 to update first as Android 4.4 KitKat would be the device's first system update since its release in September. The Galaxy S4 just recently update to Android 4.3 Jelly Bean between October and December. But with the release of Android 4.4, which allows greater device compatibility and decreased fragmentation with Project Svelte, several manufacturers including Samsung have been expected to keep their devices more up to date with the latest Android versions. In addition, HTC, LG and Sony also have plans to update flagship devices in January.
Though Samsung has not revealed much information about the Android 4.4 KitKat update, users look for update news from their local Samsung divisions. Keep in mind that Samsung confirmed Android 4.3 Jelly Bean updates in the U.S. shortly before they began. Outside of the U.S. many carriers may have Android 4.4 update information available for their Samsung Galaxy devices.
Are you a Galaxy Note 3 owner in Poland receiving the Android 4.4 KitKat update? Let us know in the comments below.
Follow me on Twitter, FionnaatIBT.
© Copyright IBTimes 2023. All rights reserved.