Android 4.4 KitKat Update: Verizon HTC One Receives New OS; HTC One Max Updating In Hong Kong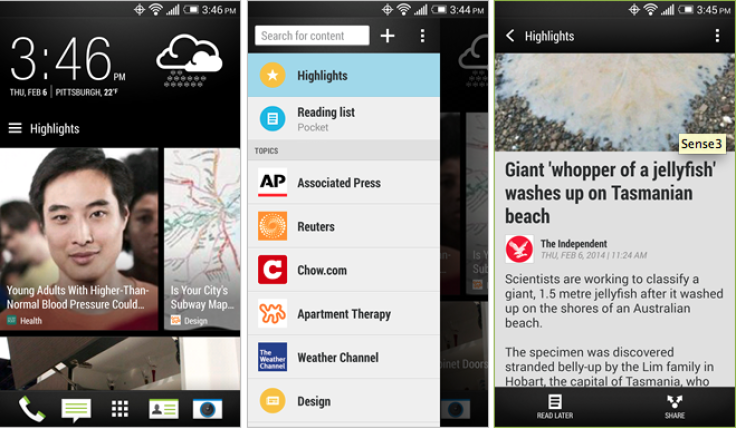 The Android 4.4 KitKat update for the HTC One continues, with Verizon rolling out the new system on its HTC One model.
HTC's executive director of product management, Mo Versi, announced via Twitter on Thursday that Android 4.4.2 for the Verizon HTC One had received technical approval; the update began hitting the Verizon HTC One handsets later that day.
The Verizon HTC One update follows a short delay in the Android 4.4 rollout, which HTC announced at the end of January. The manufacturer was aiming to have U.S. carrier models updated to Android 4.4 by late January, but the certifications that U.S. network models require before pushing out system updates held up that timeline.
Nevertheless, the Sprint HTC One and several Canadian models began receiving Android 4.4 through manual download just days after HTC announced the rollout delay. Sprint says its over-the-air update will begin Tuesday. The AT&T and T-Mobile HTC One models have yet to update to Android 4.4. The HTC One Google Play Edition, HTC One unlocked model and HTC One Developers Edition all updated to Android 4.4 in late 2013.
With the Verizon HTC One model being the second to update, Big Red is breaking its tradition of being the last U.S. carrier to rollout system updates. Notably, the Verizon HTC One was not updated to Android 4.3 Jelly Bean until over two months after other major carriers updated their models. The Android 4.3 update for the HTC One also say certification related delays, but other HTC One models updated within weeks of their original schedule.
Android 4.4.2 build version 3.11.605.1 for Verizon HTC One users includes the HTC Sense 5.5 UI and major updates to HTC's BlinkFeed, including a new easy access menu and an easier pinch-in gesture method of turning BlinkFeed on and off. Other improvements can be found in location settings, the gallery app, lock screen and the music app. The update also introduces the Do Not Disturb app, which allows users to set certain settings to off for fewer distractions. Users can review the Android 4.4 update change log for the Verizon HTC One for more information.
Users are required to turn on Wi-Fi in order to enable an OTA update. To check for the Android 4.4 update manually, access settings > about phone > software updates.
Android 4.4 KitKat for HTC One Max
Meanwhile, reports indicate that the HTC One Max in Hong Kong has begun to be updated to Android 4.4 KitKat. This appears to be the first HTC One Max update.
Not long ago, HTC announced that along with its U.S. carrier models of the HTC One, U.S. models of the HTC One Max and HTC One Mini were also in their final stages of Android 4.4 development. As Android updates usually begin overseas, the beginning of the Android 4.4 update for the HTC One Max in Hong Kong could indicate that rollouts for U.S. models may not be far off.
Has your Verizon HTC One begun updating to Android 4.4 KitKat? Let us know in the comments below.
© Copyright IBTimes 2023. All rights reserved.