Android Malware Rising: 350 New Infected Apps Appear Every Hour, Says New Report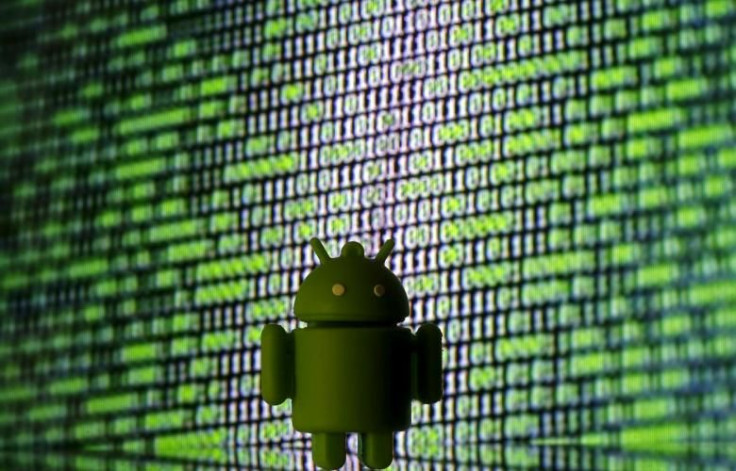 Android Malware is on the rise, say researchers at G Data Security. A new report by the security firm revealed that in the first of 2017, over 750, 000 new malware apps were discovered. This brakes down to roughly 8,400 new samples every day for a whopping 350 new Android malware apps releasing every hour.
Android holds a 72 percent share of the mobile market and so it is reasonable that more attacks would happen on this platform. The number of malware samples cropping up each day are nonetheless staggering and there's no sign the problem will be corrected anytime soon. Since 2012, new Android malware samples have increased each year with the greatest hikes occurring over the last year. Between 2015 and 2016, new Android malware samples increased from 2.3 million to 3.2 million. The trend is forecasted to continue into 2017. With over 750,000 new samples discovered in Q1 analysts predict we'll see 3.5 million new infected Android apps over 2017.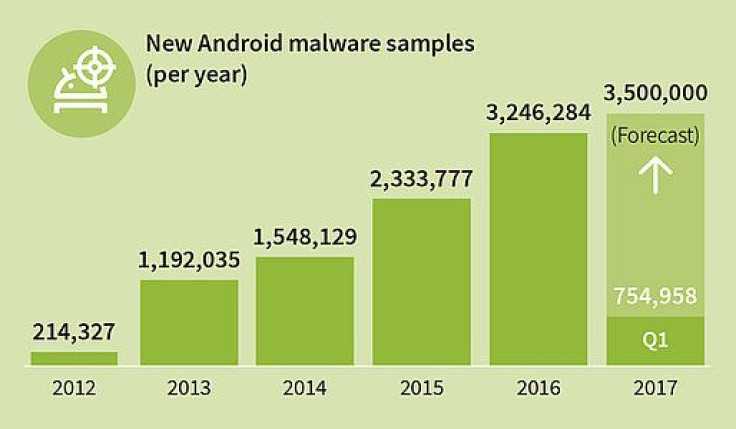 Which Devices Are Most Vulnerable To Attack? Outdated Firmware Is The Biggest Culprit
The report shows the problem largely springing from the fragmented nature of the Android ecosystem, with devices from third-party phone makers being the most vulnerable to attack. The vulnerability comes from the delayed nature in which these devices receive the latest software updates, leaving them wide open to attacks that may have otherwise been patched in more recent software versions.
According to the report, Android malware appears to most significantly affect Android Lollipop and Marshmallow users. These two software versions account for roughly two-thirds of all infected apps. The complete breakdown is as follows:
· Gingerbread (2.3 – 2.3.7): 0.9%
· Ice Cream Sandwich (4.0.3 – 4.0.4): 0.9%
· Jelly Bean (4.1.x – 4.3): 10.1%
· KitKat (4.4): 20.0%
· Lollipop (5.0 – 5.1): 32.0%
· Marshmallow (6.0): 31.2%
· Nougat (7.0 – 7.1): 4.9%
For Android users who want to remain as safe from malware as possible, there are a few steps you can take.
Carefully research your phone before purchasing and keep it up-to-date – the largest number of malware infections occur on devices that have outdated software. Therefore, the best way to ensure you keep the most updated software is to purchase a device that is known for receiving the latest updates. One example is the Google Pixel phone, which receives its updates directly from Google itself. Other models that frequently get speedy updates are the Nexus phones and Samsung Galaxy models. Once you've picked a good phone for you, make sure to check frequently for new updates and install them as soon as they become available.
Keep A Good Security Scanner Installed – "A comprehensive security solution is becoming more and more important for smartphones and tablets," says the G Data Report. A good security app should include features like a virus scanner to check for Trojans, viruses and other malware as well as a surfing and phishing protection to secure users against dangerous emails and websites.
Be Wary Of Third Party Apps – Third Party apps, which haven't been vetted by the Google Play app store are another way Android users can frequently put themselves at risk for infection. While there are a few third-party app stores that are generally free of malware, overall, it's best to avoid third-party apps if you want to keep your device secure.
© Copyright IBTimes 2023. All rights reserved.