Anne Hathaway Compares Herself To Rihanna, Says She Has 'No Sex Appeal'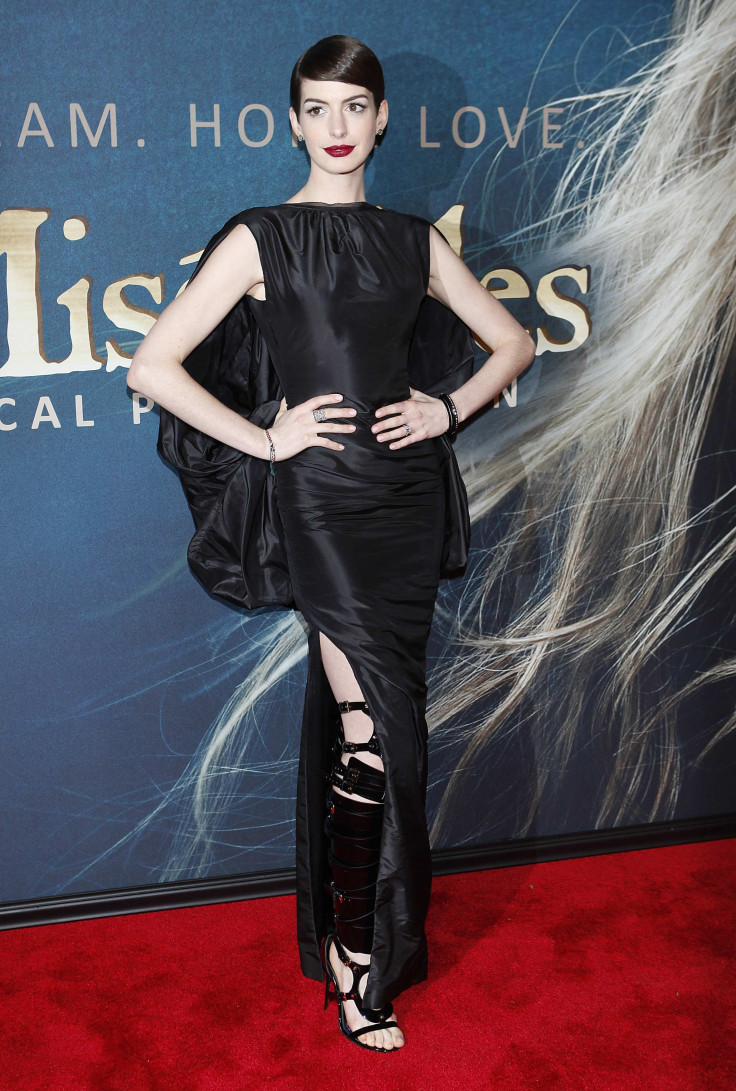 For Anne Hathaway, the past year was pretty huge: the actress appeared in two blockbuster films, tied the knot with Adam Shulman, landed the cover of Vogue, and even survived her first very public wardrobe malfunction. But despite her many successes, Hathaway said in an upcoming issue of Harper's Bazaar that she still worries about not being "sexy" or "cool" enough.
"I'm not Rihanna. I'm not cool," Hathaway told the magazine, as cited by the Daily Mail. "When people come up to me in the street, they often want a hug not a photo, and they want that because they like my work."
Hathaway has earned rave reviews from critics for her portrayal of Fantine, a tuberculosis-ridden prostitute, in the recent Tim Hooper-directed production of "Les Miserables." It has already grossed more than $115 million worldwide since opening on Christmas Day.
Although New York Times critic Manohla Dargis found fault with Hooper's treatment of the film, criticizing him for adding too many "distracting" embellishments, she praised Hathaway's performance.
"The artful grunge layered onto the cast can be a distraction, as you imagine assistant dirt wranglers anxiously hovering off camera," Dargis said in a recent review. "Ms. Hathaway, though, holds you rapt with raw, trembling emotion."
Yet, even with the laudatory reception, Hathaway admitted that she is still trying to step out of the shadow of her "Princess Diaries" character Mia Thermopolis.
"For a long time it was me and [my manager] against the world," the actress said. "I was seen as this bizarre-world, good-girl cartoon that I in no way identified with – very vanilla, very sweet, very accessible and not interesting ... I had no grit, no sex appeal."
She added that turning 30 has somewhat exacerbated that feeling. "It doesn't help that the new crop of girls is so gorgeous, and so 22 years old," Hathaway said. "But I'm excited about it."
© Copyright IBTimes 2023. All rights reserved.