Apple Building New Production Line Overseas, Foxconn Invests $210 Million Towards Expansion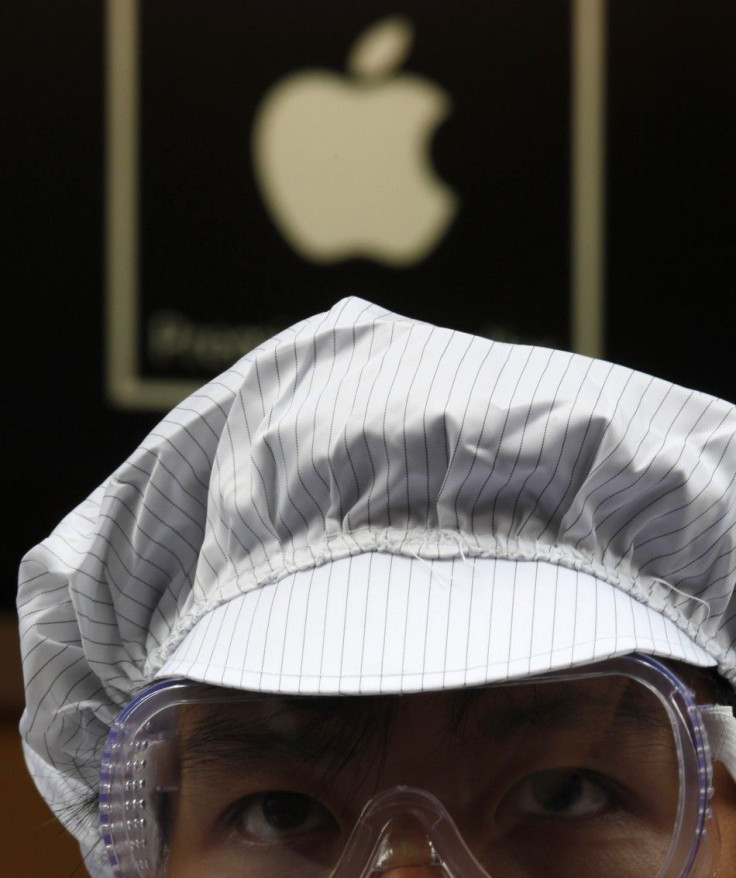 US politicians -- President Obama included -- would love to see Apple creating more domestic jobs, but the Cupertino, Calif.-based company has not only decided to keep its manufacturing base in Asia, but also expand upon it. On Monday, Foxconn, Apple's largest manufacturing partner in Asia, agreed to invest another $210 million to help build out a new production line for unspecified components, according to officials from within the office of Taiwan Affairs in Huai-an City. The 40,000-square-meter plant will hire roughly 35,800 new employees to help assemble parts for either desktop and laptop computers, iPhones, iPads, iPods, or possibly even new products or devices.
Foxconn Technology Group, a top maker of products for Apple, announced that it will build a high-tech manufacturing base in Hainan, China's southernmost island province, [in] early April, reported the China Daily. The plant housing the production line, to be located in Huai'an city, will produce components for American multinational corporation, Apple Inc, said the office of Taiwan Affairs of Huai'an city.
Apple projects the plant's annual output between $949 million to $1.1 billion, and also estimates the import and export value at roughly $55.8 million, according to Huai'an City's Office of Taiwan Affairs.
Although most consumers adore their Apple products, the activities in Foxconn's plants have made many fans doubt their faith to Steve Jobs' computer company. It all began in January, when a series of reports surfaced about the controversial working conditions within Apple's foreign supply chains, particularly within Foxconn's sprawling factories.
Foxconn employs more than one million employees, and more than 230,000 at its immense plant in Shenzhen, informally known as Foxconn City. Employees tirelessly work day and night shifts to build Apple products, as well as Microsoft's Xbox consoles and Amazon's Kindle e-readers. They are each paid less than $17 a day but often report working 12 hours a day, six days a week. Employees are provided air conditioning, heating, cafeterias, and dormitories to sleep in; Apple has recently promised to boost the compensation for these workers with the goal of improving lives and riasing the bar for manufacturing companies everywhere, the company said in a statement.
While many experts say Foxconn's conditions are still better than most factories in China, some workers are evidence to the contrary. One 18-year-old college student, who was given the psuedonym of Miss Chen for protection, said she regularly worked 60-plus hours a week to apply upwards of 4,000 stickers onto iPad screens by hand.
It's so boring, I can't bear it anymore, Miss Chen said. Everyday is like: I get off from work and I go to bed. I get up in the morning, and I go to work. It is my daily routine and I almost feel like an animal.
Chinese labor groups, such as the Students and Scholars against Corporate Misbehavior, say Foxconn's culture is military-like and one of surveillance, obedience and not challenging authority. Workers have previously said Foxconn's approach has been obey or leave, but Apple has since responded to these PR blows, giving the green light to the Fair Labor Association (FLA) to regularly inspect Foxconn's plants.
We believe that workers everywhere have the right to a safe and fair work environment, which is why we've asked the FLA to independently assess the performance of our largest suppliers, said Tim Cook, Apple's CEO. The inspections now underway are unprecedented in the electronics industry, both in scale and scope, and we appreciate the FLA agreeing to take the unusual step of identifying the factories in their reports.
Foxconn has pledged full cooperation with the FLA, and has allowed unrestricted access to all of its operations. The company's first investigative reports were released in early March, and can currently be found on the FLA's website. Apple's other suppliers, including Quanta and Pegatron, have also been inspected, but the FLA hopes to have covered 90 percent of facilities where Apple products are built and assembled by June or July.
Apple CEO Tim Cook, who has spearheaded the campaigns to clean up Apple's supply chains, likely believes Foxconn can expand, so long as it adheres to its regulatory practices.
No one has been more up front about the challenges we face, he said. We are attacking problems aggressively with the help of the world's foremost authorities on safety, the environment, and fair labor. It would be easy to look for problems in fewer places and report prettier results, but those would not be the actions of a leader.
While treating workers with fair compensation and a safe and positive working environment has been Apple's first priority, there are still several issues with the company's other foreign factories. Chinese environmentalist groups still claim as many as 22 of Apple's manufacturing plants continue to release toxic gases, heavy metal sludge, and other pollutants into the environment. In November, Apple admitted that 15 of the 22 mentioned facilities were indeed product parts suppliers, which was the first time that Apple conceded any wrongdoing in relation to environmental pollution from any of its Chinese supply chains. Apple said it will hire a third-party auditing firm to investigate its Chinese suppliers, and met with five different Chinese environmental groups to openly discuss its findings.
Yet, environmental issues aren't going to stop a giant like Apple from expanding its operations. Given that the other plants are largely responsible for iPads and iPhones, it's likely that the new production line could be geared towards building new laptops, computers, or possibly even a new product like the much-ballyhooed iTV. Regardless of the conditions, Foxconn jobs are in heavy demand, and so the expansion not only benefits Apple and Foxconn, but China's young workers, too.
© Copyright IBTimes 2022. All rights reserved.
FOLLOW MORE IBT NEWS ON THE BELOW CHANNELS