Apple Campus 2 Completion Update: When Will New 'Spaceship' HQ Be Finished?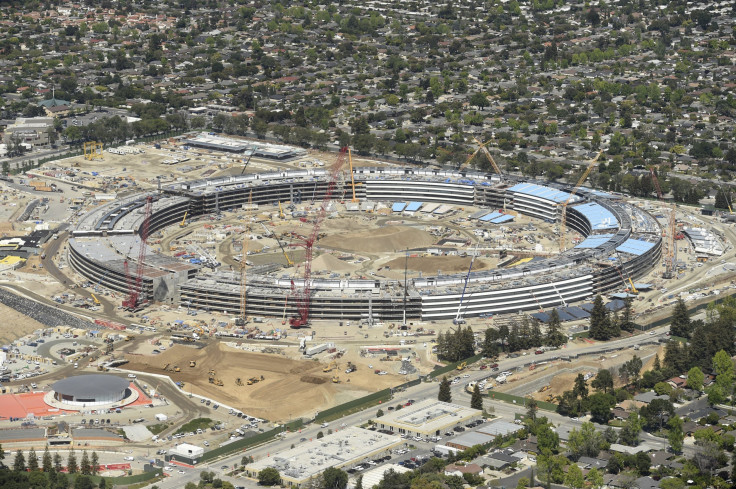 Apple's highly anticipated new California campus, which has aptly been dubbed "the spaceship," is almost finished.
The 280,000-square-foot campus is now its final stages of development, and the site is rumored to open by mid-2017, Market Watch reported Tuesday. The news followed the release of recent drone footage that surveyed the progress of the massive campus site and compared new footage to video from a year ago.
The new facilities have been a long time coming. The plans for the new campus were first announced by cofounder and chief executive officer Steve Jobs in 2011 during his last public appearance before dying of pancreatic cancer. Jobs had hoped to have Apple move into the new facility by the end of 2015, according to Bloomberg.
"We have a shot," Jobs said, "at building the best office building in the world. I really do think that architecture students will come here to see it."
The Cupertino-based site features a new facility for Apple Inc., a development that has been said to cost close to $5 billion, according to Bloomberg.
The project was spearheaded by Foster + Partners, an innovative architecture and design company that was behind 50 United Nations Plaza in New York City and the Apple Store in In Istanbul's Zorlu Centre.
According to the original plans for the project, which were published in October 2014, the whole site was to be 16 acres and feature four buildings: an office building with a cafeteria complete with underground parking, two development and research buildings, a data center complete with equipment and outdoor dining and a parking space area. The initial plans for the building also specified that the site would "redeveloped with sustainable, state-of-the-art office, research and development facilities."
Indeed, the circular four-story structure will come with solar panels totaling 700,000 square feet that will help to generate the campuses' energy, Fortune reported in June.
The new Apple Inc. campus facility will be able to accommodate around 12,000 employees, according to Fortune. Other campus features will also include a large auditorium — perhaps to host future Apple Inc. events? — and a 100,000-square-foot fitness center.
© Copyright IBTimes 2023. All rights reserved.