Apple Inc. Gives IPad Line Incremental Updates, But No Groundbreaking New Features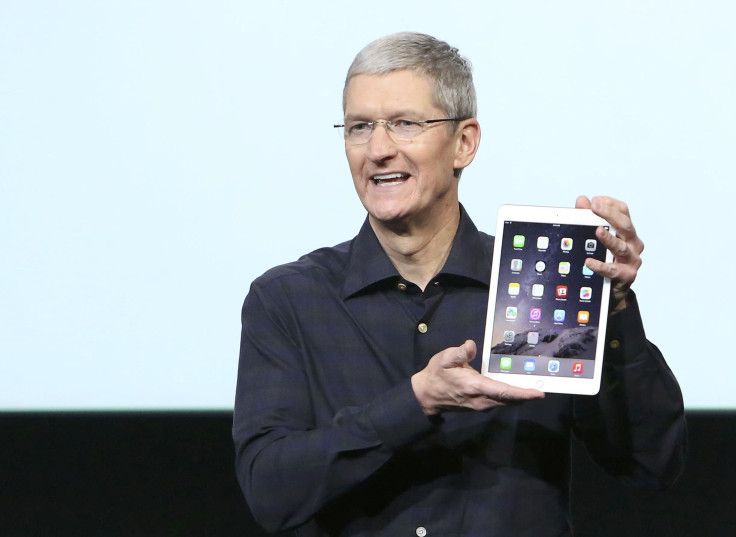 Apple Inc. unveiled a new generation of iPads on Thursday needing to give the tablet's 225 million global users a reason to upgrade and for new users to choose Apple over myriad cheaper devices running Google's Android operating system.
Apple's iPad could use another home run, but today Apple delivered a single with mostly incremental upgrades to the iPad line, including thinner, more powerful versions of the device and some handy features like Touch ID, improved screens and faster processors. In addition to introducing a new iPad Air 2 and iPad Mini 3, Apple chose to keep its original iPad Mini, albiet with a lower $249 entry point price.
"From a consumer standpoint, [Apple] broadened the iPad lineup," Creative Strategies Inc. principal analyst Ben Bajarin said. "They spanned a quite large price point, sort of a price point for everybody. They've made a more compelling story for iPad buyers looking to get into the market."
IPad sales have been in decline for more than a year. Part of this is Apple being a victim of its own success: even the original iPad introduced in 2010 is perfectly functional today. Part of it is heightened competition from lower-cost Android-powered devices and big-screened smartphones.
Apple delivered little in the way of surprise. Most of the details were leaked before Apple introduced them publicly, which would have been unthinkable just a few years ago. Apple execs from CEO Tim Cook to head of marketing Phil Schiller joked about the leaks. Senior VP of software development Eddy Cue made light of Apple's famous secrecy with a video where he's barred from entering Apple because he can't perform the secret handshake.
Touch ID seems like an incremental feature improvement; iPhones have had it for a year. But it could help iPad in corporate environments where security is paramount. "While they pointed out that [Touch ID] was an important and compelling feature request for iPad, it was actually enterprises requesting that feature, because of security," Bajarin said. "The Touch ID factor I think will drive continued sales as well as upgrades in those current deployments."
As for the rest of the lineup, there was something for almost everyone currently embedded in the Apple ecosystem.
Current Mac owners received OS X Yosemite, which further integrates OS X with iOS devices. Fans of the budget-friendly Mac Mini received a long overdue upgrade and a lower price point of $499. Professionals and consumers looking for an iMac upgrade got it in the way of a Retina "5K" iMac, which comes with a massive 27-inch 5120x2880 pixel screen.
"The 5K retina iMac was a wow, it's just targeted to a very small audience." Seton Hall University associate professor of marketing, Daniel Ladik said. "It was a subdued announcement, almost so that I wonder if Apple will do something again in November."
It may not happen in November, but Apple has a number of products that it has yet to upgrade or release, including a highly rumored 12-inch MacBook Air, a revamped Apple TV and the highly publicized Apple Watch.
© Copyright IBTimes 2022. All rights reserved.
FOLLOW MORE IBT NEWS ON THE BELOW CHANNELS