Apple Inc Is Hiring Journalists For Its New 'News' App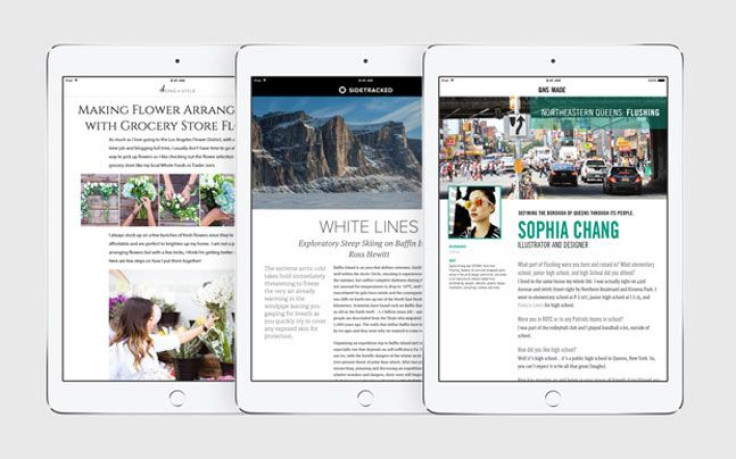 Apple's new News app, which should hit iPhones and iPads along with iOS 9 this fall, will include a front page with the day's best stories. Someone has to pick those stories, which is why Apple has a new job listing for an Apple News editor.
According to the listing, which was first spotted by 9to5Mac, Apple wants a journalist in the role. One requirement is "5+ years of newsroom experience with a strong emphasis on mobile news delivery and a deep knowledge of multiple content categories." Another is a bachelor's degree in journalism or communications, although a master's is preferred.
"Successful editors will be ambitious, detail-oriented journalists with an obsession for great content and mobile news delivery. They will have great instincts for breaking news, but be equally able to recognize original, compelling stories unlikely to be identified by algorithms," the listing reads.
Last year, Apple hired Anand Lal Shimpi, a respected technology journalist who founded AnandTech. Earlier this year it hired Chris Breem, former editor of Macworld. It's not clear what either former journalist is up to at Apple; both could be involved with the company's press relations efforts. Apple also dipped its toe into content production with its recent announcement that it will run a 24-hour online radio station staffed with DJs.
Apple isn't the only tech company to decide it needs journalists. Facebook, Twitter, Yahoo, LinkedIn and Snapchat have all tapped high-profile reporters and editors to join their companies. Most recently, Uber started casting its net in newsrooms looking for an editorial director to "tell the Uber story." Compared to an experienced developer, even famous journalists are cheap. And despite advances in the ability for artificial intelligence programs to suggest stories -- Apple says its News app uses "powerful machine learning algorithms" -- there's still clearly a role for human curation.
One question remains: Will Apple's own editor get the best Apple exclusives?
© Copyright IBTimes 2023. All rights reserved.