Apple iOS 7 Jailbreak: Crowdfunded Bounty Announced For First Developer To Release An Untethered Solution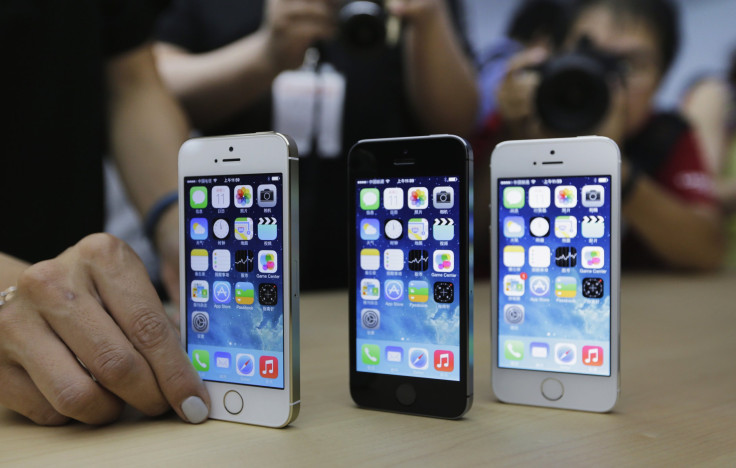 Although some of the well-known iOS hackers have been working to jailbreak Apple's (NASDAQ:AAPL) latest iOS 7 mobile operating system ever since it became available, the revamped version remains intact. But for those who think they can turn things around, a growing crowd-funded bounty is offered to speed up the efforts.
A website called isios7jailbrokenyet.com is currently generating donations -- using Stripe -- to fund an open-source jailbreak for the new iOS 7.
"We strongly believe that users should have the freedom to control their devices," a post on the website read. "We wanted an open-source jailbreak for iOS 7, giving users the capability to install what they want on their own devices and the ability to audit the code they're using to do so."
The crowd-funded bounty program has already generated nearly $5,000 so far, and the final prize money is offered to the first developer or group of developers who release an open-source iOS 7 jailbreak.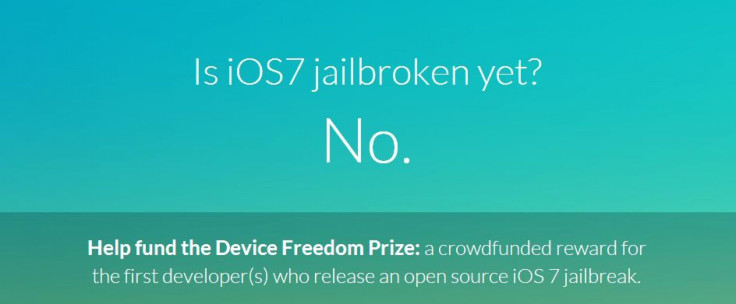 However, there are certain conditions that must be fulfilled by the jailbreak developers to be eligible to claim the prize money.
According to the website, the jailbreak must work for the iPhone 4S, iPhone 5, 5c and 5s running iOS 7, including the latest firmware update, iOS 7.0.4. The jailbreak solution must be untethered, and should be available to the public free. In addition, the jailbreak must be released under one of the Open Source Initiative-approved licenses.
As noted by iDownloadBlog, the proposed prize money is the idea of Chris Maury, founder of accessibility company Conversant Labs in Pittsburgh. Maury will act as one of the judges for the program, along with Cory Doctorow of Boing Boing, Kyle Wiens of iFixit, and Biella Coleman of McGill University in Canada.
Meanwhile, Cydia creator Jay Freeman, better known as Saurik, has criticized the project, suggesting that effects of such bounties could be negative for the iOS jailbreak ecosystem.
Here is what Saurik wrote in a Reddit thread:
The primary problem I have with this website is that it attempts to change the dynamics from one of "people who do things that are fun to make devices more open" to one of "people who do things to win cash prizes." Meanwhile, it changes the dynamics in the minds of the people contributing: Normally, people contribute after the fact to the teams that built something that they found of value; under the model of this website, people contribute ahead of time, and then hope that the thing that is released works for their specific device (or even "runs on their computer," etc.), and if it doesn't, they are kind of out of luck.
Saurik also talked about the current status of the iOS 7 jailbreak, which, according to him, will be a product from evad3rs, the team of jailbreak developers that created the iOS 6 untethered jailbreak Evasi0n.
"It is my understanding that a jailbreak is coming from evad3rs in the near future: planetbeing has already stated that they have what they need, and they are just working on integration and support for all devices (which is a lot of busywork)," Saurik wrote.
The Cydia creator also brought up Elizabeth Stark's Threshold as being a beneficiary of the project. It is mentioned in the Terms section of isios7jailbrokenyet.com that Threshold will receive a 5 percent commission from the contributions.
Stark has also responded to Saurik's remarks, saying that "nothing is stopping evad3rs from taking donations for a jailbreak if and when they release it."
Renowned jailbreak developer Comex (a.k.a. Nicholas Allegra) has also taken a stand, saying he partially agrees to intentions of those behind the project, "because at least for me, it's surprising how quickly thinking about it in terms of money saps intrinsic motivation and the fun of the thing."
What's your take on the matter? Let us know in the comments section.
© Copyright IBTimes 2023. All rights reserved.