Apple iOS 8 Feature Spotlight: Family Sharing Gives Parents More Control And Everyone More Content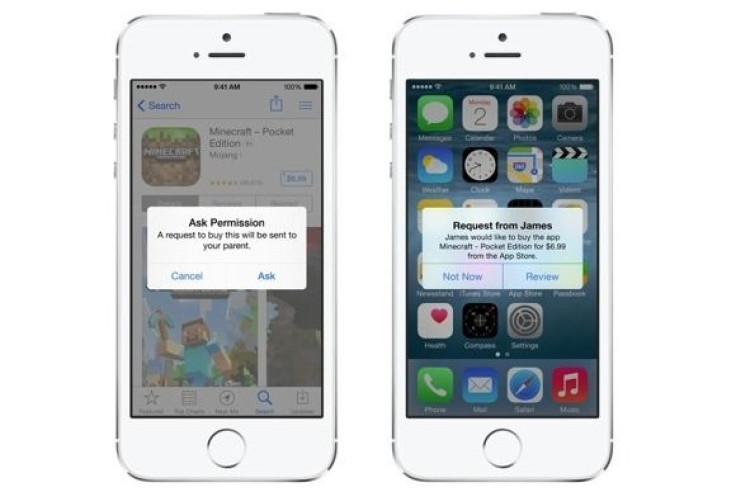 In Apple-using families, Little Jimmy can no longer rack up $500 worth of in-app purchases in Candy Crush Saga without Mom and Dad's consent, thanks to Family Sharing, a new feature for iOS 8 and OSX Yosemite.
Family Sharing is Apple's solution to a host of issues that have bothered families for a long time, and it was likely prompted by the $32 million refund the company was forced to pay earlier this year to people who didn't authorize purchases made by their connected group members. In plain terms, Family Sharing allows up to six family members to join a group and share content across all devices. The key to the whole plan is that the group can associate only one credit card for all members.
Here's how it works: Each member can have his or her own unique Apple ID, which makes tracking purchases very easy. One of the IDs, let's say Mom's, can be designated as the administrator account by selecting "Ask to Buy." That means Mom has control over who can make purchases from their device. A notification will pop up on her phone detailing who wants to purchase what, how much it costs, and if that's okay. It also means that moms and dads have control over the content their children see.
Purchased content (most, not all) can now be shared between devices as well, which means no more buying the same content for different devices. Now, everyone can play Monument Valley on his or her own iPad and iPhone.
Family Sharing also allows group members to share their location. So Dad can see where Suzy, who just got her license, is going, or if little Jimmy has misplaced his iPhone, Dad can use Find My iPhone to locate the iPhone and make it play a sound.
Another Family Sharing feature is the shared calendar, which will show events created on the calendar of all devices. Now, both parents will know about that upcoming PTA meeting, or if one spouse is especially forgetful, when their anniversary is and where date night will be.
But all of these features can be turned on and off, so individuals who don't want to be tracked can opt out. Also, Family Sharing doesn't create profiles on specific devices like a family iPad. It's still business as usual for Apple, which means one user per device.
© Copyright IBTimes 2023. All rights reserved.