Apple iPhone 5S Release Date Expected To Be In Q3 2013 As Component Shipments Commence In May; Improved Processor, Camera Rumored [Report]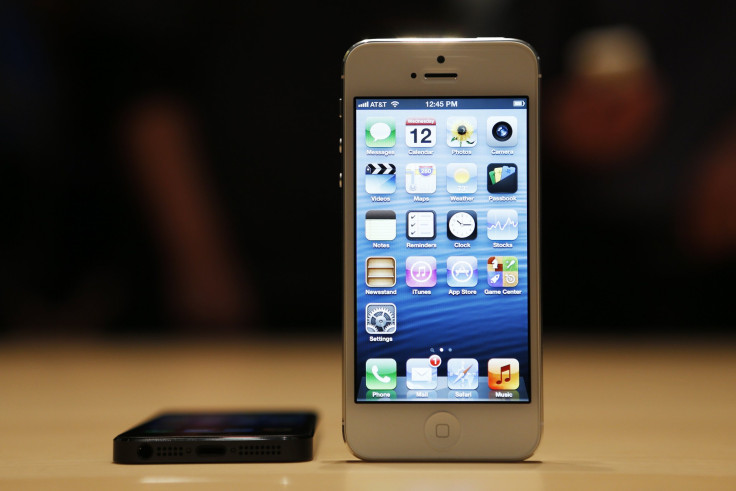 With Samsung releasing the new Galaxy S4 smartphone last week, now it's Apple (NASDAQ: AAPL) turn to unleash its weapon to take on rivals in the so-called smartphone war. With that in mind, all eyes are now on the Cupertino tech giant to see what the company's next flagship smartphone iteration, presumably called the "iPhone 5S," will offer.
Adding to the heated rumor mill surrounding the next-generation iPhone, a Wednesday report from DigiTimes has suggested that Apple's suppliers will start shipping components for the iPhone 5's successor by end of May with a possible release date to follow in the third quarter of this year.
Citing "sources from the upstream supply chain," the report says that "if the components are all shipped smoothly, manufacturers should be able to deliver the new iPhones to retail channels in 1-2 weeks for them to be ready to sell in the third quarter."
The sources have also revealed that the iPhone 5S will not be a major upgrade. Instead, it will be "a slightly enhanced version" of the existing iPhone 5. However, when the internal upgrades are concerned, the new iPhone will sport a higher-end processor as well as higher megapixel camera modules.
The report has stated further that shipments of the iPhone 5 are likely to decrease from 45 million units in the fourth quarter of 2012 to 25-30 million units in the first quarter of 2013.
When it comes to the hardware expectations of the iPhone 5S, the latest DigiTimes report corresponds to what Rene Ritchie of iMore had said earlier this month. Ritchie received information from his sources familiar with Apple's plans that the basic design of iPhone 5S will be similar to that of the existing iPhone 5, while the new model will feature a more advanced processor and an improved camera.
However, Ritchie suggested an August release for the iPhone 5S, unlike the third quarter launch prediction by the DigiTimes report.
Reports surfaced last week saying the iPhone 5S would have new features including a built-in fingerprint sensor and Near Field Communication (NFC) technology.
MacRumors reported citing China Times that Apple had selected Taiwanese chip-maker Chipbond to provide components for the iPhone 5S, including the touch display driver and chips to support fingerprint sensor and NFC capabilities.
Earlier this week, Morgan Stanley's Katy Huberty said during the show "Fast Money Halftime Report" on CNBC (via Barron's) that Apple would make a big comeback with software features for the next iPhone that would include a "killer feature."
"I do believe that AAPL is approaching a bottom. As you have heard, they are talking about returning more cash, and we think they will do that in coming weeks. But people don't own AAPL for that, they own AAPL for innovation," said Huberty.
"You saw the Samsung Galaxy S4 come out last week. That shows you the innovation cards are up for grabs. What is lacking in that product is a killer feature. We think that's where Apple will surprise this year. This 5S cycle this year will be about a killer feature that drives consumers increasingly to the platform, and that increases the value of those 500 million accounts," she added.
The Low Cost iPhone Chatter Grows Loud
Apart from the iPhone 5S, the DigiTimes report has also talked about the long-rumored low-cost version of the iPhone. According to it, Apple has plans to release the cheaper iPhone with plastic chassis to strengthen its global smartphone market share.
ValueWalk reported citing a research note from Switzerland-based investment house Credit Suisse that the cheaper iPhone model would likely be available at an average selling price of $329, almost half the price of the current iPhone 5 ($649). At that particular price point, the cheaper iPhone with 3G connectivity, 8GB memory and the same form factor as the iPhone 5 could be a tough competition for rival companies.
"Assuming Apple introduces a $329 iPhone in 2014 and starts to gain share in these lower price bands, CS believes it could capture 40% share in the $300-$400 market. In turn, this can add incremental revenues of $16bn/ $21bn in 2014/ 2015 and EPS of $3.13/ $5.05 even allowing for cannibalization of the existing iPhone," said the report.
MUST READ: Samsung Galaxy S4 Mini Spotted With 4.3-Inch Screen, Dual-Core CPU, Android 4.2.2; Launch Expected In H2 2013 [Photos]
© Copyright IBTimes 2023. All rights reserved.