Apple iPhone 7 Rumors: New Patents For Foldable Design, Gesture-Based Password Surface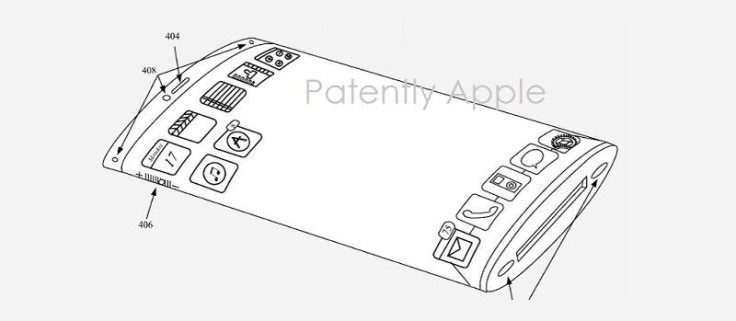 Apple reportedly filed a patent for curved/flexible displays in 2013. Now, the USPTO has apparently awarded the aforementioned patent to Apple, among others. The new patented features are now expected to be part of the upcoming Apple iPhone 7, earmarked for 2016.
With iPhone 6s and 6s Plus launched, the focus has now shifted to the next iteration of the flagship namely the Apple iPhone 7. The new patent awarded to Apple reportedly covers "curved display," similar to the Samsung Galaxy S6 Edge, in addition to a "glass wraparound design," also known as "foldable design," Phone Arena reported.
According to Patently Apple, by featuring a glass wraparound design, the device's screen will be in a position to display more content than any other handsets released so far. Notably, this can be achieved by not increasing the screen size or shape of the device. For instance, the Apple iPhone 7 can feature a foldable screen where the contents appear as if they are free flowing across the device. In other words, the contents might look like they are in a continuous loop.
The tech giant can also reportedly design the iPhone to flaunt glass exterior by utilizing liquid metal materials while some of the traditional buttons can be replaced with 3D Touch sensitive ones.
Apart from the foldable display, Apple has apparently got a patent specific to password entry, based on gesture technology. This means, a user can log into an iPhone using gestures instead of utilizing the traditional alpha-numeric passcodes or biometric ones. This gesture based technology will also work in conjunction with Touch ID fingerprint scanner.
In comparison, the gesture based passcodes used in Android devices look for "specific dots tapped on screen." However, Phone Arena said that Apple's new mechanism reportedly "depends on how a specific dot is tapped," rather than which dot is being tapped. Such a tough mechanism will help stop any intruder from figuring out the passcode and break in.
"An authentication gesture entry screen is displayed to allow a user to enter a desired gesture via an array of visible and/or invisible touch sensing areas displayed on a touch sensitive display," Patently Apple said.
© Copyright IBTimes 2023. All rights reserved.
FOLLOW MORE IBT NEWS ON THE BELOW CHANNELS