Apple OS X Mountain Lion: Why You Should Wait To Upgrade Your Mac
OPINION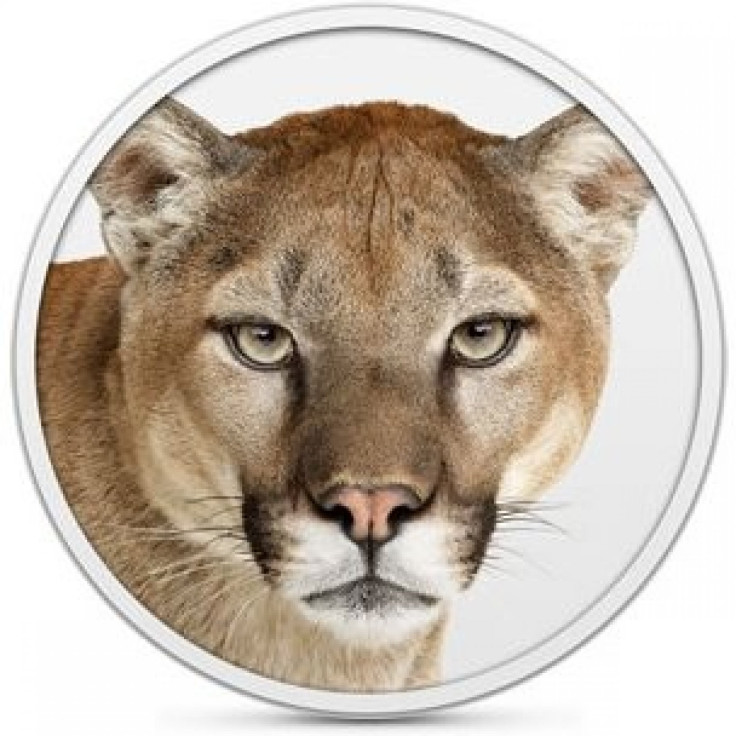 There's always a big buzz whenever Apple releases new hardware or software - or really, any time Apple does anything publicly - and today is no different. The Cupertino, Calif.-based computer company released OS X Mountain Lion this morning, which is the eighth edition of Apple's OS X software for Mac. The upgrade is exclusively downloadable via the Mac App Store for $19.99.
As the reviews continue to pour in, it seems that many new adopters of Mountain Lion already love the animal. Back in February when the OS was announced, Cook said that Mountain Lion would blend the best of the Mac OS with iOS, adding the most intuitive elements from the iPhone and iPad experience.
We see that people are in love with a lot of apps and functionality here, Apple CEO Tim Cook said in an interview with The Wall Street Journal. Anywhere where that makes sense, we are going to move that over to Mac.
Many will have upgraded to OS X Mountain Lion by now, but others are waiting to know if Mountain Lion is worth upgrading to immediately. Here's why you should wait.
Trial And Error
Rarely is the first version of a new operating system perfect. Every major software upgrade comes with its fair share of bugs and omissions, especially when new software hits an old piece of hardware.
Older Macs may have difficulty handling the fluidity of the new OS, but Apple maintains that Mountain Lion is compatible with a handful of Mac Models, including 2007 iMacs and later, the late-2008 aluminum MacBooks and the 2009 MacBooks, all MacBook Pros that debuted after 2007, as well as MacBook Airs and Mac Pros after 2008.
Apple has also made Mountain Lion compatible with 2009 Mac Mini models and later, as well as Xserve devices. (To find the exact model of your Mac by clicking the Apple icon in the top left corner of your computer screen, clicking About This Mac, then clicking More Info on the bottom.)
However, this is the prime complaint from early Mountain Lion adopters. From Brett Reilly of Social Media SEO:
When I tried installing the new OS X Lion, I received a lot of problems on my Mac, as did many other users, Reilly said. The big problem, I know was the hardware compatibility with the software. I diagnosed this along with Apple, even though they never wanted to admit it was a problem with compatibility. One of my friends had a brand new MacBook and they replaced the graphics card after finding that was causing the issue. I'm assuming this had something to do with mine since it was very sluggish, froze at times, had start up errors, took forever to start, and disk repair couldn't repair it. After all diagnosis my Lion ended up crashing my hard drive because I had to do hard shut downs since it wouldn't let me shut down normally!
Reilly also reported his computer was missing pictures and programs in the Applications folder. Reilly may not know that Apple has a file for incompatible software with Mountain Lion, appropriately named Incompatible Software.
In the first day of the new release, we will hear mostly about the best features of Mountain Lion as users discover them for the first time. We won't hear about major issues and bugs until the first adopters have really gotten a chance to dig into the system and try out all its features. Expect the first Mountain Lion issues and bugs to hit the Internet as early as late afternoon or early this evening.
Luckily, if there are any major issues in Mountain Lion, Apple is usually quick to respond with patches and fixes. Keep your eyes fixed on the news for more issues that may arise, and you may also get an idea of if and when Apple plans to release a fix.
Patience Is A Virtue
Apple will work out the kinks with Mountain Lion, but it doesn't appear that there are that many major issues - at least in the early hours of the first day of Mountain Lion's release. Still, it's best to wait out the first and second days of release to wait and see if people discover a major incompatibility or performance issue.
Your files - work documents, movies, music, and your applications - are all very important to you, and since they're now all connected via iCloud, it'd be a real shame if something happened and it spread to your other devices. For example, what if a bug in TextEdit accidentally deletes a story you were working on? Unless you backed it up in a drive or via Time Machine, you may have lost what you're working on forever.
Issues like these are unforeseen in major software updates, and while it's highly unlikely that Apple would've let a problem like this slip through its careful hands, you have to think of the worst case scenarios. It's best to be prudent at this time - you can live with Lion, or even Snow Leopard, for a few more days as the first wave of adopters test out the features.
Speaking of features, here's some of what you can expect in OS X Mountain Lion.
Notable Features In Mountain Lion
Airplay Mirroring: One of the best -- yet most underrated -- features on iOS 5 was the ability to mirror whatever was on your iPad or iPhone 4S directly on a television hooked up to an Apple TV. In other words, iPad and iPhone 4S users could display high-definition movies, presentations, slideshows, photos, and websites onto a larger television screen wirelessly and seamlessly.
For those who download the OS X upgrade, let us know your thoughts! Send in your reviews and leave your impressions in the comments section below.
Twitter Integration: Apple understands that people love and rely on Twitter to engage in the greater social community, and in iOS 5, the company gave its iPhone, iPad and iPod Touch users the ability to tweet from almost any app. Users could tweet photos, links, locations and webpages effortlessly. In less than a year, this platform has become huge for both Apple and Twitter: iOS 5 users sent more than 10 billion tweets since the platform went live in October.
With OS X Mountain Lion, this deep Twitter integration has reached the Mac, giving desktop users the ability to tweet out directly from apps like Safari, Photo Booth or iPhoto. Just like iOS 5, a Tweet Sheet pops up, with a paper clip over any attached image or website, and the user can write their message, add a location if they want, and send it out from there. It's simple, clean, and fast.
Facebook Integration: After successfully baking Twitter directly into the OS software, Apple has decided to open up built-in support for Facebook. Now, after signing into their account just once, users will be able to share content -- text, links and photos -- onto their or others' Walls, automatically sync their Contacts with their profile photos from Facebook, and receive notifications over the Notification Center.
Messages: In iOS 5, Apple dumped SMS text messaging on the iPhone and iPad and replaced it with a free platform called iMessage, a BlackBerry Messenger-type service that allowed Apple users to freely message each other text, photos, and videos to and from any iPhone, iPad and iPod Touch.
Messages is essentially iMessage for the Mac. It lets one send free and unlimited text messages from a Mac to anyone on an iPhone, iPad, iPod Touch, or on another Mac, letting users continue their conversations on any Apple device. As with iMessage, users can also send rich text, photos, contacts, locations, and even 1080p HD video to their friends. Furthermore, Messages supports FaceTime -- along with other instant messaging systems like AIM, Yahoo!, and Google Talk -- so users can pick up their chats no matter where they started.
Messages also comes with delivery and read receipts, encrypted messaging, and supports large attachments such as high-quality photos, full 1080p HD video, or documents up to 100 MB. Apple also makes it easy to switch from text conversations to video calls with a new FaceTime button.
Safari: Apple's browser has become a big hit on the iPhone and iPad: Safari accounts two-thirds of all mobile web traffic. In Mountain Lion, Apple is bringing many of the best features from the mobile experience to the Mac. But Apple has also learned from its rivals: Like Google Chrome, the new version of Safari will include just one search bar for web addresses and search terms. Other than that, the experience looks just like iOS: Tab View allows you to see your webpages in open tabs, which can be swiped to switch between them. A new feature called iCloud Tabs also makes the browsing experience from mobile to Mac much more fluid: iCloud Tabs remembers where you were on one device, and automatically synchs it to the others, whether you own an iPad or iPhone. But one of the best features of the new Safari on Mountain Lion is the ability to read pages from your Reading List without an Internet connection.
Notification Center: Before Apple added the Notification Center to the iPad and iPhone, new texts and app alerts interrupted whatever the user was doing by popping a message directly in the middle of the screen. The Notification Center solved this annoyance by making notifications into small bars that appeared at the top of the device's screen momentarily, and those incoming notifications also did not interrupt the user's activities.
Apple wants its users to stay up-to-date across all of their devices, which is why the company added the Notification Center to the Mac in OS X Mountain Lion. By swiping the Mac trackpad with two fingers from right to left, the Mac Notification Center appears on the right side of the screen. Notifications from apps like Messages, Game Center, Mail, Calendar, Reminders, and other downloadable third-partyapps from the Mac App Store will tell you when there's something you should see. Like the iOS Notification Center system, users can choose which apps they want alerts from, and users can easily hide the Notification Center with a simple swipe.
Game Center: The iPhone, iPad, and iPod Touch were all great devices for playing cheap, good-looking virtual games, but before iOS 5 came along, there was no way to track and organize your progress, especially comparing it to other customers playing the same game on their Apple devices. With the introduction of Game Center on iOS 5, Apple allowed users to create accounts, keep track of their awards and achievements in games, and even compete with friends, or find friends to compete with.
But then, Apple thought: Why should iOS have all the fun? With Game Center coming to the Mac, desktop users can play head-to-head and turn-based games against friends and competitors on any Mac or iOS device like iPhone, iPad or iPod Touch. Game Center also suggests games you might like, helps you find Game Center players from around the world to play against, and provides a leaderboard of the best players in each game.
Notes: Finally, Apple created a proper notes application for the Mac. Until this point, Mac users made do with an app called Stickies, which allowed them to create virtual multi-colored sticky notes and place them all over the computer screen. This app, while fulfilling a need for notetakers, had no way to search the notes or organize them efficiently.
This has all changed in OS X Mountain Lion. The new Notes application on the Mac takes after the app with the same name on the iPhone and iPad, which lets users create and search notes in a clean and easy-to-use interface. On the Mac, however, users will also get a chance to add photos, movies and links to their notes, as well as rich text, bullet points and formatted lists. For those users that will miss Stickies, Apple also allows anyone to tear the note right out of the Notes app and stick it anywhere on their desktop for easy access.
Share Sheets: It's extremely easy to share photos or links on the iPhone or iPad. A box with an arrow appears on almost every page, which allows users to book mark pages, add them to the Reading List for later reading, mail the page to a friend, tweet it out to Twitter followers, or print out the page on a nearby printer.
In OS X Mountain Lion, Apple added the Share button to most apps within Mountain Lion, which similarly lets users add pages or links to their reading list, bookmark them on their browser, e-mail or tweet them out, or send them via Messages or iMessage. Not every sharing option applies to every page you see on the Mac, but Apple tailors sharing options based on the app you're using. For instance, some sites may allow you to share the page on Vimeo or Flickr, while others only allow Twitter. But once you perform a single sign-on for Twitter, Facebook, Flickr, or Vimeo, your Mac is ready to share any content directly from the apps that support it.
* * *
Will you wait to upgrade to Mountain Lion? If you've already downloaded it, are you experiencing any issues? Shoot back in the comments section below.
© Copyright IBTimes 2023. All rights reserved.