Apple Pencil Could Have Touch Bar-Like Controls In Future Revamp
KEY POINTS
A new patent shows that Apple is working on a new Apple Pencil
The new stylus will have a glass panel on its flat side
The glass panel can be used as a touch display
Apple, just like any other tech company, is working to improve its products. New patents indicate that the Cupertino tech giant is working on creating an Apple Pencil that might have Touch Bar-like controls, adding more functionality to the already useful stylus.
The patent, spotted by Apple Insider , was recently published by the U.S. Patent and Trademark Office . It describes technologies that users will find helpful in a variety of uses. Here's a quick look at it:
This patent, titled " Stylus With Glass Component ," describes an Apple Pencil with its flat side made of glass. This glass portion will be used for several purposes:
First, it "can facilitate detection of touch input." A capacitive touch sensor will be placed inside the Apple Pencil, and users will be able to input touch commands via the glass portion. With it, the stylus will be able to detect "a tap, double tap, triple tap, or another tap gesture by the user."
Furthermore, the glass panel will allow detection of a "sliding gesture" or a "rolling gesture by the user." Apple Insider noted this implies that the Apple Pencil will be able to determine whether a user slides a finger on the glass or simply rolls the stylus in his hands. Both actions can be used to perform different actions, such as adjusting pen thickness and so on.
Second, the glass panel will also serve to improve the Apple Pencil's durability and resistance against wear and tear due to constant use. It will also help prevent the ingress of dirt and debris.
Third, the glass panel might be used as a display. It can show users what color or pattern they are currently using, for example, and might also serve as an additional display that synchronizes with the host device (i.e. iPad Pro) to show what's directly underneath it when it covers the host's screen.
" According to some embodiments, a stylus can replicate the display of a representation that is also displayed on the host device," the patent stated. "The resulting representation ... displayed through the glass member ... can give the appearance of the underlying representation ... so the user is able to see the portion of the representation ... that is otherwise blocked from user by the stylus ... "
While the technology sounds interesting, it's still a patent, indicating that a market release may or may not happen soon.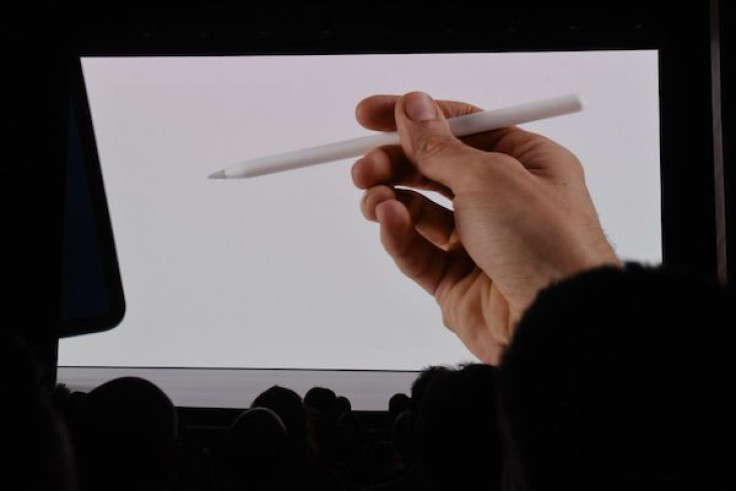 © Copyright IBTimes 2023. All rights reserved.
FOLLOW MORE IBT NEWS ON THE BELOW CHANNELS