Apple Pencil Possibly Getting These New Features
KEY POINTS
Apple's stylus, the Apple Pencil, is a very helpful tool
A new patent reveals Apple's plans to improve its functions
The patent shows an Apple Pencil with a lot of sensors and other components
A recently published patent unveils Apple's plans to equip the Apple Pencil with new features that will make it more responsive and similar in performance to a real pencil. This will be done via a combination of components meant to detect how the user uses it, as well as ways to inform the user of the stylus's current condition.
Apple, in the patent (spotted by Patently Apple), described embodiments where the Apple Pencil could be equipped with a variety of components and sensors that will be used to enhance its efficiency. These components will help the user maximize the use of the stylus.
Some embodiments describe the Apple Pencil as being equipped with a variety of sensors, such as contact sensors, capacitive sensors, touch sensors, piezoelectric sensors, pressure sensors, cameras, photodiodes and other sensors. These will be used to determine whether the Apple Pencil is in contact with a compatible surface, i.e. an iPad or iPad Pro.
Other embodiments described the Apple Pencil as having other components including accelerometers, orientation detectors, gyroscopes, biometric readers, sensors, switches, buttons and voice coils. These will determine how the user holds or uses the Apple Pencil (i.e. in an upright position with the pointed tip on a surface, like how a traditional pencil is being used to write).
Embodiments also described the Apple Pencil as potentially having displays. A display on the stylus will simply help users know what kind of tool they are using, what color they are painting with, and so on and so forth.
The patent also described that a combination of some of these components and sensors will result to the Apple Pencil having the familiar Force Touch feature. Illustrations showing the device as having a portion that bends when touched serve as proof that the Cupertino tech giant is indeed interested in equipping its stylus with the said function.
These components and sensors and their resulting features and functions all paint the picture of the Apple Pencil becoming a tool that people invested in Apple's ecosystem would want to use.
The biometric sensors might allow it to be used as an authentication feature; its ability to provide haptic feedback will allow users to enjoy a real pencil-like feel; and the display will help users stay focused on the job without being distracted by the other tools and details they don't really need.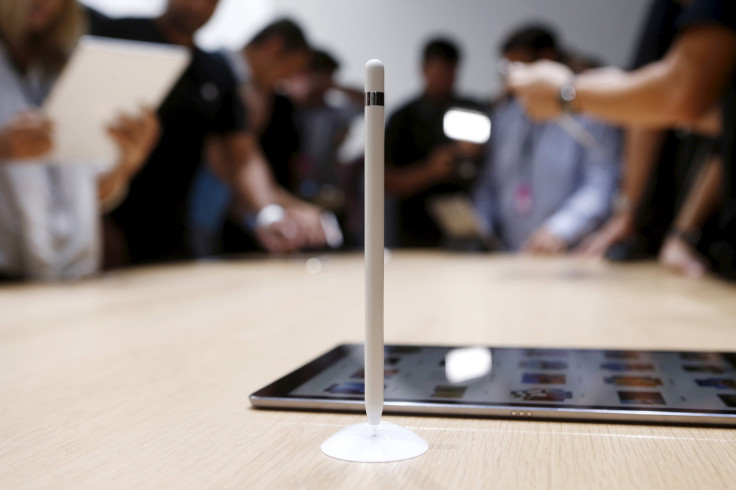 © Copyright IBTimes 2023. All rights reserved.
FOLLOW MORE IBT NEWS ON THE BELOW CHANNELS