Apple Released iOS 5 Beta 5 Today, Throttles iOS 5 Slots Sold To Non-Developers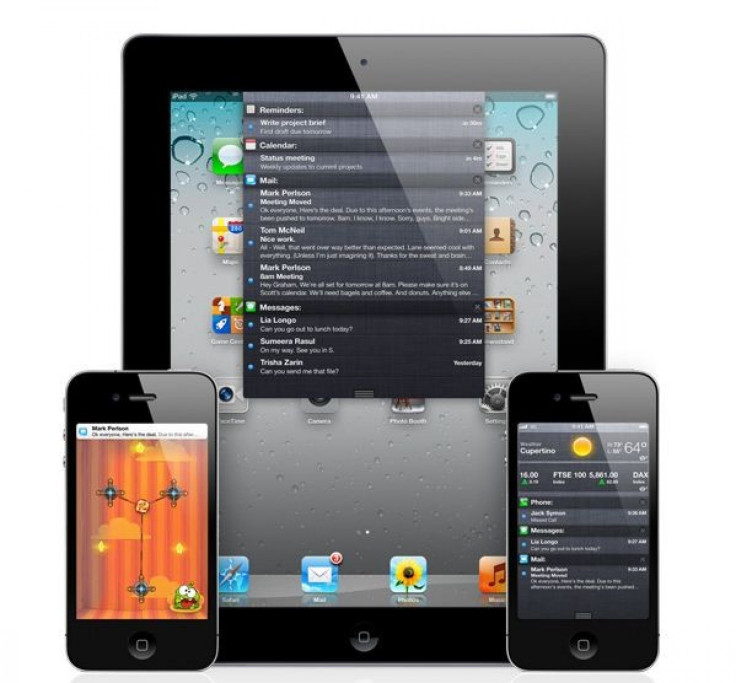 As the fall release of iOS 5 - the latest version of the world's most advanced mobile operating system - approaches, iOS 5 beta 5 was released today for developers to download at Apple's iOS developer website.
"The uncharacteristic Saturday release of the new builds suggests Apple is working hard to deliver new releases as soon as possible rather than waiting for a regular business day to offer the new updates," said Daniel Eran Dilger of Apple Insider.
According to Apple, the iOS 5 beta 5 build "should only be deployed on devices dedicated for iOS 5 beta software development." Developers were reportedly warned that "it is recommended that you do not use the iCloud services to store any critical data or information," for documents stored in the cloud may be purged prior to the GM release of iOS 5.
While the update brings OTA updates to iOS devices, beta 5 will require your device to be erased before being able to update, according to BGR.
Alongside the iOS 5 beta 5 release, Apple also rolled out Xcode 4.2 Developer Preview 5, iTunes 10.5 Beta 5 and Apple TV beta 4.
In the meantime, Apple reportedly started to close the accounts of some iOS 5 developers for selling their slots for UDIDs, the unique identification numbers associated with every iOS device.
According to KarthikK.net, Apple warned those developers through emails saying that they have identified the inappropriate activity.
Closing the developers' accounts, Apple also flagged the UDIDs associated with those accounts, making the iOS 5 device unusable, said the report.
Apple's iOS 5 is currently restricted to authorized members of Apple's official iOS Developer Program. If you sell device slots and allow non-developers to test and run the latest beta build of iOS 5, you would be directly violating the iOS Developer Program rules.
Once Apple locks your iOS device, the only way to continue using your iPhone is to downgrade your operating system to iOS 4.3.
Safer to wait till the software's fall release, when iOS 5, with much fewer bugs, is expected to be available alongside the iPhone 5.
iOS 5, dubbed a major and incredible release for Apple's mobile operating system, comes with 1500 new APIs and 200 new features. Among them are the following updates:
Improved Notifications System - "Scaled beautifully," the new push notifications system is no longer annoying or obtrusive and will be displayed on the lock screen together with stock and weather alerts.
News Stand - Similar to iBooks, News Stand will be dedicated to magazines and newspapers.
Improved Mobile Safari - The mobile web browser now comes with a tabbed browsing feature even as the Safari Reader allows users to quickly save stories for later reading in the Reading List.
Reminders - The new Reminders app in iOS 5 now makes it possible to maintain multiple lists and save them with dates to alert you. Reminders has geolocation capabilities i.e. it can send reminders to users based on user location.
Camera - The camera can now be accessed faster as it gets a shortcut on the lock screen. To access, double tap the home button and then tap the camera icon. For taking photos, simply tap the volume up button. Other new camera features include crop and rotate, edit, red eye reduction, auto focus and auto exposure, and auto enhance (using iPhoto).
Mail - The new Mail feature in iOS 5 has seen some significant changes. It now comes with rich text formatting message flagging and draggable addresses. Now entire messages can also be searched.
There are also keyboard enhancements: Now it is possible to drag the keyboard up, split the keyboard (to make it more ergonomic). The size of the keyboard can also be reduced to facilitate thumb-typing.
PC Free Function - iOS 5 is "PC free" i.e. now there is no need to hook up mobile Apple devices with PC to access iTunes. iOS updates are now possible over the air. An iTunes library can also be synced wirelessly via Wi-Fi. iTunes sync is now automatic and possible even while an iOS device is being charged.
Delta updates are also available i.e. software updates are now over the air and you can download only the necessary update and not the entire app/software.
iMessage - iMessage is perhaps the most important feature in iOS 5. The iMessage, which is only available to iOS users allows sending text and multimedia messages over Wi-Fi and 3G. It comes with read and delivery receipts and real time typing indication. The iMessages can be pushed out to all iOS devices a user owns, thereby allowing, for instance, the user to start a conversation on an iPhone and continue the same on an iPad right where it was left off.
© Copyright IBTimes 2023. All rights reserved.