Apple Supplier Pegatron In Hot Water: iPhone Maker Issues Response To China Labor Violations Claims [FULL TEXT]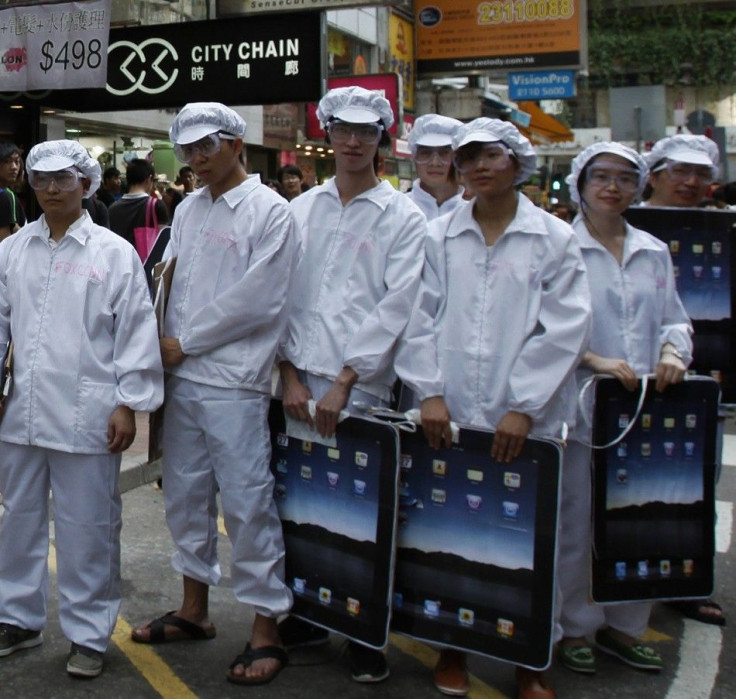 A Chinese workers' rights group on Monday accused Taiwan-based Pegatron, a key contractor for Apple Inc. (NASDAQ: AAPL), of violating several major safety and environmental standards set in place by Chinese law and Apple's own supplier policy.
"Apple has zero tolerance for lapses in the quality of its products," the report said. "If a quality issue arises, Apple will do everything it can to have it corrected immediately. But a lower level of urgency apparently applies in responding to labor rights abuses. Despite its professed high standards for the treatment of Apple workers, serious labor violations have persisted year after year. Apple must prioritize its efforts into halting the abuse of the workers making Apple products."
The full report was released on Monday morning by China Labor Watch, a New York-based non-profit. The worker rights group has allegedly accused Pegatron and three subsidiaries of withholding worker pay and identification cards required to work elsewhere, as well as poor living conditions.
"CLW's investigations revealed at least 86 labor rights violations, including 36 legal violations and 50 ethical violations," the report said. "The violations fall into 15 categories: dispatch labor abuse, hiring discrimination, women's rights violations, underage labor, contract violations, insufficient worker training, excessive working hours, insufficient wages, poor working conditions, poor living conditions, difficulty in taking leave, labor health and safety concerns, ineffective grievance channels, abuse by management, and environmental pollution."
Though breaches of labor laws in China are common, especially in electronics supply chains like Pegatron and Foxconn, Apple under CEO Tim Cook has become determined to maintain high standards of social responsibility within its overseas factories where iPhones and iPads are produced. Months after the death of Steve Jobs, all eyes were on Cook when the New York Times wrote two stories on the horrifying safety and environmental working conditions within another Taiwanese supplier for Apple, Foxconn (nee Hon Hai Precision Industries). Since then, Cook has issued several personal apologies and has doubled down on Apple's commitment to keeping its supply chains safe and responsible, namely by working with third-parties to keep factories free from pollution and corruption on a more consistent basis.
Though Foxconn is literally a much larger target than Pegatron -- the company employed an estimated 1.23 million workers in 2012 -- analysts estimate one-third of all the iPhones and iPads in the world are produced from the company's factory in Shanghai's Pudong district, which currently employs 70,000 workers thanks to a hiring surge in March that added an extra 20,000 workers, according to The Wall Street Journal.
Pegatron tapped a number of intermediary recruitment firms to help satisfy the increased demand for labor at its factories, but those firms, which are paid for every worker they refer, were accused of withholding legally mandated insurance from new workers and also taking their pay if the employee failed to work a fixed period.
"We pay the recruiting agencies for the workers' social insurance, so it is illegal and a breach of our contract with them if they do not provide insurance for the workers," Pegatron said in response to the allegations. "We conduct periodic audits of agencies to see if they are providing insurance and those not complying will be penalized."
The report also cited several employees who regularly violated the 60-hour-workweek limit set in place by Apple, including many new employees at the factory who asked for overtime to compensate for the low base salary. Apple's most recent survey released in June said Pegatron employees worked 46 hours a week on average.
Despite the allegations, Pegatron insists its employee work hours have met local regulations.
"For the past two months, work hours have been below 60 hours a week," Pegatron said.
The China Labor Watch report also accused Pegatron's subsidiaries in Shanghai and Suzhou of dumping metal-cutting fluids directly into the sewer systems; Pegatron's Shanghai location was previously fined by the Shanghai government for a similar violation back in February, when the company polluted the local river with motor oil and cutting fluid. Researchers with the CLW said they saw chemicals being dumped down drains while investigating the plants in March and April.
"Conditions at these factories are so poor that most workers refuse to continue working for long," the report said. "In a period of two weeks, 30 of 110 new recruits at AVY (Pegatron's subsidiary in Suzhou) left."
Apple responded to the full report from the China Labor Watch on early Monday morning. Here is the full text of the company's response:
Apple is committed to providing safe and fair working conditions throughout our supply chain. We lead the industry with far-reaching and specialized audits, the most transparent reporting and educational programs that enrich the lives of workers who make our products. Apple is the first and only technology company to be admitted to the Fair Labor Association, and we are dedicated to protecting every worker in our supply chain.

As a part of our extensive Supplier Responsibility program, Apple has conducted 15 comprehensive audits at Pegatron facilities since 2007, covering more than 130,000 workers making Apple products including annual audits of Pegatron's final assembly locations and surprise audits at both RiTeng and AVY within the past 18 months.

Additionally, we have closely tracked working hours at all of these facilities. Our most recent survey in June found that Pegatron employees making Apple products worked 46 hours per week on average. Excessive overtime is not in anyone's best interest, and we work closely with our suppliers to prevent it. Apple surveys working hours for more than 1 million employees across our supply chain each month and we report the findings on our website.

We have been in close contact with China Labor Watch for several months, investigating issues they've raised and sharing our findings. When they first told us that workers' ID cards were being withheld, an auditor from our Supplier Responsibility program was on site the next day to investigate. We confirmed that labor brokers for Pegatron were holding a small number of IDs as they helped set up bank accounts for those employees. We demanded Pegatron put a stop to this practice and a new system was in place within a week.

Their latest report contains claims that are new to us and we will investigate them immediately. Our audit teams will return to Pegatron, RiTeng and AVY for special inspections this week. If our audits find that workers have been underpaid or denied compensation for any time they've worked, we will require that Pegatron reimburse them in full.

Our audits involve a thorough review of timecards and other documents to guard against falsification. We will investigate these new claims thoroughly, ensure that corrective actions are taken where needed and report any violations of our code of conduct. We will not tolerate deviations from our code.

Apple believes in transparency and accountability, both for our suppliers and ourselves. We realize being a leader in workers rights and being transparent with our findings opens us to criticism, but we believe strongly that we can make a big difference in the lives of millions of people by doing so and this provides us the courage and resilience to continue the journey. We are proud of the work we do with our suppliers to uncover problems and improve conditions for workers. By vigorously enforcing our supplier code of conduct, we ensure that our suppliers follow the same principles and values we hold true."
The China Labor Watch conducted its report between March and July 2013, sending investigators to Pegatron's three factories and recording almost 200 interviews with workers outside the factories. The report compared 17 social promises made by Apple with 17 realities of the working and living conditions at Pegatron uncovered during the investigation.
FOR FREE to continue reading
✔️ Unlock the full content of International Business Times UK for free
offer available for a limited time only
✔️ Easily manage your Newsletters subscriptions and save your favourite articles
✔️ No payment method required
Already have an account? Log in
© Copyright IBTimes 2023. All rights reserved.