Apple iPhone 5S Release Date Delayed? Issues With Fingerprint Sensor May Constrain Shipments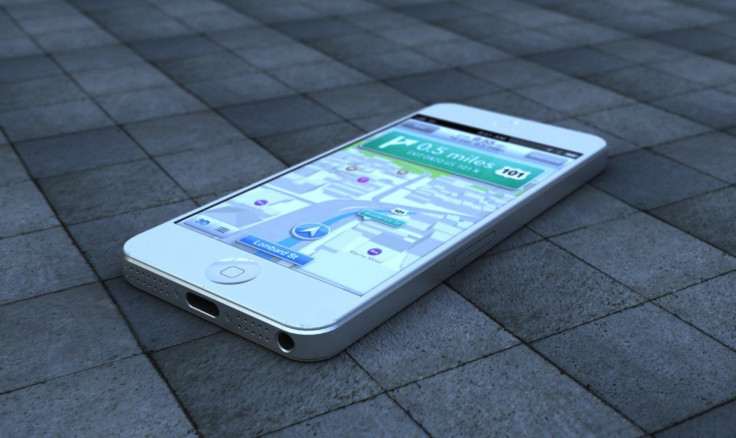 Just days after reports suggested Apple Inc. (NASDAQ: AAPL) would delay the unveiling and release of its highly anticipated iWatch, Digitimes said on Tuesday that the iPhone 5S, the high-end successor to the iPhone 5, may face supply constraints due to "poor yields of fingerprint-recognition chips," among other components. By all accounts, the integrated fingerprint sensor is said to be the centerpiece of the iPhone 5S, which will be used to easily and securely authenticate user access to password-protected sites and services.
"Volume production of fingerprint-recognition and LCD driver chips for the iPhone 5S should have started at the end of June or early in July, but issues related to yield rates will delay commercial production of the two chips to the end of July, therefore affecting the initial supply of the iPhone 5S," alleged industry sources told Digitimes.
The alleged fingerprint sensor in the iPhone 5S was designed by Florida-based AuthenTec, which was urgently acquired by Apple last July for a reported $356 million. AuthenTec's most prized, noteworthy product is the "Smart Sensor," which is likely what Apple implemented in the iPhone 5S. Tuesday's report said the original design of the sensor created a number of issues that led to a lower yield rate, and, of course, these difficulties are exacerbated since all production and packaging for the iPhone 5S must be performed overseas -- Apple outsourced the fingerprint sensors to its chip-making partner TSMC and chip packager Xintec, both based in Taiwan.
"About 3 million units of the initial shipments of iPhone 5S will be delayed to the fourth quarter," the sources told Digitimes.
While these production issues may delay the release date of the iPhone 5S, it's highly unlikely. Supply constraints have become somewhat expected of Apple, especially with the iPhone. Last year's iPhone 5 release was reportedly affected by "general constraints" of its components, but Apple was still able to release the phone on time. Constraints may have limited the number of iPhone 5 units sold over the three-month period between its release date and the year's end, but it never affected Apple's global release date timetable for the iPhone 5. Similarly, we don't believe supply issues will impact the release date of the iPhone 5S, although it may affect how many units are initially sold in stores. Apple will reportedly begin ramping up production of the iPhone 5S later this month, which leads us to believe the phone's release date won't be affected by supply issues.
Speaking of the release date, we expect Apple to release the iPhone 5S to the public on Friday, Sept. 20, which would be two days after the alleged release date of iOS 7, on Sept. 18. This pattern would mimic Apple's strategy in 2012, which similarly planned the release dates of iOS 6 and the iPhone 5 just two days apart. And just like how the release of iOS 6 occurred exactly 100 days after its unveiling, we believe Apple will release iOS 7 exactly 100 days after its June introduction on Sept. 18, and the iPhone 5S will release imminently thereafter.
Apple iPhone 5S Release: What's New In This Year's iPhone?
We're expecting the iPhone 5S to look mostly identical to the iPhone 5, but with a few of small design tweaks. For example, Apple appears to have adjusted the size and shape of its rear camera LED for the iPhone 5S, upgrading the iPhone 5's 8-megapixel camera with a singular circular flash to an upgraded camera with a new pill-shaped dual-LED flash. Despite that minor alteration, we believe most of the changes in the iPhone 5S are inside.
Like every past iPhone release, the iPhone 5S is getting some new specs, including a new CPU – we believe a new A7 chip – and a slightly improved battery; the 5.45 Whr lithium-ion polymer battery in the iPhone 5 has reportedly been upgraded to a 5.92 Whr battery, as depicted by leaked photos from MacRumors. The other unique feature of the iPhone 5S is said to be its new "Mogul" feature, which allows users to shoot slow-mo movies thanks to an enhanced camera that can record at 120 frames-per-second.
Finally, there's that fingerprint sensor. At just 3mm high and 1.3mm thick, AuthenTec's Smart Sensor crams a 500 ppi, 192x8 pixel detection matrix and all the fingerprint matching technology necessary to accurately and securely detect and encrypt data about your finger. Furthermore, AuthenTec's "anti-spoofing technology" ensures that only real fingerprints are read by measuring the unique properties of the skin on your finger and translating those traits into digital data that's then compared with the "expected [fingerprint] properties."
But that's not all. AuthenTec's technology is so smart, it can differentiate your fingers so as to associate different functions with those fingers. For example, you can use different fingers to play music, or ask for directions, or call a particular contact. Apple's plan? Integrate AuthenTec's Smart Sensor directly into the iPhone's signature home button.

The fingerprint sensor may allow the iPhone 5S to automatically authenticate one's identity, possibly negating the need to input personal data on one's phone again and again, or even the need to remember a passcode combination. Patently Apple offers a fantastic description of how this biometric fingerprint technology in the iPhone 5S could enhance iPhone activities like e-commerce.
Besides the iPhone 5S, Apple is also expected to release a basic, inexpensive iPhone model this fall, specifically at lower tax brackets and emerging markets such as India and China. Though reports have referred to this iPhone as "iPhone 6" and "iPhone Light," we believe Apple will name this new iPhone line "iPhone," and continue to give additional nomenclature to its highest-end iPhone models like the 4S, 5, 5S, 6, et cetera. The release date of the basic iPhone will allegedly arrive within weeks of the iPhone 5S launch.
What do you think of the iPhone 5S? Do you plan on picking one up when it sees its release date later this year? Do you plan to give us credit if the actual release date of the iPhone 5S is Sept. 20, as we originally predicted? Mull over these questions and give us your answers in the comments section below.
FOR FREE to continue reading
✔️ Unlock the full content of International Business Times UK for free
offer available for a limited time only
✔️ Easily manage your Newsletters subscriptions and save your favourite articles
✔️ No payment method required
Already have an account?
Log in
© Copyright IBTimes 2023. All rights reserved.