Apple unveils feature-rich iPad 2; Steve Jobs attends event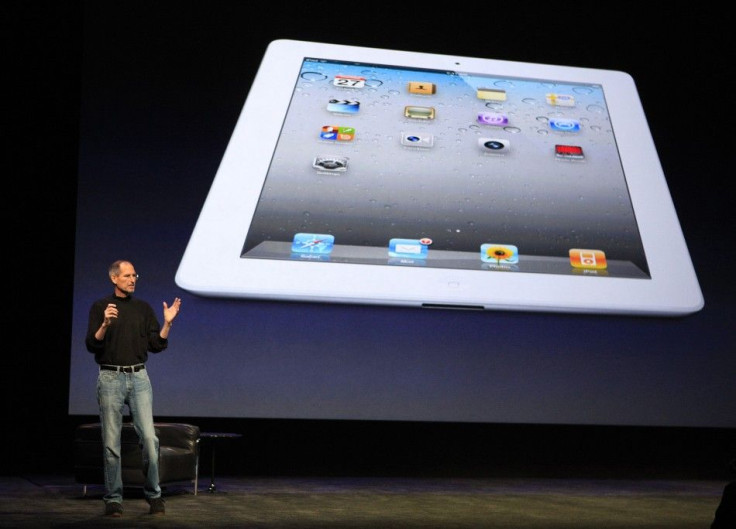 Apple unveiled iPad 2 on Wednesday at a function attended by Steve Jobs. We've been working on this product for a long time, and I just didn't want to miss the day, said Jobs.
The second generation iPad is lighter and more mobile, has better processor speed as well as more frills and trimmings like dual video cameras and gyroscope.
Here's what Apple says about the new product:
Sleeker, lighter
Apple says the new generation of iPads are unputdownable devices. It's 33 percent thinner and up to 15 percent lighter, so it feels even more comfortable in your hands. And it makes surfing the web, checking email, watching movies, and reading books so natural, you might forget there's incredible technology under your fingers.
More powerful processing
The dual-core A5 chip makes it possible for the iPad to do twice the work at once, Apple says. You'll notice the difference when you're surfing the web, watching movies, making FaceTime video calls, gaming, and going from app to app to app. Multitasking is smoother, apps load faster, and everything just works better.
Superfast graphics for gamers
"With up to nine times the graphics performance, gameplay on iPad is even smoother and more realistic. And faster graphics help apps perform better — especially those with video. You'll see it when you're scrolling through your photo library, editing video with iMovie, and viewing animations in Keynote."
Longer battery life
The new generation iPad has the same amazing 10-hour battery life despite scaling down of weight. That's enough juice for one flight across the ocean, or one movie-watching all-nighter, or a week's commute across town. The power-efficient A5 chip and iOS keep battery life from fading away, so you can get carried away.
Dual cameras
The dual cameras designed for FaceTime video calling enable the user to talk to their favorite people and see them while doing so. The front camera puts you and your friend face-to-face. Switch to the back camera during your video call to share where you are, who you're with, or what's going on around you. When you're not using FaceTime, let the back camera roll if you see something movie-worthy. It's HD, so whatever you shoot is a mini-masterpiece. And you can take wacky snapshots in Photo Booth. It's the most fun a face can have.
Amazing view thanks to LED-backlit display
LED backlighting makes everything you see remarkably crisp, vivid, and bright even in places with low light, like an airplane, Apple says. It's designed to show off everything in portrait and landscape, so with every turn (even upside down), the display adjusts to fit. Because it uses a display technology called IPS (in-plane switching), it has a wide, 178° viewing angle. Hold it up to someone across the room, or share it with someone sitting next to you, and everyone gets a brilliant view.
Multi-Touch
The multi-touch feature on the iPad sees to it that doing things like surfing the web, typing email, reading books, and swiping through photo is ultimate fun, according to Apple. Technology is at its best when it feels completely natural, almost like there's no technology at all.
Apple explains how the feature works: When your fingers touch the display, it senses them using electrical fields. Then it instantly transforms your taps, swipes, pinches, and flicks into lifelike actions. Just like that.
iOS 4 operating system
Apple says iOS 4 is the reason no other device has yet come close to iPad. It lets you browse, read, and see everything just by touching the screen. It includes all the powerful, innovative, and fun built-in apps you use every day, many times a day. And it's the platform on which more than 65,000 other amazing apps have been created for iPad.
Advanced wireless technology
iPad's advanced 802.11n wireless technology automatically finds Wi-Fi networks. Apple says iPad is also available with 3G connectivity on either AT&T or Verizon Wireless networks.
Gyroscope, accelerometer and compass work together
With the built-in accelerometer, you can rotate iPad to portrait or landscape, or even upside down, and whatever you're watching, reading, or seeing adjusts to fit the display. And now the accelerometer, three-axis gyroscope, and compass all work together. They sense which direction iPad is heading and how it's moving. So games, maps, and other apps know your every twist, turn, tilt, and 360. It's an epic win for gaming. And it's just the beginning of better-than-ever apps.
AirPlay and AirPrint
Whilte the AirPlay feature makes sure all the music, photos, and video can be streamed wirelessly to your HDTV and speakers, the AirPrint sees to it that one can print email, photos, web pages, and documents right from the iPad over Wi-Fi.
© Copyright IBTimes 2023. All rights reserved.