Apple Watch: New York Times Plans One-Sentence Stories For Small-Screen Readers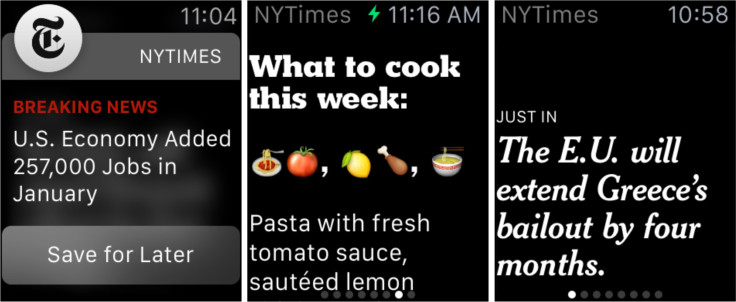 At 1.5 to 1.7 inches, even the biggest Apple Watch is pretty small in a world of supersized smartphones and tablets. But the New York Times thinks Apple Watch users will be reading, so they're creating tiny one-sentence versions of stories from the business, politics, science, tech and sports sections.
The one-line stories will include bulleted summaries, and readers can save them to a device using the "Handoff" function, which will make the story appear on an iPhone or tablet, or save them for later. The app will appear on the Apple Watch for all users that have the New York Times' iPhone app installed.
Apple Watch users get an additional perk: Any story sent from the watch to another device for reading won't count against the monthly cap of 1o stories for nonsubscribers. The Times is treating Apple Watch readers like they do readers coming from social networks by giving them free access.
The one-sentence stories are distinct from headlines, which the Times discovered did not shrink well to watch size. "We will essentially take the most interesting and important stories of the day and write them in a new way," said Andrew Phelps, senior project manager at the Times. "When we set out to figure out what we should do on a small screen, just shrinking headlines didn't seem to make sense."
Media companies are all trying to figure out what kind of content -- and in what form -- they should be programming for Apple Watch. The Times is going to feed Apple Watch as it currently does phones, tablets and laptops and other devices with a screen.
So far they're doing this without access to the actual product, which has complicated development. "We decided to design an app for something we couldn't even look at," Phelps said. So they made some assumptions as to how people will actually use the product. "Standing on the elevator, waiting for the train, killing five minutes in the waiting room when you want to catch up on the latest news feels like the native way to use the watch," he said.
One thing that the Times found in its research: Holding your arm up is more taxing than reading on a phone, meaning content must be delivered to be consumed quickly. "People literally cannot hold their arm up for more than five minutes," he said. "It was clear this was not going to be the same experience as looking at a phone or a desktop computer."
Headlines, sports scores and news alerts all seem like natural products for Apple Watch; ESPN, The Wall Street Journal, NPR and many others are developing products that will live there.
The New York Times had 910,000 digital-only subscribers at the end of 2014, an increase of nearly 20 percent compared to the end of the fourth quarter of 2013. The app will be available when Apple Watch is released on April 24.
© Copyright IBTimes 2022. All rights reserved.
FOLLOW MORE IBT NEWS ON THE BELOW CHANNELS