Apple Working On More Sophisticated Fitness Band
KEY POINTS
Apple recently unveiled new Apple Watches during its Sept. 15 event
A new patent indicates that Apple is also planning on releasing fitness bands in the future
The patent does not guarantee the fitness band's actual arrival
Apple recently won a patent that shows its interest in using micro-LED technology for its future products, including a fitness band.
Cupertino tech giant Apple recently announced a slew of new products and devices, including two new Apple Watches. But though it might seem like Apple has presented the best of wearable technologies in its latest Apple Watches, a new patent granted to the firm shows that it's not done innovating in various fields, such as health-centric wearables.
The new patent revealed that Apple is working on other advanced technologies for use in future devices, such as a fitness band.
The patent, published by the U.S. Patent and Trademark Office, talks about techniques that can be used to solve a problem it calls "IR drop." It is highly technical in nature and deals with how the company plans to prevent "brightness errors and display artifacts" that might plague micro-LED panels used in various devices.
The patent specified that the technology can and will be used in devices that might use micro-LED. These devices come in many forms, including desktop and notebook computers, mobile phones and slates.
It's worth noting, however, that the patent specifically mentioned a "fitness band" that would have the technology. It even included an illustration of the said fitness band, as seen below.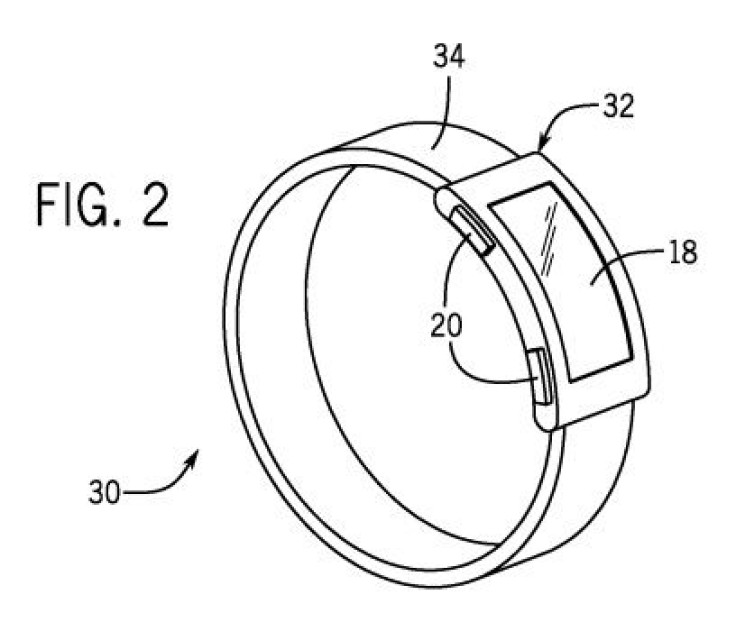 Does this mean Apple is working on a fitness band that features more advanced technologies compared to the Apple Watch? It's too early to conclude. Fans better stay tuned for more details as they come.
As for Apple's latest offerings, the Apple Watch Series 6 announced during the company's Sept. 15 event introduced many improvements and new features not seen on its predecessor, Series 5, such as blood oxygen (SpO2) monitoring.
The cheaper device, the aptly-named Apple Watch SE, is an affordable device that includes many of the pricier Apple Watch's essential features. While the less-expensive wearable does not have the ECG feature found in other more expensive models, however, it offers other health features for less than the usual price of an Apple Watch model.
Apple Watch SE retails for $279 for the GPS model and $329 for the GPS + Cellular model. Apple Watch 6, meanwhile, starts at $399.
© Copyright IBTimes 2023. All rights reserved.