Apple's New 10.2-Inch iPad: A Cheap Upgrade To The 9.7-Inch Model
Apple did more than just announce new iPhone models during the recent iPhone event. It also announced, among other things, the latest entry in the iPad lineup: a new iPad with a wide display and cheap selling price.
The Cupertino tech giant said the new iPad, which has a 10.2-inch Retina display, is the "new version of the most popular iPad" that had a 9.7-inch display. This new tablet replaces the older model and adds a few features that most will not expect to have at a $329 price tag. Here's a quick look at the new iPad's features and specs.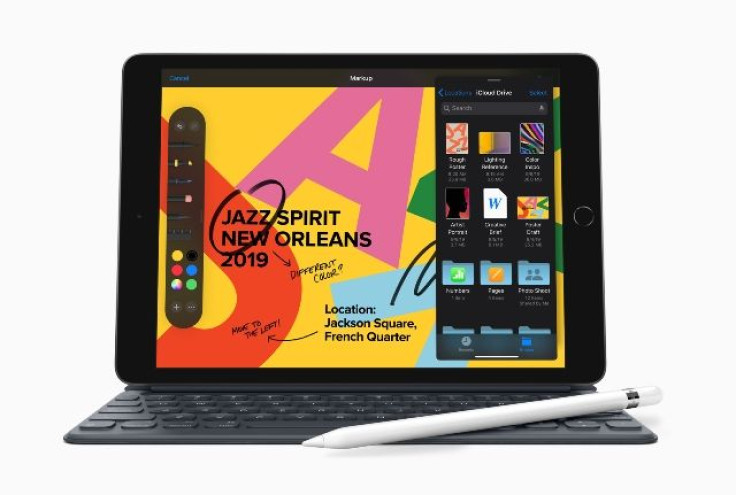 A wider display
As mentioned, the seventh-gen iPad has a wider display compared to its predecessors. The 10.2-inch Retina display boasts of 3.5 million pixels and a wide viewing angle that makes it the perfect gadget for browsing, watching videos, or playing games.
Support for Apple Pencil
The new 10.2-inch iPad features support for the first-gen Apple Pencil. This feature will allow users to express their creativity on a lower-cost iPad - despite the older Apple Pencil's "fiddly cap and silly charging" as per The Verge.
Support for the Smart Keyboard
Aside from Apple Pencil support, Apple has also decided to give the new iPad model support for the full-sized Smart Keyboard accessory case normally used with the iPad Pro. This feature will allow users to do a lot more typing-based work on the entry-level iPad model.
Built to run iPadOS
The new iPad is designed for use with iPadOS, allowing users to take advantage of the operating system's new capabilities and features such as a redesigned Home screen, the convenience of being able to work with multiple files or documents in the same app using Split View, and the ease of switching between multiple apps using Slide Over.
Same old features
The new iPad has a wider display and new features alright, but it still has some feature older Apple devices have. It has an old A10 Fusion chip which might not be as fast as many would hope, has a bezeled design unlike the iPad Pro models, still uses Touch ID authentication which may feel old for those who are used to Face ID, and still has a Lightning connector in lieu of USB-C.
Nevertheless, it has a 3.5mm headphone jack which will be a plus for those who love to use wired headphones.
The new 10.2-inch iPad is now available for order online via Apple.com and will be available in stores starting Sept. 30. Prices for the Wi-Fi only models start at $329 while the Wi-Fi + Cellular models start at $459 in the U.S.
© Copyright IBTimes 2023. All rights reserved.