April Auto Sales: Ford Down 5 Percent, But Chrysler Up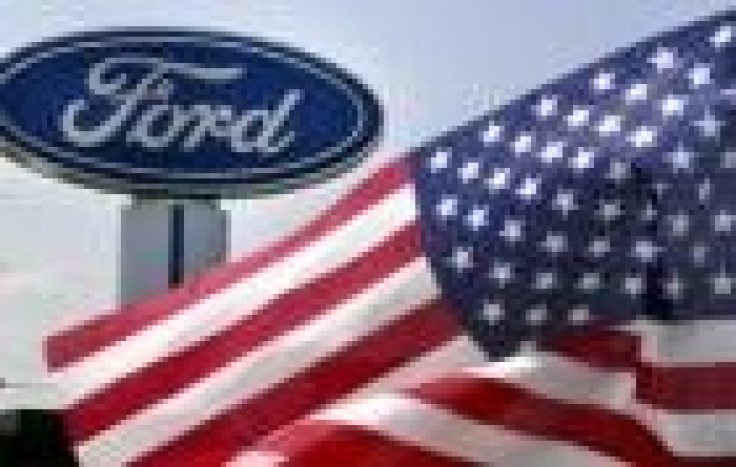 Ford Motor Company (NYSE: F) reported a drop in sales of 5 percent on Tuesday, but Chrysler Group LLC gained 20 percent and now projects that automakers will sell 14.6 million vehicles in the U.S. this year, above analyst expectations of 14.4 million.
The Dearborn, Mich., automaker said sales grew for its Explorer, F-series trucks, Fusion and Edge vehicles. When adjusted for the three fewer selling days last month, Ford sales rose 7 percent, according to Reuters.
Total vehicle sales for the company fell 5 percent to 180,350 vehicles in April, as compared to the year before. Ford brand sales fell 4.7 percent to 174,042 cars, while Lincoln brand sales continued to falter, dropping 12.8 percent to 6,308 vehicles.
Ford Truck and SUV sales experience only a modest drop of around 1 percent, but car sales fell 11.2 percent.
Of Ford's car models, the Focus had the biggest gains, and sales rose 12.5 percent, while the Taurus gained 6.4 percent. The Ford Fusion gained a more modest 2 percent. However, the Fiesta lost ground, falling 43.9 percent in sales. The Crown Victoria saw the greatest decrease in sales, 94.4 percent, but that was a result of abundant deals offered last year when the vehicle was discontinued. The Ford Mustang also dropped 4.6 percent in sales.
While its overall truck sales fell 1.1 percent, Ford boosted sales of its F-series trucks by 4.4 percent, but this gain was substantially offset by a 62.9 percent drop in Ranger sales. Ford also increased sales of its heavy trucks to 40.1 percent, but at only 692 sold, the difference was negligible.
Ford SUVs likewise lost 1.4 percent in sales. The Ford Escape dropped 20 percent, but gains by the company's other SUVs largely offset the loss. Ford Flex sales grew 41.4 percent, and Edge sales gained 12.4 percent. Explorer sales were up 6.6 percent, and Expedition sales rose 3.8 percent.
Ford sold 547 Police Interceptor Sedans and 667 Police Interceptor Utility vehicles, but it is the first year of sales for each vehicle and as such there is no historical data for them.
Lincoln brand vehicles sales fell 12.8 percent. Sales of the Lincoln MKZ dropped 26.8 percent, and the Navigator dropped 11.1 percent. Sales of the now discontinued Lincoln Town Car dropped 92.2 percent. The Lincoln MKS was the big winner for the brand, increasing sales 56.8 percent. MKT sales also gained big, increasing 43.4 percent.
Meanwhile, Auburn Hills, Mich.-based Chrysler said it sold 141,165 vehicles last month, up from 117,225 from the prior year. Truck sales rose 13 percent and car sales climbed 37 percent.
Roland Li contributed reporting.
© Copyright IBTimes 2023. All rights reserved.
FOLLOW MORE IBT NEWS ON THE BELOW CHANNELS