AQAP Senior Leader Killed In US Drone Strike In Yemen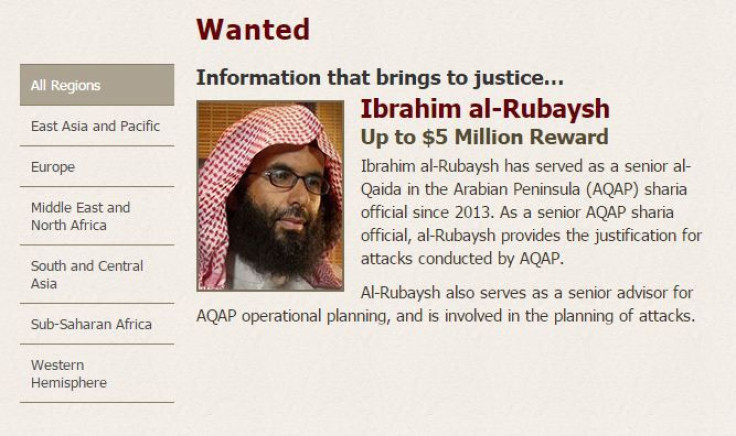 Al Qaeda in the Arabian Peninsula (AQAP) on Tuesday said that the militant group's most senior religious leader had been killed in an American drone attack in eastern Yemen the previous night. The group released a statement mourning the death of Ibrahim al-Rubaysh, the group's Islamic scholar, on a Twitter account that was later taken down, the Long War Journal reported.
Rubaysh, a veteran militant and former detainee at the U.S. detention facility in Guantanamo Bay, Cuba, also served as an operational leader. The strike that killed Rubaysh and several associates took place in the eastern province of Hadramout, the ancestral home of Osama bin Laden and an AQAP stronghold. Washington has been highly active in Yemen, working with local officials to deploy drone strikes against leaders of AQAP, which has been described by the Council on Foreign Relations as the terror group's most dangerous franchise.
Rubaysh had fought in Afghanistan alongside the Taliban and al Qaeda. He was captured and detained at Gitmo where he was among a number of inmates who filed a lawsuit against the administration of former president George W. Bush, challenging the legality of their detention. He was released to Saudi Arabia in 2006 as part of the country's program to rehabilitate terrorists, only to rejoin AQAP after leaving the program.
Rubaysh's death comes after another influential AQAP ideologue was killed earlier this year, in January, when an American drone strike killed Harith bin Ghazi al Nadhari, a senior official who had praised the AQAP-linked attack on Charlie Hebdo in Paris.
Washington's drone program has been impacted by the growing instability in Yemen as the country's internationally recognized president, Abed Rabbo Mansour Hadi, was forced to flee the country after several parts of the country were overrun by Iran-backed Shiite Houthi rebels. In the chaos following the conflict, the U.S. has been forced to evacuate its embassy and an airbase in the country. Pentagon officials admitted in March that they could no longer account for over $500 million worth of military aid, including weapons, aircraft and equipment.
© Copyright IBTimes 2023. All rights reserved.